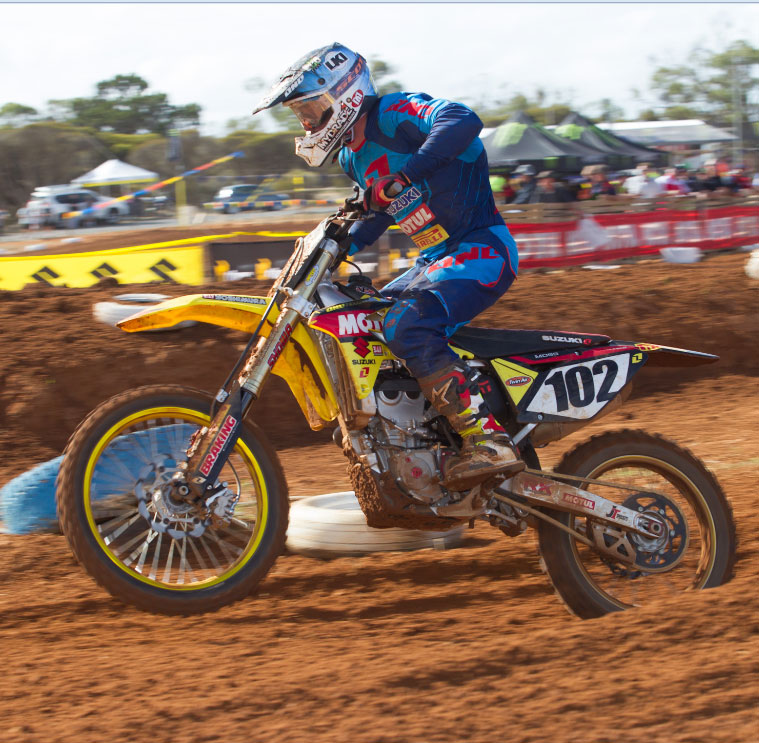 Team Motul Pirelli Suzuki's Matt Moss finished fifth overall in South Australia's second round of the 2013 MX Nationals, Australian Motocross Championship, at Murray Bridge on Sunday, 28 April.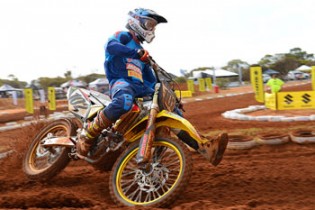 Moss rode the factory-supported RM-Z450 to fifth overall for the second round in succession, maintaining that same position in the championship after two of 10 events.
The multiple-time MX2 champion qualified fourth in the morning's Super Pole qualifying session to earn two points, before he was able to card fourth in moto one and a seventh in Moto 2 despite a sluggish start and an early incident.
In a comprehensive mood following the event, Moss was content with his consistency, but aims to climb the results ladder with experience in what is his return season to the premier MX1 category.
"I qualified a lot better today and the first race was really good even though I got a bit of arm-pump," Moss reflected. "I was really excited for the second moto, but unfortunately I got a really bad start – it was the worst start I've ever got in my life.
"When you're riding around those guys mid-pack, you sort of get stuck around their pace and I couldn't shake it. Otherwise, it's the same result as round one and I'm happy with that. I just have to keep moving forward and getting stronger."
Teammate Cody Cooper endured a mixed day at Murray Bridge, battling to a solid third in the opening moto, but struggled with an uncustomary 16th place finish in the second outing. That resulted in a frustrating eighth overall for the weekend.
The two-time New Zealand Motocross Champion now sits sixth in the championship, determined to bounce back this weekend at Wonthaggi when the Victorian venue hosts round three.
"My starts were good all day," Cooper commented. "The first moto went to plan, although I got a bit of arm-pump like most people seemed to, but then in the second race I just went backwards. It was a difficult moto, but we'll do some testing in Newcastle this week and try to come back stronger this weekend for round three."
Motul Pirelli Suzuki team manager Jay Foreman is reassured by the team's promising early-season form, now looking to build upon the stable foundations formed in the opening rounds. The upcoming races will be vital in the team's title prospects, according to Foreman.
"Qualifying was an improvement for Matt and then the first moto was really good with third and fourth – both Cody and Matt showed good speed," Foreman reflected. "The second moto was tougher for both of the guys, but we will come back and do better next week. We're looking forward to Wonthaggi."
Murray Bridge was a standout round for Campbell Mining Suzuki satellite team rider Jake Moss, winning the opening moto on his way to finishing third overall for the round aboard his RM-Z450.
The MX Nationals, Australian Motocross Championship, will continue this weekend at Wonthaggi in Victoria on Sunday, 5 May
2013 MX Nationals, Australian Motocross Championship
Round Two – Murray Bridge, SA
MX1 Round Results:
1. Todd Waters 66
2. Billy Mackenzie 64
3. Jake Moss (Campbell Mining Suzuki) 60
4. Lawson Bopping 59
5. Matt Moss (Motul Pirelli Suzuki) 54
6. Tye Simmonds 46
7. Jacob Wright 45
8. Cody Cooper (Motul Pirelli Suzuki) 45
9. Ford Dale 42
10. Cody Mackie 42
MX1 Championship Standings:
1. Todd Waters 141
2. Billy Mackenzie 122
3. Lawson Bopping 109
4. Jake Moss (Campbell Mining Suzuki) 107
5. Matt Moss (Motul Pirelli Suzuki) 107
6. Cody Cooper (Motul Pirelli Suzuki) 105
7. Tye Simmonds 98
8. Ford Dale 85
9. Cody Mackie 83
10. Jacob Wright 80