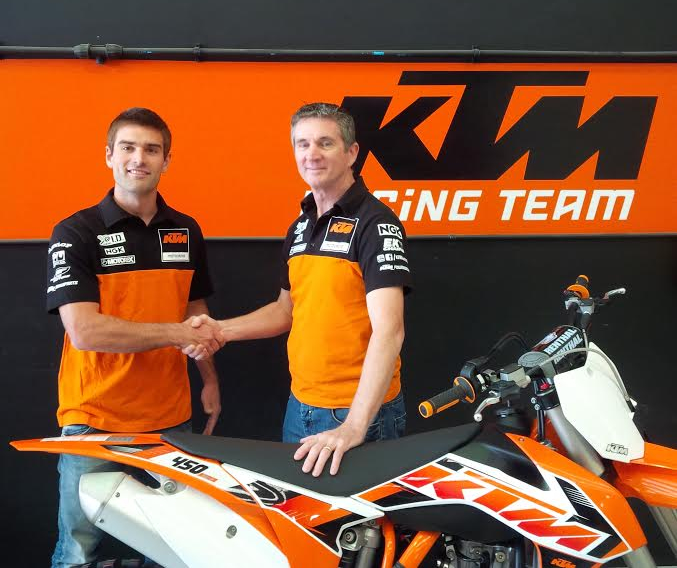 KTM Australia announces that 2013 Australian MX2 Champion for Motocross and Supercross Luke Styke will join newly crowned MX1 Vice Champion Kirk Gibbs on the KTM Motocross Racing Team in 2015.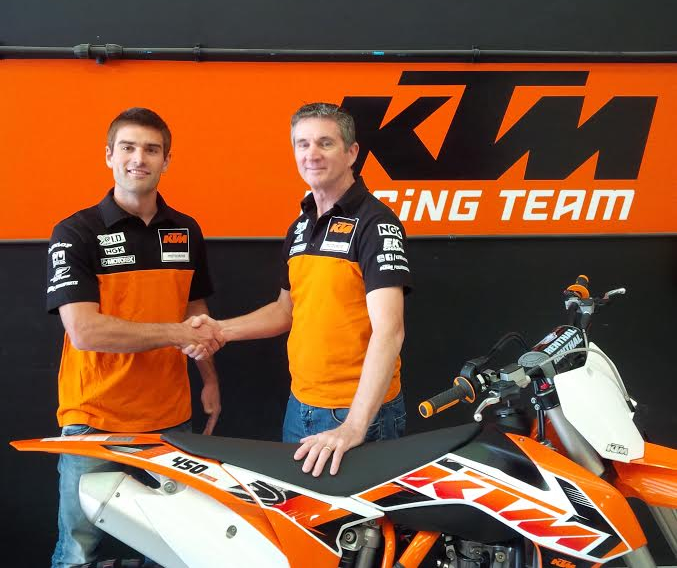 The 22-year-old from Jervis Bay in New South Wales recently returned to Australia after a season spent racing World Championship motocross in the MX2 category, and is now focusing himself 100% on a move to the premier class in next year's Australian MX Nationals.
KTM Motocross Racing Team Manager and renowned champion builder Rob Twyerould noted the determination and attitude evident in the former Under 19 Champion during last year's championship battle, and was pleased for the opportunity to add Styke to the squad for next year.
Styke, who today takes delivery of his new KTM 450 SX-F, will join Gibbs in contesting next year's New Zealand Motocross Championships, Australian MX Nats and the Australian Supercross championship.
Rob Twyerould – Team Manager on Luke Styke: "Luke is an exciting acquisition for the team. Probably if he hadn't gone to Europe, we would have spoken to him as well this year, but he's gone, and got some international experience and has come back with a pretty big point to prove I think. Again, he's someone that I can see has a lot of potential, has a very determined attitude, and I think will work in very well with our program. He's been a team mate with Gibbsy before so they know each other, and get on quite well. His riding style, nothing really sticks out from the ordinary, it was more his attitude and his determination. There were occasions when he was going through that MX two title, where it could have gone either way. And he was the guy that put his head down and was so determined to win that title. So that's what attracted me more to him, he obviously is a very fast rider but for me it was more his mental strength that I thought was his biggest asset. It's another good advantage for us to have a New South Wales boy, for testing. And obviously with it being his first year on the big bike, it will be quite a steep learning curve for him. So I think it should work quite well."
Rob Twyerould – Team Manager On Kirk Gibbs: "My vision for Kirk always was a long-term vision. He's just got stronger and stronger each year, and after analysing his performance this year, I'm sure he's going to be an absolute contender for the title next year. He is one of the fittest, and most determined guys out there, and not only that, he is just a fantastic guy that works in really well with the group that we have on the team. I think we all enjoy working together, and that's a really big thing, that harmony, and him and his whole family fit into the program very, very well. His mum and dad come to all the races, and help us set up and pack up. Their efforts were brilliant this year, and we look forward to them being involved next year as well.
We'd like to try to give him the opportunity to have a race overseas, which he missed out on this year because it just didn't fit in the schedule. But like usual we'll kick off in New Zealand, and do the Aussie motocross and Supercross, and see if we can fit in a GP visit for him."
Luke Styke "This means a lot to me. I feel like the whole structure of the team, and how it is run is really professional. And I feel like it's going to be a good year, I feel like I've got everything in line, to go for an MX1 championship. I know most of the guys that work on the team behind the scenes, and they are all really cool guys who know how to set up a bike, so I'm looking forward to it. Kirk was my teammate for two years at Serco, and he's a super cool guy. He's pretty laid back, and we race well on the track. He is going to be a great teammate next year, and hopefully we can both be on the podium at the end of the year. Obviously he rode well this year, and it's definitely going to be a strong team next year, and I feel that it will be a good environment. Europe this year didn't go as planned, for a few reasons, but I grow as a person every single year, and will be able to apply what I learned with training and stuff like that this year, so I'm going to be prepared 100%."
Kirk Gibbs: "This means a lot to me. Since I joined the KTM team, I've had nothing but such a good time. I really enjoy going to races, and there was a phase there before KTM, where I didn't enjoy it that much. It started off with Todd as my teammate, and then this year Ford, two great guys that I really like. We'll see what happens next year, teammate-wise, but it's awesome to be a part of the KTM team again next year. I definitely think ours is the best thing out there in the pit, and I'm really excited to be a part of it again for another year."