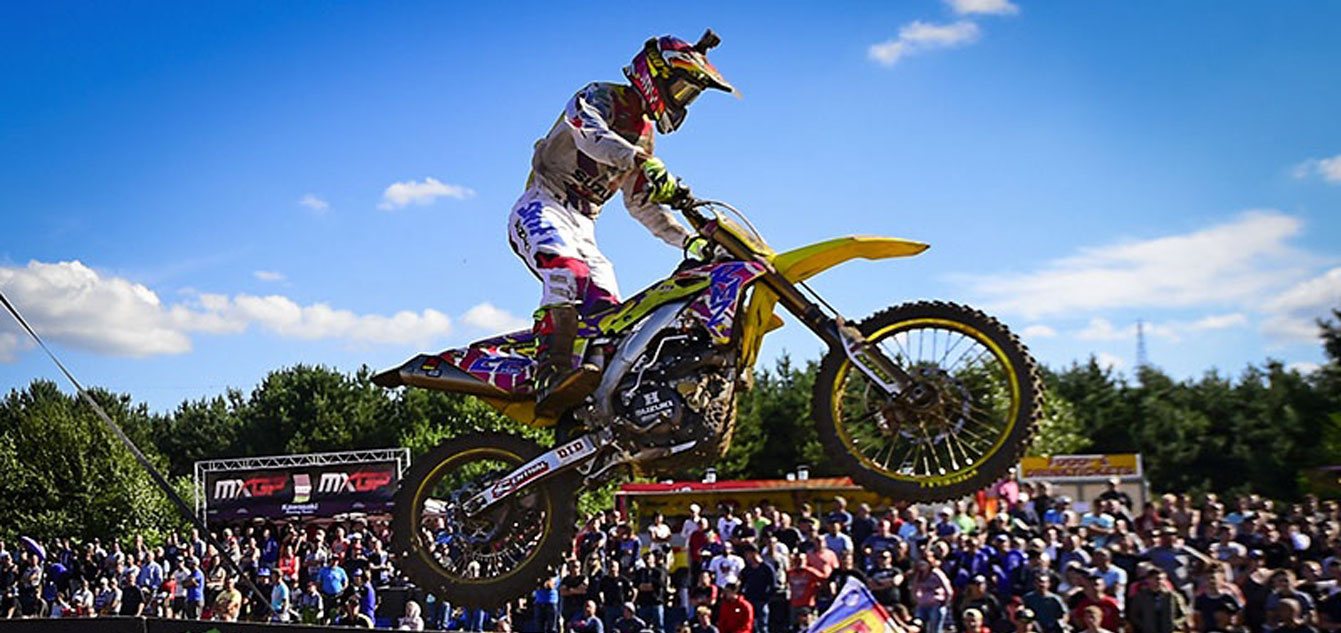 Both riders secured their maiden victories for the 2016 season.
By Hayden Gregory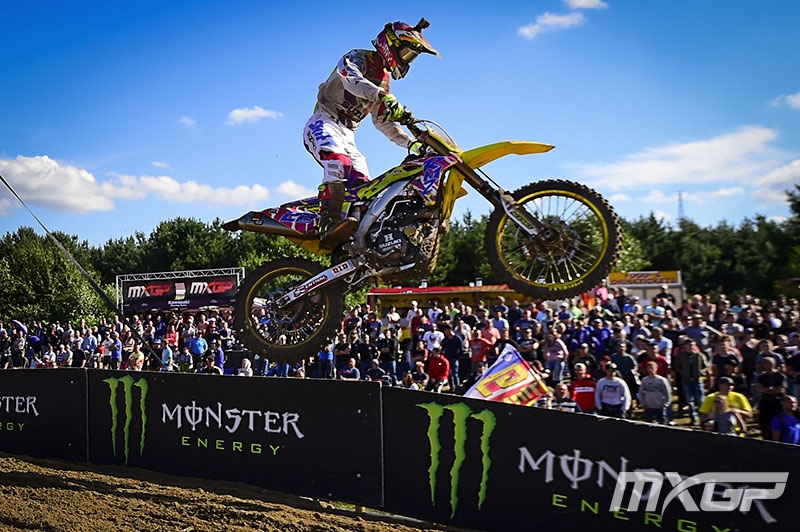 Team Suzuki World MXGP's Kevin Strijbos has sensationally ended a decade long drought to claim round honours in Belgium. A pair of third placings granted Strijbos victory in his hometown race.
"This is good, so nice. I really don't have the words for my feelings at the moment," Strijbos said. "In the first moto I ran with Max but then had to drop my speed a bit, which I wasn't happy with, but found a rhythm again by the end. In the second moto I had to catch-up but I had some good lines and when I got to third I thought about the podium…and then tried not to think about it! All the crew were out of the pitbox on the last lap [saying] that I had won the GP.

"This is a special moment and it has been a long time since I was last on top; nine years and many of the young guys here were not even in GPs then! I'm so stoked for the team because we have worked so hard and not had any results until now; it was tough for them too."
Rockstar Energy Husqvarna's Max Nagl looked set to take his second consecutive round overall after winning the opening moto ahead of Shaun Simpson and Strijbos. The second moto didn't go to plan however and Nagl came crashing down. Tim Gasjer got the points in moto two ahead of Antonio Cairoli and Strijbos. It was a good recovery for the Honda rider who struggled heavily in the first crossing the line in 15th place.
"I'm really pleased and really disappointed at the same time, if I'm honest," Nagl said. "Pleased because I had a really great opening moto and disappointed because I know this could have been another overall MXGP win for me and the team.
"I felt great in the first moto – I made a good start and was able to win by around 10 seconds. I struggled a little in my qualifying race so to be able to turn that around I was very confident going into the second moto. I got the holeshot, but then I was too cautious for the first three laps. Some riders passed me and then I found my speed. Falling in the sand always loses a lot of time, and I dropped to seventh. Second overall, just one-point from the win, is a great result and I am still 100 per cent focused on my goal of trying to end the year second in the championship."
In MX2 racing, the omission of Jeffrey Herlings once again opened up the field with Max Anstie proving the best of the rest. The Husqvarna rider dominated both races showcasing his love for the Lommel track, a place he has tasted victory the past two years.
"I wasn't sure I could make it happen this weekend. Everyone was telling me I should win, I crashed in the qualifying race, and I didn't sleep last night," Anstie shared. "I do love it here, I was pushing hard and I'm glad to get this result for "my team." His team is based right around the corner, literally, and his win marks the first ever for Husqvarna here in Lommel."
Team Suzuki World MX2's Jeremy Seewer claimed a pair of runner up results to place second for the round.
"I tried not to push too fast at the beginning of the first moto because I knew it would be a tough day," Seewer said. "My plan was to make the passes nearer the end because I was feeling really fit and was not using a lot of energy but then the rain started to come and I had to throw my goggles away and I couldn't make my move or the plan happen.
"I could still finish fourth and planned to attack in the second moto," Seewer continued, "I knew Max was behind me in that race and I just tried as hard as I could while in the lead for as long as I could. He made the pass with a couple of laps to go and then I didn't want to take any more risks, so I just tried to finish. It feels amazing to be on the podium again, especially here in the sand, and it has been a fantastic weekend for the team. A special day."
Kawasaki's Petar Petrov rounded out the MX2 podium in third with a 6-3 scorecard.
Tim Gasjer and Jeffrey Herlings continue to hold big point leads in their respective championship classes.
MXGP Overall Top Ten:
1. Kevin Strijbos (BEL, SUZ), 40 points
2. Maximilian Nagl (GER, HUS), 39 points
3. Antonio Cairoli (ITA, KTM), 37 points
4. Jeremy Van Horebeek (BEL, YAM), 32 points
5. Tim Gajser (SLO, HON), 31 points
6. Shaun Simpson (GBR, KTM), 31 points
7. Glenn Coldenhoff (NED, KTM), 29 points
8. Clement Desalle (BEL, KAW), 29 points
9. Evgeny Bobryshev (RUS, HON), 26 points
10. Tanel Leok (EST, KTM), 22 points
MXGP Championship Top Ten:
1. Tim Gajser (SLO, HON), 607 points
2. Antonio Cairoli (ITA, KTM), 504 points
3. Maximilian Nagl (GER, HUS), 490 points
4. Romain Febvre (FRA, YAM), 464 points
5. Evgeny Bobryshev (RUS, HON), 445 points
6. Jeremy Van Horebeek (BEL, YAM), 417 points
7. Valentin Guillod (SUI, YAM), 292 points
8. Glenn Coldenhoff (NED, KTM), 277 points
9. Clement Desalle (BEL, KAW), 273 points
10. Kevin Strijbos (BEL, SUZ), 264 points
MX2 Overall Top Ten:
1. Max Anstie (GBR, HUS), 50 points
2. Jeremy Seewer (SUI, SUZ), 40 points
3. Petar Petrov (BUL, KAW), 37 points
4. Brian Bogers (NED, KTM), 34 points
5. Benoit Paturel (FRA, YAM), 34 points
6. Calvin Vlaanderen (NED, KTM), 30points
7. Michele Cervellin (ITA, HON), 23 points
8. Lars van Berkel (NED, HUS), 21 points
9. Dylan Ferrandis (FRA, KAW), 20 points
10. Alvin Östlund (SWE, YAM), 19 points
MX2 Championship Top Ten: 
1. Jeffrey Herlings (NED, KTM), 597 points
2. Jeremy Seewer (SUI, SUZ), 510 points
3. Pauls Jonass (LAT, KTM), 403 points
4. Benoit Paturel (FRA, YAM), 393 points
5. Dylan Ferrandis (FRA, KAW), 378 points
6. Max Anstie (GBR, HUS), 366 points
7. Aleksandr Tonkov (RUS, YAM), 320 points
8. Petar Petrov (BUL, KAW), 319 points
9. Samuele Bernardini (ITA, TM), 294 points
10. Brian Bogers (NED, KTM), 280 points