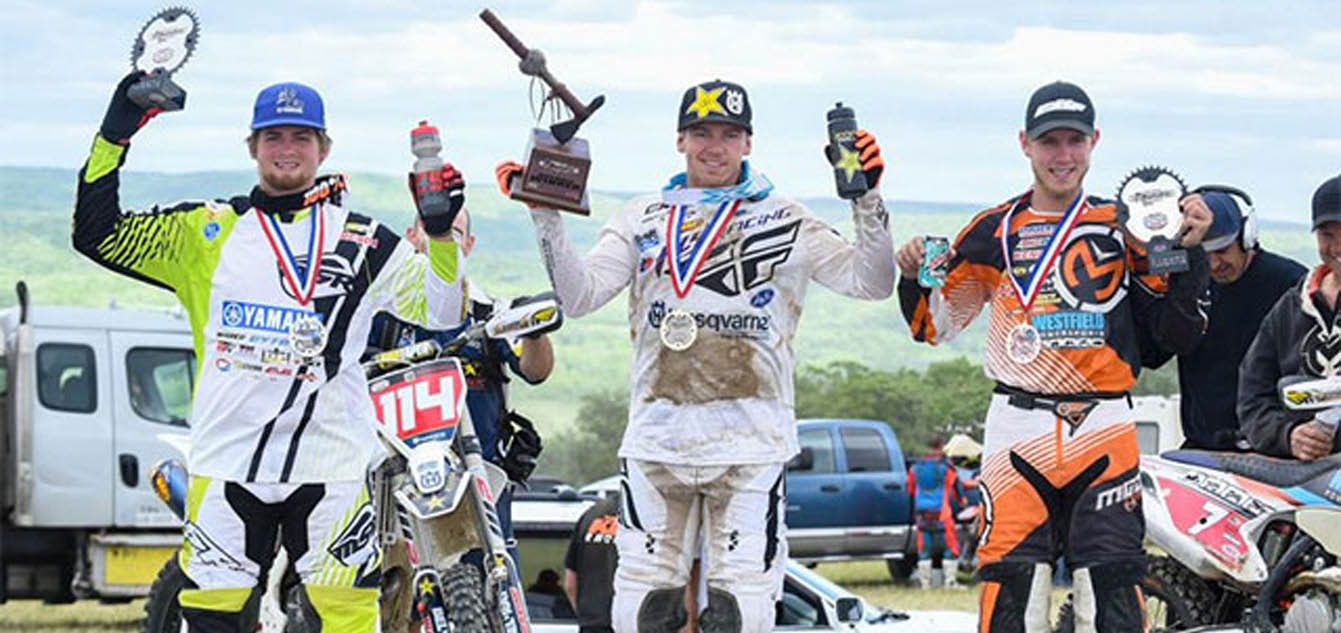 The Aussie has won the eighth round of competition in Odessa, New York.
By Hayden Gregory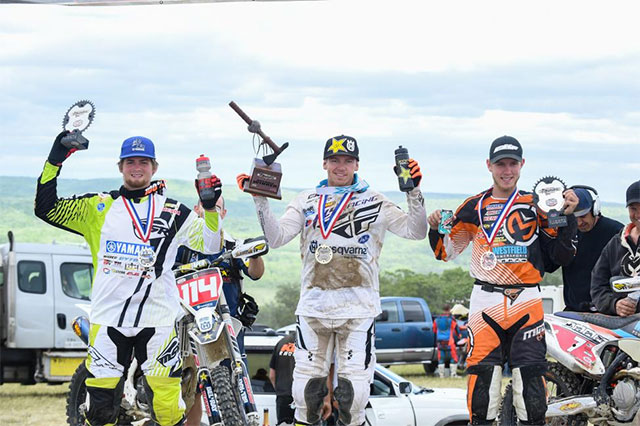 The Rockstar Energy Husqvarna rider made an early move into the lead before pressing through the dusty conditions. Championship leader Kailub Russell and Jordan Ashburn suffered from poor starts and were left fighting near the back of the pack.
Fellow contender Thad Duvall also suffered a cruel fate as he clotheslined himself on a string marked turn. The incident dropped him back to eleventh place.
Russell had moved himself back to the front of the back, to only trail Strang by 15 seconds at the halfway point. Methodically closing in on the leader, the split was only six seconds with a lap to race. The pair were set for a thrilling battle with Russell eventually moving into the lead before a Strang resurgence saw the pair come together and hit the dirt.
The Aussie was able to recover faster of the pair, with a mechanical issue causing Russell to withdraw from the race completely. It was a breath of fresh air for Strang who was able to comfortably kick on to take not only the round win but also the championship led.
"I got off to a quick lead and I think the dust helped me get a gap," said Strang. "Kailub started to catch me on the last two laps and then was right on me on the last lap. Around the six mile marker we had different lines and he came up next to me and we rubbed and I backed off and he passed me. Then about a half mile later the same opportunity came up where I was able to get up next to him and we both came together and got tangled. He hit a tree and then I hit the next tree in line. I'm not a dirty rider but that's racing. We both want to win, and it's unfortunate that it had to be this way." 
Russell's crash would allow Grant Baylor and Jordan Ashburn to battle for the minor positions with Baylor holding on by the slimmest of margins as the chequered flag waved.
"I've struggled big time in the GNCC series all year long," said Baylor. "Ever since I sunk my bike in Florida it's went downhill from there. I'm still trying to bounce back from both my injuries this year. It feels great to be back on the podium where I know I belong, but I wish I could have been up in the front battling for the lead instead of third. I came out with second so I can't really complain because it feels like a win after how this season has been going. I'm really happy with today's results."
"It's been a struggle this year and I've just had some stuff happen that I wasn't sure how it even happened," said Ashburn. "It's been a learning year and we are still learning and every race we just keep progressing and working our way to be on the podium week-in and week-out."
With five rounds remaining Josh Strang holds the championship lead by a single point to Kailub Russell.
Dunlop Tomahawk GNCC- Odessa, New York – Round 8 of 13
XC1 Pro Event Results:
1 Josh Strang (HSQ)
2 Grant Baylor (YAM)
3 Jordan Ashburn (KTM)
4 Ricky Russell (SUZ)
5 Russell Bobbitt (KTM)
6 Thad Duvall (HSQ)
7 Steward Baylor Jr. (KTM)
8 Chris Douglas (SUZ)
9 Cory Buttrick (KTM)
10 Philippe Chaine (KTM)
Overall National Championship Standings:
1 Josh Strang (197)
2 Kailub Russell (196)
3 Trevor Bollinger (107)
4 Chris Bach (105)
5 Jordan Ashburn (105)
6 Craig Delong (93)
7 Thad Duvall (84)
8 Steward Baylor Jr. (83)
9 Grant Baylor (81)
10 Ricky Russell (80)