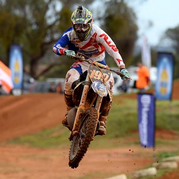 Crawford dominates to storm into title contention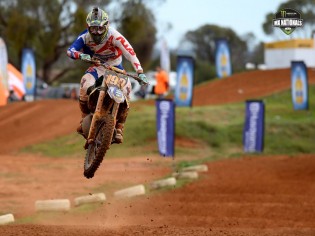 Husqvarna rider Nathan Crawford has performed a clean sweep in the Pirelli MXD class at the fourth round of the 2014 Monster Energy MX Nationals at Murray Bridge. The result has propelled the talented rider to within eight points of the overall series lead (currently on 265 points), and has added to the intrigue of the current class standings.
Only three points separates the top three riders in the class with Husqvarna Australia's Egan Mastin sitting on 273 points, Bolton KTM Motorcycles rider Jack Simpson on 272 points and GYTR Yamaha's Jed Beaton on 270 points. But it was all about Crawford in South Australia, who put in a sterling performance to claim the round honours.
In the opening moto, a huge crash at the opening corner saw Simpson go down and Crawford take the holeshot. His lead didn't last long with Cully's Yamaha rider Kyle Webster taking the lead from Aaron Tanti (Sutto's SS Racing KTM), Crawford and Mastin in fourth. By the halfway point of the race, Mastin had claimed the lead from Crawford and Webster, and looked to be heading for a big race win. However, the tightness of the class was on display when right on the finish line, Crawford passed Mastin to take the win in one of the closest finishes seen in recent times. Webster rounded off the top three, with Dylan Wilson (Tattoo Racing Suzuki) and Beaton finishing in fourth and fifth place respectively.  Simpson battled hard from back in 17th place early on in the race to finish in 10th and earn some important points to go towards the championship race.
The second moto saw Crawford race to the holeshot and take the lead which he never surrendered throughout the race. Simpson moved into second place ahead of Webster and Beaton, and the trio finished in second, third and fourth respectively. The second race was Mastin's turn to claim valuable make-up points after a terrible start, finishing the moto in fifth place and third outright on the day behind Webster.
For a full list of results, visit www.mxnationals.com.au.
Round five of the 2014 Monster Energy MX Nationals makes its way to Wanneroo in Western Australia on 25 May.
MXD CLASS:
Round Results:
1) Nathan Crawford 70 (35, 35)
2) Kyle Webster 60 (30, 30)
3) Egan Mastin 58 (32, 26)
4) Jed Beaton 54 (26, 28)
5) Jack Simpson 53 (21, 32)
6) Dylan Wilson 52 (28, 24)
7) Aaron Tanti 50 (25, 25)
8) Jayden Rykers 46 (23, 23)
9) Wilson Todd 39 (24, 15)
10) Daniel Price 38 (16, 22)
Overall Championship Standings:
1) Egan Mastin 273
2) Jack Simpson 272
3) Jed Beaton 270
4) Nathan Crawford 265
5) Wilson Todd 209
6) Kyle Webster 206
7) Jayden Rykers 199
8) Aaron Tanti 177
9) Brock McLeary 176
10) Daniel Price 155