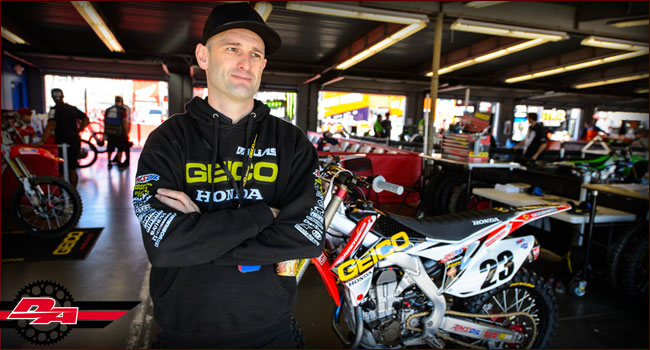 AUSTRALIA'S FACTORY CONNECTION
We catch up with an Aussie who's been embedded in the AMA motocross and supercross scene longer than Chad Reed and Michael Byrne — Geico Honda's Kris Kibby
STORY SHANE BOOTH | PHOTOGRAPHY SIMON CUDBY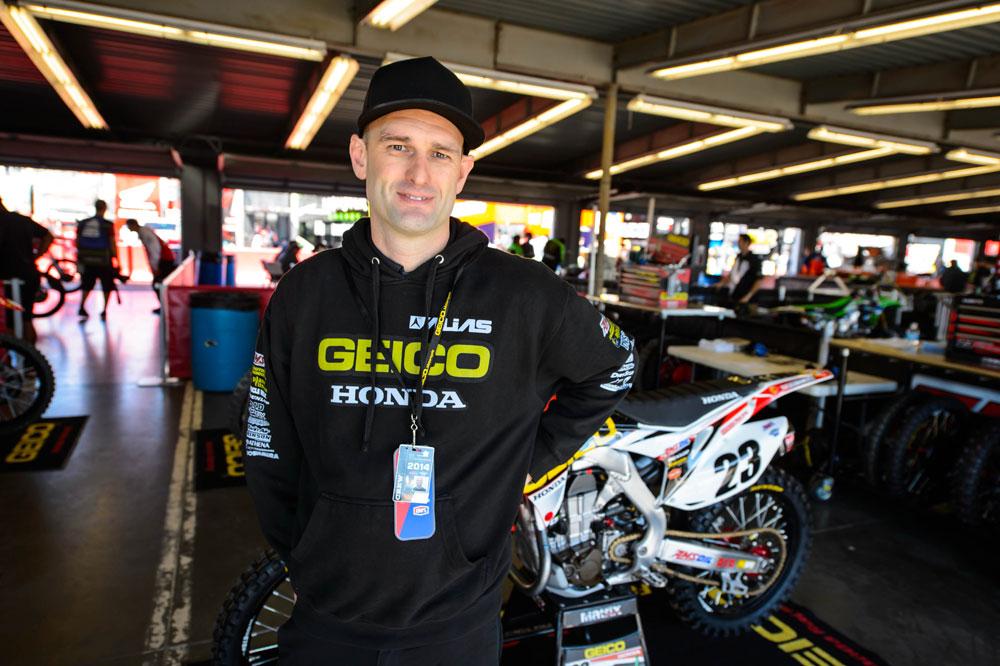 The name Kris Kibby won't ring bells with motocross fans the way Chad Reed and Michael Byrne do — but the Australian has been overseas working in the AMA scene longer than both Aussie legends.
Back in 1996, Kibby worked for Jamie Brockman when he was with the KTM race team under Jeff Leisk before meeting Jay Foreman and joining Team Suzuki in 1997 and 1998. After working with American Mike Jones in Australia and joining Andrew McFarlane on a two-race USA stint, Kris used the accumulated connections to head to a job with Suzuki in the US.
His first gig was Mike Jones' Arenacross and Supercross campaign. Then he moved to Planet Honda, Factory Husqvarna and Mach 1 Yamaha with Nick Wey. In 2004, Kris took up what he calls his first stable employment with Factory Connection, where he still works today.
So how did the Factory Connection position come about?
Well, it was actually Andrew Hopson from AXIS Motorsports that played an instrumental part in getting me into the role. Shane Drew, who is currently the head of suspension at American Honda Racing, also had a bit to do with it. At the time, Hoppo [Andrew Hopson] was the head of two-stroke R&D at American Honda Racing. Back then I was wrenching for Nick Wey. It was 2003, and at that time Shane was working for Mike LaRocco as his wrench. We would always end up seeing each other on the start line, picking gates next to each other. We would chat and he was going to be coming over to assume a position at Factory Connection, which he didn't end up doing. It was then that my name got tossed around and Hoppo kind of vouched for me, too.
This was in the transition into four-stroke racing, with the start of the CRF 250 coming in '04. They were looking for someone with four-stroke experience to assemble their engines — that's where I came in. Around the same time I had been in contact with Pro Circuit and was looking at pursuing openings there, but the fact that they had such an established structure that is very much controlled by Mitch had me leaning towards Factory Connection. I felt the landscape at the growing Factory Connection Team left room for me to maybe have a greater input on the end product and not just be an employee — somewhere that I thought I could grow into and end up having some influence. It felt like I could get in early and be part of building something with Factory Connection and that's what swung me towards the team.
What was your role to start with and how has it evolved up to now?
When I first started with the team, my primary role for employment was strictly to assemble their four-stroke engines. Each individual mechanic up to that point had built their own two-stroke engines, so in preparation for a race he'd rebuild the entire chassis and rebuild his own engine. Going into the four-strokes, they were only intending on campaigning one or maybe two four-strokes on the four-rider team and they wanted to have one dedicated engine builder for those four-stroke bikes. I think it was at the recommendation of America Honda Racing, who had hired a four-stroke specialist to look after their 450s and thought Factory Connection should do the same. The mechanics, given some time, were more than capable of working on the four-stroke engines but they just wanted someone who could come in and hit the ground running and know the four-stroke engine inside-out, and that's where is started off for me.
It was an interesting year, too. They never really anticipated having to modify the four-stroke that much. In '04 there was very little modification going on; they only required a little bit of work and they were already out-powering the greatest 125 that we were competing against. But very quickly during '04, the guys that were originally penned to be on 125s for the entire season were pretty quickly raising their hands to get onto the four-stroke, too.
So, by the Outdoors in '04, the entire team was on four-strokes when it was originally intended to be two and two. So, naturally, following that and my passion in wanting to be involved, the development side of things started consuming a huge amount of man hours. Not that I knew everything but along the way I tried to educate the whole crew. I didn't just go and hide in an engine room all day keeping it all a secret; I was trying to share as much as I could about the four-stroke and, by the end of that year, all the individual mechanics were up to speed and doing some of their own engine work. Now that they were doing some of the work I could spend more time on the development side of things and got into the thick of it. On the carburetted CRF 250 from '04 to '09 we had tested more than 36 different camshafts, probably double that in piston versions and somewhere over 20 different cylinder head configurations. So as the years went by I spent more and more time on the development side of things and we ended up having somebody else take over engine assembly duties.
So what is your title now with the team?
It's technical coordinator. Right now, in order to construct our race bike, we don't use too many parts that are straight off the shelf — even stuff that makes sense like hubs and things like that. We have pretty specific criteria for parts; a lot of things that are made for the market they want it to be able to not cause any grief to a customer and at the same time the customer isn't going to be seeing how many grams a part weighs. There are so many parts on the bike that are close to what you might get off the shelf but they are slightly different. We commission all of our own parts to be made; we don't have in-house machine shops currently but we'll work with various different machine houses. Some do high volume, some do prototype stuff, so a lot of what I do know isn't just engine based; it's the whole motorcycle. I'll work with all the companies that sponsor the team and I'll aid them in bettering their products. We may even do products that are specific for us and they'll retail a slightly different version.
So there's a lot of going backwards and forwards. We might get sent parts and I'll look at getting those parts on the bike for maybe 10 hours and getting the parts off, tagging them and sending them back to the company. Then we'll discuss what we need to change or what we're seeing at that 10-hour mark and get a revision on the part.
So that process basically happens from head to toe on the bike. It can be the smallest little things: handlebars, triple clamps, levers, perches, brake carriers, discs, you name it. Then there's the big ones: the engine parts, the exhaust system, which is huge this year. There has been a lot of development with Yoshimura on the new dual pipe. It gets all the way down to seat covers, seat foams, even graphics. We make sure the graphics wrap around edges in the right places so that they aren't flapping off the bike five laps into a 30-minute moto. Working with guys that do grips — you know, there may be a grip groove that's big enough to accommodate coat hanger wire and doesn't really need to be that big. There's so many trivial little things.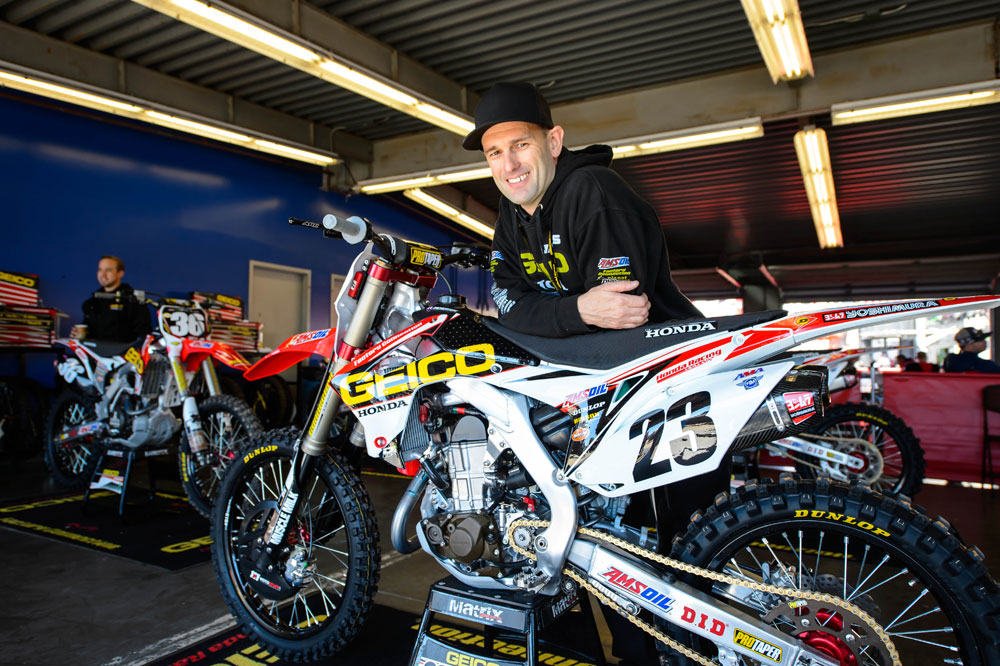 OK, let me ask this question, then. Is there anything stock or off the shelf on the bike at all?
Put it this way: I love to use as many stock parts as possible. For example, rear axle chain adjuster blocks, we run stock. I don't see anything wrong with that part. We do a hard anodising on it to colour it ourselves. All the aftermarket ones we've had, I'd sit there with the stock part and their part and say, "What is your part doing better?" Right now, it would be easier for us to build our bikes from the spare parts system. When we start with a complete motorcycle we tear it all down and put 80 per cent of it in a storage container. We do start with complete motorcycles. It's part of our sponsorship with Honda — that way we can sell the bikes at the end of the year. They get sold in stock condition with all of those parts we stripped off and stored, so they'll have brand-new stock wheels, suspension, radiators, complete cylinder head, top end and exhaust plus quite a few other things.
We use a stock rear brake system for the most part, master cylinder and caliper. We use stock frame and stock engine cases. We start with the stock wiring harness but it's heavily modified — we shorten it and add some waterproof connectors that have kind of a locking quick-connect. We make modifications to a lot of the electrical components to avoid DNF failure. With that stuff, we're not only talking about losing a race but also talking about making sure the bike doesn't cut out on the face of a triple or something like that, especially the practice bikes that do so much more work.
Really, the toughest part of all of this that people from the outside looking in don't understand or don't stop to think; race weekend is easy for us. Just like a rider has done all the training during the week, the same goes for us with the bikes. Getting a race bike that we've worked on for 40 hours to run for 45 minutes on a Saturday night, that's easy; it's building bikes that can deal with the mid-week hours that takes time. I've had guys that will put 10 hours on a bike in a week — and that's 10 hours of high-intensity motos. Five hours is probably the average amount per week, though. The practice bikes are the same as the race bikes, but the race bike is serviced in one- or two-hour intervals whereas the practice bikes are serviced anywhere from 10- to 30-hour intervals, depending on its particular setting and how highly strung it is. For the most part, 15–20 hours on a practice engine is common. So that turns into being an engine rebuild every three to four weeks.
Then, if you look at something like a custom-ordered piston that takes 30 days to deliver and you get into an outdoor series where you might do five to six rounds back to back in the beginning, if you have a problem with that part it can compound quickly. We have three race engines per guy, so if we're fielding five guys we have a fleet of 15 race engines and they're all the same for the most part. If there's a running problem with something and we have to tear into all of them to rectify the problem, or go back to the drawing board because we've found a part has an issue and we have to change it in the next five or 10 engines that are going to the next race and are already on the other side of the country, it becomes a big logistical nightmare. Then you have to come up with a backup plan or a swift course of action. Not that that happens very often because that's what we work so hard to avoid, but if it does it falls in my lap to take care of.
Once the race season starts, does the majority of the research and development stop?
Unfortunately, no. We'd like it to and we try for that to be the case but it doesn't really happen. The thing is you have a rider that finishes outdoors in September; they have a little bit of a break, might start riding a bit of supercross in October but they aren't quite up to speed. You watch them ride and they just don't quite look like they did six months ago when they were in the middle of the supercross season. We try to do the development in blocks. We'll do a one- or two-week comprehensive block of testing where we'll focus primarily on the chassis and suspension and we'll continue to run the previous year's engine settings. Once they've got that, they have a good platform to go away and keep riding, maybe back to their home state, which is another hurdle we deal with — quite often our riders don't even live in California, so that's another logistical nightmare. They can do two or three weeks of riding and come back to us hopefully at an elevated pace and they may have more of an idea of what they want to address on the bike and that's what we'll look at in the second block of testing. So it will go in kind of waves like that right up until A1. Then, usually, once they race, other things will show up, just from the higher intensity or maybe studying the race video. Then we revisit their setting like that as the race series goes along. Generally, by midway through supercross there aren't too many more changes. We do keep testing behind the scenes and if we find something that we think is a drastic improvement we may offer it to the rider, but only if it's substantially better.
Do you still go to every race?
Yeah, since I've been with Factory Connection I've probably missed four or five races in total out of supercross and motocross in the last 11 years. So it ends up being close to 30 races a year that I go to.
How does having two 450 riders now on the team affect the work load?
I still kind of oversee what's necessary in gathering all the pieces to build the bikes. I still steer the ship as far as what engine type of testing we want to do with regard to Will Hahn. Will and Eli have slightly different agreements, so I have greater involvement in Will's bike. Basically Will's 450 is an extension of our 250 program; much the same way we build our 250 race bikes, we build the 450. You know, just when you think you're on top of things — it might be something on a 450 but it's not really extra sweat on me, just a few extra things to account for in planning and preparation. We have a dedicated 450 engine builder who builds for both Eli and Will, the only difference being that Eli's motorcycle is supplied by American Honda Racing — it begins life there and then we're able to modify it as we feel necessary. I wouldn't say that one bike is better than the other; at the end of the day it ends up that they are slightly different in some areas, but not too much. But, for sure, I'm less involved in Eli's motorcycle.
Why do you think the team has stood the test of time and grown into such a strong contender?
It all comes down to how well the team is run as a business. We have a founder, Rick Zielfelder, who had a business model for the team that proved to be successful long term. It would be very easy for some teams to perhaps spend and dig themselves into a hole and be really reliant on sponsorship dollars the next season to bail them out. There's any number of things that can go wrong. If you look at the history of supercross in just the last 10 years, there's a lot of teams that have looked like a big show because of a truck. There's a lot out there that have failed for one reason or another. Whatever Ziggy's strategy was, it was the right one.
Just [as] his business Factory Connection has just grown naturally, so has the team. Maybe some teams try to grow too rapidly or they spend too much money on day one. I remember years ago being far more frugal with parts than we are these days. There's technicians that have joined the team in recent years and they think it's all great that they have all these parts at their disposal and that they can change things all the time. I remember being back with the team when we were using things for a greater period of time and we had to see every penny through. It's a tricky thing; with some success comes sponsors but if you had more sponsors you might have had more success. It can be a tricky catch-22. Once you get some results and get the snowball rolling, once Canard won the championship and followed it up again with Canard and Barcia, we got Geico on board and they have been happy with the exposure they get, so things have just been really positive. There are definitely some brains behind the operation; it's a credit to Ziggy.
How big of a part of your role is being able to juggle everyone's personalities?
Huge; it's huge. I was obviously never a rider at these guys' levels but I at least rode to a point where I can understand what they want. There are guys out there that are far more talented than me from an engineering and engine point of view, whatever you want to call it, but I feel like because I've ridden it definitely helps me work with them. I know enough about the mechanics of it and I know enough about the riding side of things that I feel like I can kind of bridge the gap and communicate across it.
A lot of the kids these days don't even know how the engine functions. They get their driver's licence and they're driving a V8 truck that's auto. They just get on the freeway and drive. They don't even know what it is to drive a manual four-cylinder and the engine screaming because you left it in second gear. So I need communicate and educate these guys on how the engines work and how to get the most out of them. That's kind of what helped me into this role in the first place — because I have an automotive background I knew four-strokes and it played into my hands at the right time.
Back to the personality question — even just communicating in general we have a big old group of mechanics and there can easily be bickering and arguments and differences of opinion and what not. When I was first asked to do this role, I was kind of chosen by my peers to kind of lead the way, which was daunting at first. Initially, choosing this profession where you are passionate about building engines and motorcycles, little did I know years later it's gonna be more about people skills than I would've ever imagined. Then those people skills are even more necessary when you imagine the pressures involved in a title chase or in a time crunch where a bike doesn't start and you have two minutes to get to the gate.
The people-skills side of it is massive. You're travelling with these guys like you're a football team. You're everybody's friend but there is also something of a hierarchy and somebody has to call the shots, so it's not just a free-for-all. You've got different personalities on the team, from the crew side and then you have the riders. That's another one: if you have a successful rider on the team and we have an influx of new talent and maybe the new talent is faster, then you have to contend with the older guy coming to terms with the young guy that's faster and the older guy is no longer the top dog. When you have two teammates racing each other, that's another delicate one. I guess it's a good problem to have but it can get a little crazy. At the end of the day, the people side of things is huge — it's a really big part of the whole program.
Give us an insight into some of the riders you have worked with.
Canard was easy to work for because at the time that I was working with him he was so confident of himself and mature beyond years. I think I met him as a 17-year-old but he was 17 going on 37 — probably more mature than I was, a great kid to be around. Will Hahn has been a great guy testing; I've been able to bounce a lot of things off him.
Eli Tomac — most people would think he's very, very particular in what he wants but, honestly, the most common phrase out of Eli's mouth was, "It's a barker." If a bike ran really good he called it a barker; he'd come in off the track and just say, "This thing barks!" It would just blow me away. I would be like, "Eli, I'm looking for some kind of detailed feedback," and he would just say, "It's all good. This thing's a barker!" There were times when he was just on fire and decimating the field, setting times faster than 450s, and I would try to have a serious conversation with him about the bike and he would just come back with things like, "It's good; it rips." It's kind of an interesting part of the 250 class. With the 450 you're looking for a better power delivery most of the time — not so much more power. The 250s, though, are kind of cool because more is more, typically. Sure, you want the power kind of in the right spot but if you find more horsepower, nine times out of 10 it's good.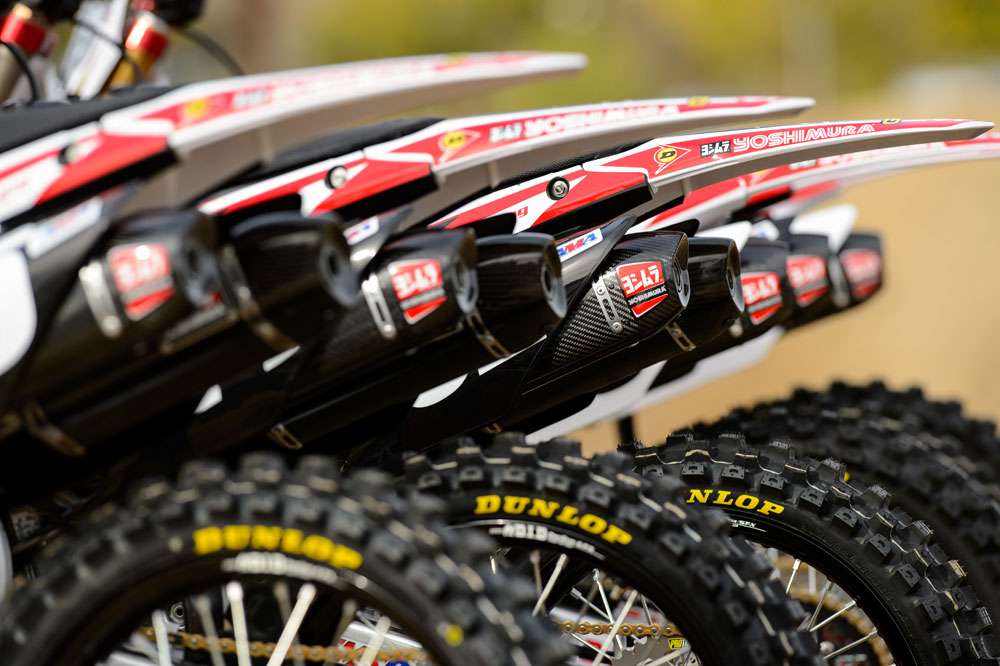 To finish off, can you tell us what the race bikes get week in, week out?
When the races are in California, the race bike may not get touched on a Monday because they might have to do some maintenance on a practice bike and get their guy ready and out for the week. Quite often on a Monday, I'll walk through and grab all the silencers off the race bikes and I'll run all of our silencers up to Yoshimura, who are only about 10km away, to be repacked. Then Tuesday, the mechanic will tear the bike down completely [and] save all the plastic for his practice bike. He'll take the engine to the engine room and then disassemble the whole bike and basically clean it all. They'll go over everything with a fine-tooth comb. We definitely tear everything apart weekly but it doesn't mean we actually replace that much.
If you add it up, supercross series, eight or nine rounds at about an hour a week, if you didn't touch the bike for the whole series you've accumulated nine hours. Majority of the parts can go four or five hours and it's not an issue. We'll typically do half a series before we change anything like throttle cables or the brake pedal, something like that. The bikes typically have two or three sets of suspension, three sets of wheels and three engines, so they'll all get rotated. So, by the time a nine rounds series is done, each one of those components has only seen the track three times. By the end of the supercross series the wheels have only turned for three hours and the same goes for the suspension and motor. The engine is fully disassembled and looked over. The most common thing to see is some abuse in the transmission, so we do change those for a fresh one every week.
One of the biggest reasons is that you have no time in a supercross schedule if anything starts to go wrong. If the rider comes in from a heat race and says, "This is kind of jumping out of third every once in a while," you just don't have that much time to react. And quite often — and because there is so much value in winning a supercross — we'll put a new transmission in every week just so we know it's new. But then the one that comes out can be inspected at a later date and it may go back in and do an outdoor race later in the year. We might crack-test it or double check that all the dogs look good. Or the other thing is that they are practising so much, rather than put a brand-new one in their practice bike that will then be hours old after the first day, we may as well put a 45-minute-old transmission out of their race bike into it.
There is a lot of brand-new stuff that will go in just for the sake of it in supercross but we still use the old stuff — it doesn't get thrown away. Essentially, everything is cleaned, inspected and put back together. So when the bike is rebuilt ready for the next week, it might have a rotation engine that's been rebuilt but maybe only with new rings, valve stem seals and a new clutch. All the bearings and everything are good to go, the piston is going to be good for more than four races, the crank is good for more than four races — most of that stuff will go for half the series and maybe get a birthday at the halfway point. You could roll the bike back out with new plastics, graphics, grips, brake pads, stem seals, rings, clutch, tyres and you're about done.
The key to it all is just making sure everything is inspected. It comes apart, goes back together. But we're not a wasteful operation — if it comes off a race bike there [are] many other uses, whether it's a test bike, dyno bike, practice bike or whatever. Typically, it's about a solid day-and-a-half of work on the bike to get it ready each week.
Want more articles like this? Subscribe to Dirt Action Magazine.