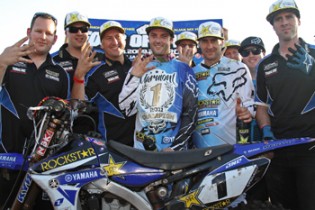 Wollongong's Jay Marmont has captured a spectacular fourth straight Rockstar Energy Drink MX Nationals Championship following an epic season finale at Coolum Pines Motocross Park on the Sunshine Coast.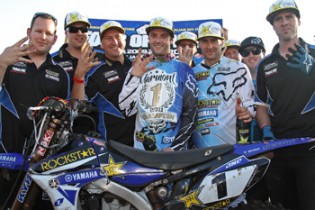 The CDR Rockstar Energy Drink Yamaha team rider overcame an 18-point deficit to edge out teammate Josh Coppins in the series with the overall victory, clinching the premier Pro Open title after his Kiwi rival suffered a dislocated shoulder in moto three and was forced out of action.
Marmont has been stunning in the second half of the season, his popular championship win coming via 1-2-1-1 results against Australia's best to assert himself as one of the greatest ever in the sport.
"What a day, not in my wildest dreams did I think that this was going to happen," the 28-year-old said. "I just tried to win out there today, got the points I needed to for the championship and I'm just so happy to be here.
"It hasn't sunk in yet, but I do have the same butterflies that I had when I won my first one in 2008. Crazy things have happened this year, everybody's had their bad luck, but that is racing and exactly why we all do it and why we love it.
"I couldn't have done this without CDR Rockstar Energy Yamaha, all of my sponsors and massive group of supporters. I also want to say congratulations to Josh and the other guys on a great season, I look forward to coming back and battling for number five."
For former world championship runner-up Coppins, the final round was a heartbreaking one, attempting to line up for moto four before he opted out due to pain from his shoulder injury. Coppins is expected to undergo surgery this week.
Coppins had earlier shadowed Marmont in moto one to finish second and stepped up to win moto two, but came unstuck in moto three to see his title hopes dashed in a disappointing turn of events for the likeable 34-year-old.
"In motocross the highs are high and the lows are low, but that's why we do it," a gracious Coppins said. "Today was one of those days, but I gave 100 percent and so did the team. I just want to say congratulations to Jay and his family – he's been a class act all year and deserved it. I did my best, that's all that I can do."
Despite crashing out of title contention, ninth overall at Coolum secured second in the series for Coppins ahead of Monster Energy Kawasaki's Billy Mackenzie, who leapfrogged teammate Dean Ferris in the standings.
"I've really enjoyed it here and I hope to come back next year to try for the championship again," Scottish star Mackenzie said. "It's been tough, a proper championship and everybody stepped it up. The competition has been really good all year so I look forward to coming back for another crack in 2012."
Ferris, 21, was involved in the crash with Coppins in moto three and was transported to hospital in a stable condition after being attended to by the Suzuki RACESAFE Medical Team.
Mackenzie finished second overall for the round after taking 3-6-2-3 finishes, with Todd Waters taking his second podium in a row for Carlton Dry Honda Thor Racing after returning from injury mid-season. Waters scored 9-9-4-2 results.
The Andrew McFarlane Privateer Cup went to Western Australian hard-charger Louis Calvin, who finished ninth overall in the championship for Herb Watson Racing KTM on a 350 SX-F.
JDR Motorex KTM's Matt Moss captured his second career championship in the Pro Lites category, adding this year's title to the one he won in 2009 after finishing third overall at Coolum.
"I'd really like to thank the JDR Motorex KTM team, it's pretty much like a big family," Moss said. "My dad and the Moss Institute have pretty much bred me to be a motocross racer, so hopefully this championship does him proud. We're all so proud to have the championship after a great year."
Moss, 23, remained consistent to seal the deal in third at Coolum with 4-9-1-5 results, while championship challenger Kirk Gibbs finished 10 points behind him in the series after winning overall at the season finale.
Serco Yoshimura Yamaha's Gibbs was relentless in his fight for the title, but had to settle for victory in the final round on his way to the number two position in the series for the second year in a row. Gibbs took 2-1-2-1 scores for the weekend.
"I could only do what I could do and whatever happened to Matt today was always going to dictate the final outcome," 22-year-old Gibbs said. "Matt rode great all year, but it feels good to come away with a win to finish off the year here at Coolum."
Third overall in the Pro Lites championship went to American Phil Nicoletti for Monster Energy Kawasaki, taking out fourth on Sunday to conclude his season.
Berry Sweet Strawberries/Lucas Oil Honda Racing's Kade Mosig had a superb finish to the season with second overall after racing to 1-2-3-2 finishes today.
Mosig was also top privateer in the Pro Lites championship for the second year in a row, capping off his season with the Jono Porter Privateer Cup after taking out fifth in the series.
In the Pirelli Under 19s development category it was GYTR Rockstar Energy Drink Yamaha's Shaun Redhead who broke through for his first win of the season with 1-1-14-2 results.
The talented Queensland rising star crashed during moto three, but was still able to bounce back in the fourth moto to seal the round victory from Jake Emanuelli's (Hart and Huntington/Yamaha Australia) 12-8-1-1 finishes.
"It's probably one of my most consistent seasons and I'm stoked to finish the year on top," Redhead said. "The team has been right behind me all year and this is a big confidence boost for me."
Rounding out the podium was a third Yamaha rider in Redhead's teammate Luke Arbon, who took 2-2-2-18 results after encountering difficulties in the final moto.
New series champion Errol Willis (Raceline Pirelli Suzuki) was fifth on Sunday behind local Jacob Wright (Honda Australia). Despite a challenging season finale, Willis was pleased with his season.
"I'm pumped, it wouldn't have been possible without Raceline Pirelli Suzuki and all of my supporters," Willis said. "We have a really good team, I can't thank them enough – they made a real rider of me. I'll be coming out swinging next year in the Lites."
Finishing behind Willis in the championship was Arbon and Redhead, while Emanuelli won the rising star award for top rookie in the series.
The Coolum round of the Rockstar Energy Drink MX Nationals featured the Australian Veteran Motocross Championships, with both Cameron Taylor and Darryl King defending their respective titles for Yamaha.
Taylor won the 30-39 years class to retain the number one plate, winning ahead of Mal Cash (Kawasaki) and Nathan Brochtrup (Honda) after a clean-sweep of the weekend. Rounding out the top five was JDR Motorex KTM team manager Danny Ham on a 250 SX two-stroke, and Craig Carmichael (Kawasaki).
New Zealand's former Pro Open champion King came out on top in the 40-plus category for the second year in a row, but not before fending off the challenge of Queenslander Mick Cook (Kawasaki). Mark Kirkman (Yamaha) rounded out the podium ahead of Shane Edmonds (KTM) and Gavin Hutton (KTM).
Visit www.mxnationals.com.au on the web for complete series and round information on the 2011 season.
2011 Rockstar Energy Drink MX Nationals
Round 9 Results:
Rockstar Energy Drink Pro Open
1. Jay Marmont (CDR Rockstar Energy Drink Yamaha) 97
2. Billy Mackenzie (Monster Energy Kawasaki) 77
3. Todd Waters (Carlton Dry Honda Thor Racing) 64
4. Lawson Bopping (Raceline Pirelli Suzuki) 64
5. Cody Cooper (Rockstar Motul Suzuki) 54
6. Jamie Law (Herb Watson Racing KTM) 53
7. Michael Addison (Team 07 Axis Motorsports Honda) 52
8. Michael Phillips (Carlton Dry Honda Thor Racing) 50
9. Josh Coppins (CDR Rockstar Energy Drink Yamaha) 47
10. Beau Ralston (Chris Watson Motorcycles Yamaha) 44
Motul Pro Lites
1. Kirk Gibbs (Serco Yoshimura Yamaha) 94
2. Kade Mosig (Berry Sweet Strawberries/Lucas Oil Honda) 89
3. Matt Moss (JDR Motorex KTM) 71
4. Phil Nicoletti (Monster Energy Kawasaki) 67
5. Luke Styke (GYTR Rockstar Energy Yamaha) 65
6. Justin McDonald (Team 07 Axis Motorsports Honda) 61
7. Josh Cachia (JDR Motorex KTM) 57
8. Daniel McCoy (Rockstar Motul Suzuki) 57
9. Brenden Harrison (JDR Motorex KTM) 55
10. Keiron Hall (Team 07 Axis Motorsports Honda) 36
Pirelli Under 19s
1. Shaun Redhead (GYTR Rockstar Energy Yamaha) 79
2. Jake Emanuelli (Hart and Huntington/Yamaha Australia) 72
3. Luke Arbon (GYTR Rockstar Energy Yamaha) 69
4. Jacob Wright (Honda Australia) 68
5. Errol Willis (Raceline Pirelli Suzuki) 63
6. Sam Martin (Byrners Suzuki) 54
7. Dan Banks (Eco-Pest Control KTM) 54
8. Jay Wilson (Coastal KTM) 53
9. Luke Reardon (KTM Brisbane) 43
10. Dylan Peterson (Team 07 Axis Motorsports Honda) 41
Championship Standings (after 9 of 9 rounds):
Rockstar Energy Drink Pro Open
1. Jay Marmont 682
2. Josh Coppins 650
3. Billy Mackenzie 636
4. Dean Ferris 601
5. Cheyne Boyd 537
6. Michael Phillips 510
7. Lawson Bopping 497
8. Cody Cooper 449
9. Louis Calvin 340
10. Beau Ralston 246
Motul Pro Lites
1. Matt Moss 638
2. Kirk Gibbs 628
3. Phil Nicoletti 544
4. Brenden Harrison 533
5. Kade Mosig 529
6. Daniel McCoy 518
7. Josh Cachia 480
8. Justin McDonald 464
9. Cody Mackie 454
10. Luke Styke 437
Pirelli Under 19s
1. Errol Willis 719
2. Luke Arbon 619
3. Shaun Redhead 545
4. Dylan Peterson 466
5. Jake Emanuelli 452
6. Jay Wilson 438
7. Kyle McKeddie 401
8. Sam Martin 359
9. Kale Makeham 311
10. Dylan Long 306