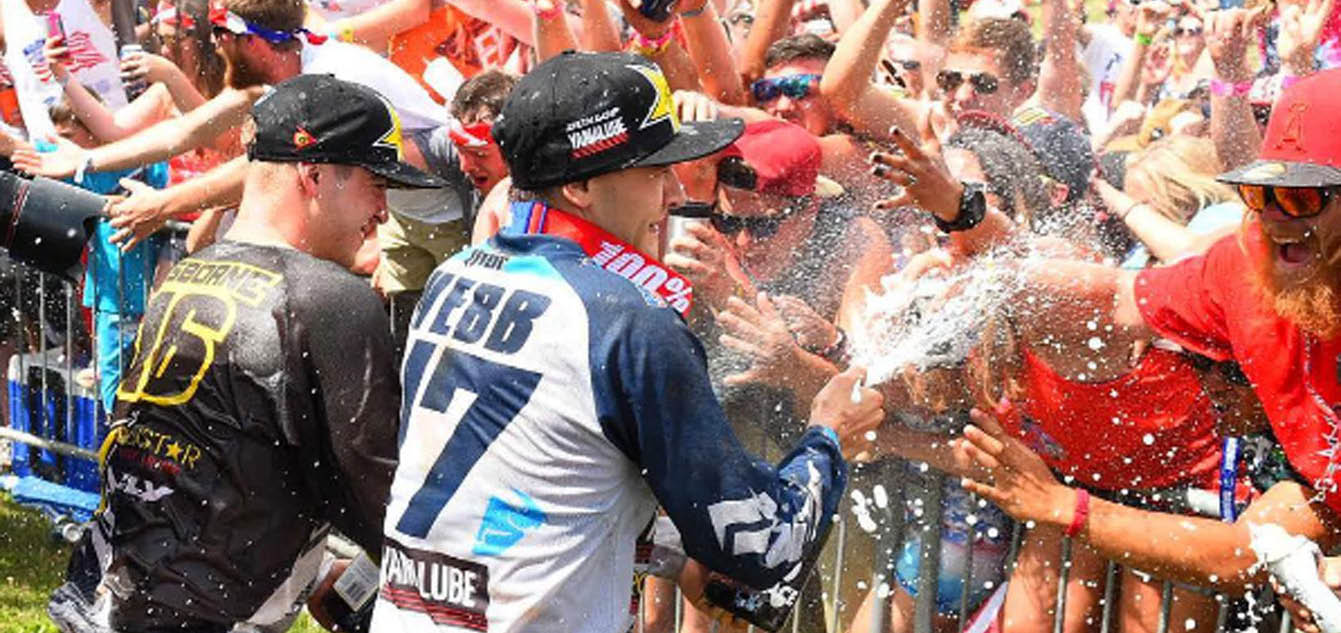 All the talk from the pits.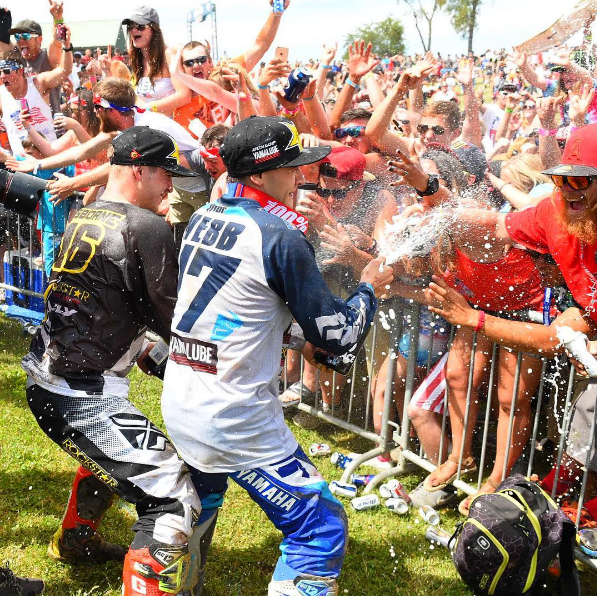 Ken Roczen: (1st in 450MX) I felt really good today. I felt like I was riding really good in the second moto, so I just kept it consistent the whole time. I think the second moto might have been the best I've ridden all year. Actually, it's pretty funny, the more 1-1's I get, the more I get pissed about that fourth place that wasn't really my fault, but it is what it is. I'm having a blast riding my bike, and so is the team. They're just having a good time and doing our thing.I feel like everything's clicking right now. Obviously you always need a little bit of luck. In my eyes, up until now this year, I feel like this is probably the best I've ever ridden.
Eli Tomac: (2nd in 450MX) "I was searching a bit during the motos today. I didn't have my best jump out of the gate and was pushed around a bit on the first lap. I managed to play a bit of catch up to earn second place. From that point I did all I could to reel in the leader, but close to the end I stalled the bike and it almost cost me second. In the second moto I had a great start but I was passed and from that point out the leader was just on another level. Last week we fought for the win and next week we'll be back there."
Broc Tickle: (3rd in 450MX) "It's awesome to get another podium," explained Tickle. "Last weekend really hit it off for me. I had a good week. The goal was another podium, no matter what happened. In the first moto, I wanted to get third but I knew I could do it in the second moto. I got a decent start in the second moto … fifth and moved into third and pretty much just charged on. (Justin) Barcia was coming there for a little bit. I saw him coming, I responded and that's pretty much how it ended. I'm just stoked. I can't thank the Soaring Eagle/Jimmy John's/Suzuki Factory Racing team enough. Everyone has been working hard. I'm stoked with where I'm at. It's a good atmosphere and I feel really good right now."
Justin Barcia: (4th in 450MX) I don't really know the next step, I just know I need to go home and work on my bike and make it better. I'm really struggling with setup right now. It's frustrating because I know I have the fitness and the speed. We're going to keep working, get this Yamaha better and hopefully be at the front soon.
Blake Baggett: (6th in 450MX) "We had a good weekend. We made some bike changes and it definitely made it better for the second moto and my RM-Z felt pretty good. It was a solid race for my second weekend back."
Christophe Pourcel: (7th in 450MX) "I had the fastest qualifying time again and probably put in two of the most consistent motos I've ever done. It's good that my speed is coming back. It's been good two weeks in a row. We have a couple more races to go, so that's good. The top six or seven guys are so good, so it's tough when you don't get a good start and just have to fight the rest of the moto. It's tough to make a pass when you're riding with guys that are all the same speed as you. I'm just going to get some rest this week and will hopefully get a better start at the next race."
Matt Bisceglia: (8th in 450MX) "It was awesome day out here at RedBud. I got two decent starts, but I definitely had to fight for both of those finishes. My Yoshimura Suzuki was working great out there. It was a really gnarly track and the bike was working awesome. I had a really good pace going in that second moto. I was in fifth place until about half-way. It was not only a good day for me, but for Blake and the team as well."
Cooper Webb: (1st in 250MX) "The start of the day went well. I was able to qualify—I think I was fifth—so that was a good starting base. Then the first moto, I got a really good start and had a really good battle with Austin Forkner the first couple of corners and got in the lead, which I haven't done in a long time—lead by the first lap. The first moto was good. I rode a little tight after, like I said, not leading like that, but it was good to kind of get that off my back. I haven't won a first moto in a long time, so that was nice, and it gave me a lot of confidence for the second moto. Made some bike changes and I think they definitely helped a little bit more towards that second moto. The second moto was just an all-out dog fight between the Martin [Jeremy and Alex] brothers and Zach [Osborne]—and Joey [Savatgy] was up there before he fell. It turned into a really good race. Unfortunately, Jeremy went down and so did Joey. I just put my head down and really wanted that win. I knew if I could win, the points would be close. I didn't see him go down the second time, but the first time I saw him go down. I just put my head down and never gave up, and it ended up working out."
Alex Martin: (2nd in 250MX) "There's nothing I want more right now than to get a moto win. It just seems to be eluding me for some reason. I was riding a little bit tight again in that moto. This track is brutal today. It's not really that hot, but the track was brutal. Just little mistakes here and there and Cooper [Webb] came up along side me on that tabletop and I don't know what I was doing. I hit it like an old man, and he scrubbed past me. The crowd is going nuts right now and this is for sure one of the best races of the year. Second overalls—I can't complain about that—and I made up some points on Joey [Savatgy] today. I'm going to work hard this week and try to get that moto win at Southwick. I want to win bad.
Zach Osborne: (3rd in 250MX) "Today was OK. I didn't feel that great in practice and ended up 14th fastest. I just had a long travel day yesterday and it kind of wore on me. I had a little bit of doubt going into the motos, but knew if everything went well I could pull it off. I didn't get a great start in the first moto, but I rode up to fifth. Then got pretty much the same start in the second moto, but I rode up to second and was really close to winning. That's a good feeling. To be on the podium again is nice. I think I can continue this momentum for the next couple of weeks and hopefully be a little closer to the championship."
Adam Ciancarulo: (6th in 250MX) "The weekend was a step in the right direction. I've had good starts and been going fast lately but a few errors have hindered my results a bit. I was the fastest in qualifying again which is always good for my confidence and the motos were all about focusing on riding my race. I'm a little upset with my starts but this was a really good building week heading to Southwick
Joey Savatgy: (7th in 250MX) "I spent the time off working on my entire program as I have all season long. In the first moto I was close to taking the win towards the end and tried to make a charge but it didn't happen for me this time. The track is really loamy so the smallest mistake takes a big chunk of time from you. Overall it was a good moto but I'm here to win."
Austin Forkner: (8th in 250MX) "In the first moto I earned the first holeshot of my pro career which was great. I ran up front for a little bit and fought hard for the lead. The first 20-25 minutes I was in third, unfortunately towards the end of the race I was pushed wide and passed by two riders at once and I ended up bringing it home in sixth. In the second moto I struggled a little at the beginning of the race and it held me back. I still came back for 10th so I'm pretty happy with that. I'll be working on my consistency and getting rid of a few mistakes and I'll be up front and show these guys what I've got."
Arnaud Tonus: (9th in 250MX) "This was my best weekend so far. Every weekend has been better than the last and I felt really good in the second moto today. I'm very happy with how I rode, I just need a little work on the starts and I'll be at the front where I belong. There's still work to be done but we're moving in the right direction."