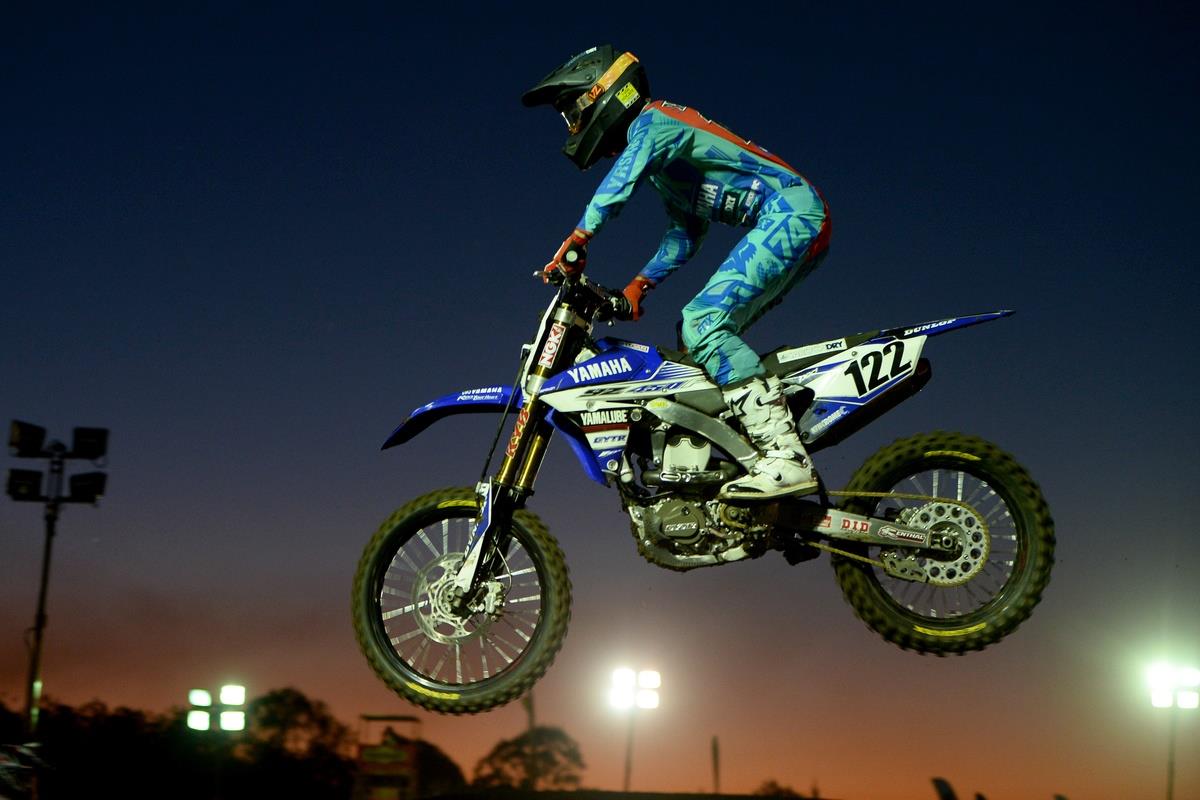 In front of a capacity crowd, Dan Reardon trumped the SX1 field to win the second round of the Australian Supercross Championship while Jimmy Decotis made it two round victories in a row in SX2.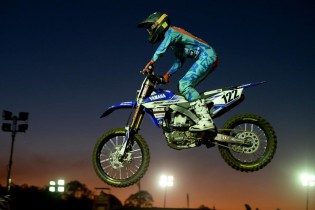 By Hayden Gregory
Local boy Reardon showed glimpses of brilliance early as he showed impressive pace to top his first heat race ahead of Kirk Gibbs and Kade Mosig. In the second heat defending champion Matt Moss continued on his winning way to lead Adam Monea and American Gavin Faith.
A special dash for cash race combining the fastest 10 qualifiers saw an early victory for Moss as he edged out Reardon in the final by the smallest of margins.
The two looked competitive as ever as all eyes fixed on the SX1 final and in particular the showdown between Moss and Reardon.
It didn't take long for the fans to see what they came for as the two riders pushed to the front early trading blows with pass after pass. In what looked set to be an early contender for race of the year Moss lost the front end of his bike following a rhythm section allowing Reardon to check out and extend his race lead.
Moss' mistake left him back in eighth position as Gibbs and Monea moved into the remaining podium positions. As Reardon looked comfortable out in front, championship leader Moss began his way back through the pack into fourth position. As Moss moved to make a pass on Gibbs into third another small mistake saw the pair collide sending Gibbs to the ground and Moss over the back of a berm.
Moss was able to recover to cross the line in third place behind Adam Monea in second and Dan Reardon who moved to the top of the championship standings with an emphatic 14 second victory.
"That feels so good to win," exclaimed Reardon. "This is pretty much a home town race for me and it was so good to see so many people in the pits and at the track today who I've known for so many years.
"It feels great to get a win for them; I think I'm as happy as the fans tonight!"
In the SX2 final it was American superstar Jimmy Decotis who dominated the field to win his second straight supercross round.
"Yeah, I had some struggles in practice, but then everything came good when it counted most," said Decotis. "A good start in the Final makes all the difference and once I got into a rhythm I could just ride my own race and come home with the win.
"It feels awesome to get another win and to get so many cheers from all the Australian fans. I really appreciate all their support, and I also have to thank everyone in the Penrite Honda team, who have been looking after me so well and have given me the best equipment."
Lites fastest qualifier Jackson Richardson proved to be the only challenger for Decotis however the American showed too much speed to take the race victory by six seconds. Richardson hung onto second place to give Honda a 1-2 result.
Third place was a race long battle between Luke Clout, Luke Arbon, Geran Stapleton and Wade Hunter. As the chequered flag waved it was DPH Yamaha's Wade Hunter who collected his first ever supercross podium finish.
"My plan was to get on the box tonight and after getting a good start and riding consistently, that's just what I did," said Richardson.
"It feels so great to get my first podium in a Supercross in Australia, and to have another 'FNQer' up here as well is just awesome."
The third round of the Australian Supercross championship will head to the Wayville Showgrounds in South Australia on the 31st of October.
SX1 Round Results
1. DANIEL REARDON – 16:43.045
2. ADAM MONEA +14.160
3. MATT MOSS +22.813
4. KADE MOSIG +24.614
5. KIRK GIBBS +28.106
6. LAWSON BOPPING +29.766
7. GAVIN FAITH +34.432
8. DYLAN LONG +40.895
9. DANIEL MCCOY +1 lap
10. LUKE STYKE +1 lap
11. DANIEL MCENTEE +3 laps
12. DANNY HAM +3 laps
13. THOMAS HILL +5 laps
dnf. SAM MARTIN
dnf. ANTHONY RODRIGUEZ
dnf. CHRIS CAMILLERI
SX1 Championship Standings
1. Daniel REARDON – 67 Pts
2. Matt MOSS – 65 Pts
3. Kade MOSIG – 54 Pts
4. Kirk GIBBS – 54 Pts
5. Gavin FAITH – 54 Pts
6. Adam MONEA – 53 Pts
7. Lawson BOPPING – 48 Pts
8. Luke STYKE – 45 Pts
9. Daniel MCCOY – 44 Pts
10. Danny HAM – 35 Pts
SX2 Round Results
1. JIMMY DECOTIS – 12:52.750
2. JACKSON RICHARDSON +06.134
3. WADE HUNTER +14.145
4. LUKE CLOUT +19.426
5. GERAN STAPLETON +27.220
6. LUKE ARBON +31.954
7. TAYLOR POTTER +48.103
8. DYLAN WILLS +57.738
9. LEWIS WOODS +1 lap
10. JESSIE MADDEN +1 lap
11. JED BEATON +1 lap
12. JACK SIMPSON +1 lap
13. TOMAS RAVENHORST +1 lap
14. TIM VARE +1 lap
15. BRODY CASSIDY +2 laps
16. JOEL WIGHTMAN +2 laps
17. BOYD HOCKING +2 laps
dnf. CALEB WARD
dnf. LUKE WILSON
dnf. KYLE WEBSTER
SX2 Championship Standings
1. Jimmy DECOTIS – 70 Pts
2. Jackson RICHARDSON – 60 Pts
3. Luke CLOUT – 60 Pts
4. Luke ARBON – 55 Pts
5. Wade HUNTER – 54 Pts
6. Geran STAPLETON – 52 Pts
7. Lewis WOODS – 47 Pts
8. Dylan WILLS – 44 Pts
9. Taylor POTTER – 42 Pts
10. Jesse MADDEN – 40 Pts