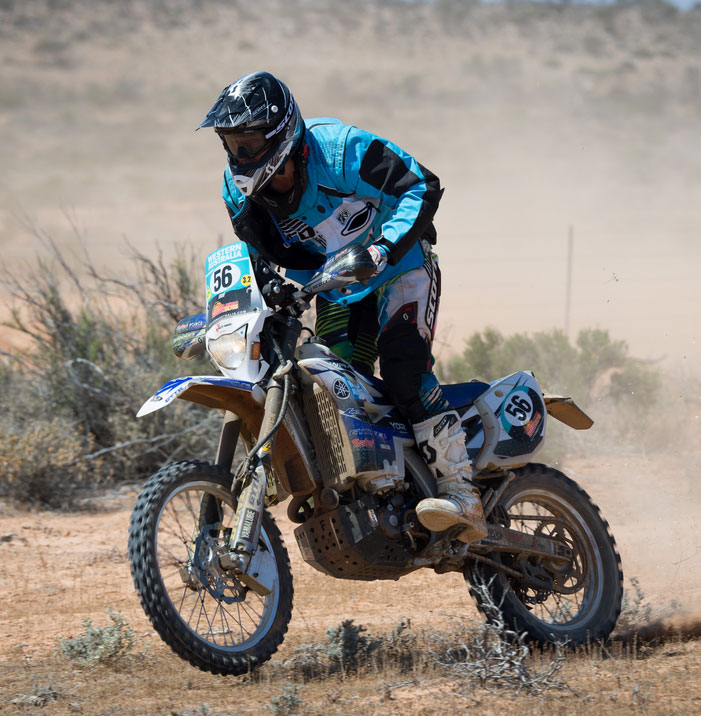 Faggotter again turned in another super consistent day, riding at good speed and making no mistakes as he navigated his way around over 400 kilometres of Western Australian outback in the Gascoyne Junction region.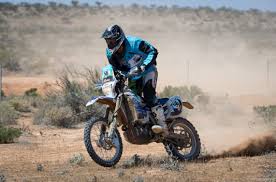 He lost some time on stage one this morning and briefly relinquished his lead to rival Todd Smith, but he returned fire in the afternoon stage and scorched home to win the stage by a staggering seven minutes and 49 seconds to head the running order as the field prepare for day four.
"I knew I lost some time in the morning stage but I just stayed calm and kept my head. The worst thing you can do in events like this is override the bike or the conditions so I just kept on a solid pace that I was comfortable with and the day turned out great.
"I'm not too sure what happened to Todd as you don't get an eight minute lead over a rider like that without something major happening to them. But he is a great competitor and he will take up the fight all the way to the finish and we have a lot of racing to go," Faggotter explains.
Shane Diener continues to go about being the quiet achiever of the Safari so far sitting in a very comfortable fourth place and certainly not out of reach of the leaders. Aside from some small navigational issues it was smooth sailing for Diener and he racks up solid stages time in each and each stage held so far.
"It's been a really good run so far and the bike and team have been working extremely well. Aside from the usual end of day maintenance, the Yamaha WR450F has been perfect out there and the team prepare it well for each day.
"Tomorrow is the halfway point of the Safari and with plenty of challenges still to come, this event will still throw up plenty of surprises. I would like to start to step things up from here and make a good run for the finish," said Diener.
Day four will have the competitors' race the 290 kilometres from Gascoyne Junction to Carnarvon in two stages. Yamaha Desert Racing will continue with the same plan of attack as the event turns up the heat.
For more information on the Australian Safari; www.australiansafari.com.au or to follow the Yamaha Desert Racing Team on Facebook; www.facebook.com/YamahaDesertRacing
Running Order – After Day 3
1st Rod Faggotter – 11.22.00 (Yamaha WR450F)
2nd Todd Smith – 11.30.49
3rd Matt Fish – 11.43.17
4th Shane Diener – 11.56.55 (Yamaha WR450F)
5th Lee Stephens – 12.20.23