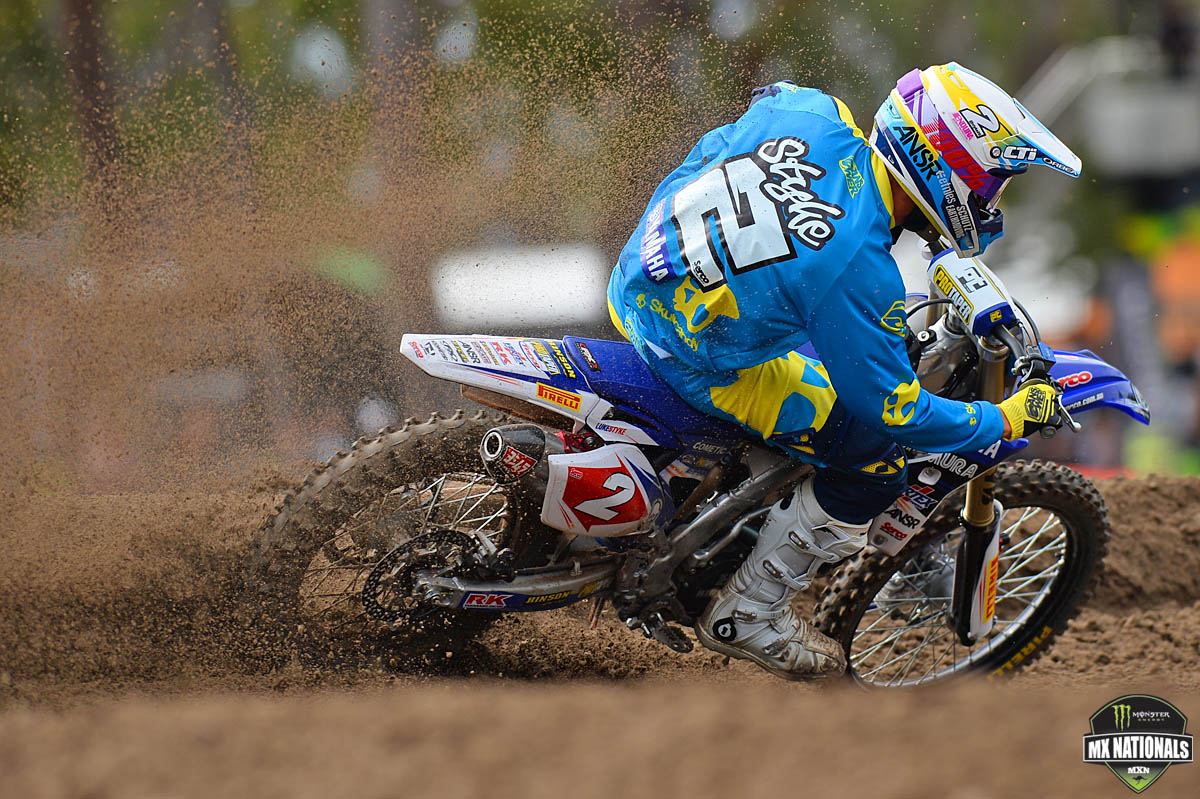 Moss, Styke and Harwood extend at Swan Hill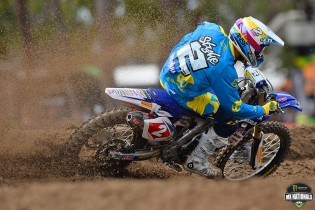 The Monster Energy MX Nationals, Australian Motocross Championship, made its first visit to Swan Hill on Sunday, 11 August, the regional Victorian venue hosting an exciting eighth round of the 2013 season.
Motul Pirelli Suzuki's Matt Moss claimed victory in the Monster Energy MX1 ranks, extending his series lead to 11 points in the process with just two rounds remaining. The win marked Moss' third of the season to date.
Moss won both 30-minute motos at Swan Hill for the overall, heading home title rival Todd Waters (Motorex KTM) on both occasions. Waters challenged Moss in the first outing, before being forced to recover from a poor start in the second as he climbed to the runner-up position.
Completing the podium was Waters' teammate Kirk Gibbs, the South Australian finishing third in both motos. Internationals Billy Mackenzie (CDR Yamaha) and Gareth Swanepoel (Carlton Dry Honda) were fourth and fifth respectively.
Serco Yamaha's Luke Styke continued his march toward the Motul MX2 title with his seventh overall of the season, coming via a commending 1-1 result at Swan Hill. Now 103 points ahead of the field, he's on track to clinch the title with one round to spare.
A pair of KTM two-strokes joined Styke on the podium, with Brock Winston (Choice Motorsports KTM) second and Kale Makeham (Tune Tech KTM) third. Makeham was on par for the runner-up until he experienced a deflating tyre during moto two.
Another rookie in Dylan Long (KTM) claimed a season-best fourth, while experienced former national champion Ryan Marmont (Raceline Pirelli Suzuki) raced to fifth.
Series leader Hamish Harwood (CMR Red Bull KTM) extended his lead in the Pirelli MXD series, going 1-3 for the overall. Behind Harwood was Hervey Bay winner Jay Wilson (GYTR Yamaha).
Completing the podium was Crazy Dogs Kawasaki's Jesse Dobson, who was eighth in moto one, but broke through to win the second Under 19s race of the weekend. Harwood now enjoys a commanding 37-point lead over early leader Jack Simpson (KTM), who finished fourth overall.
The Monster Energy MX Nationals will resume when Toowoomba, Queensland, returns to the national calendar with the penultimate round on Sunday, 25 August.
Monster Energy MX1 overall results:
1. Matt Moss 75
2. Todd Waters 66
3. Kirk Gibbs 64
4. Billy Mackenzie 56
5. Gareth Swanepoel 51
6. Jay Marmont 47
7. Cody Cooper 47
8. Cheyne Boyd 46
9. Jake Moss 45
10. Sam Martin 45
Monster Energy MX1 championship standings (round eight of 10):
1. Matt Moss 511
2. Todd Waters 500
3. Billy Mackenzie 461
4. Cody Cooper 429
5. Lawson Bopping 407
6. Kirk Gibbs 407
7. Jake Moss 388
8. Jay Marmont 333
9. Adam Monea 323
10. Tye Simmonds 273
Motul MX2 overall results:
1. Luke Styke 70
2. Brock Winston 60
3. Kale Makeham 58
4. Dylan Long 57
5. Ryan Marmont 52
6. Rhys Carter 51
7. Kayne Lamont 51
8. GeranStapleton 45
9. Takeshi Katsuya 44
10. Beau Ralston 44
Motul MX2 championship standings (round eight of 10):
1. Luke Styke 543
2. Kale Makeham 440
3. Brock Winston 414
4. Ryan Marmont 349
5. Geran Stapleton 349
6. Dylan Long 331
7. Takeshi Katsuya 324
8. Rhys Carter 306
9. Josh Cachia 305
10. Kayne Lamont 298
Pirelli MXD overall results:
1. Hamish Harwood 65
2. Jay Wilson 62
3. Jesse Dobson 58
4. Jack Simpson 56
5. Joel Wightman 50
6. Jake Emanuelli 50
7. Dylan Wills 48
8. Corey James 48
9. Joel Dinsdale 45
10. Nathan Trigg 43
Pirelli MXD championship standings (round six of eight):
1. Hamish Harwood   372
2. Jack Simpson   335
3. Jay Wilson   319
4. Jesse Dobson   302
5. Joel Dinsdale   301
6. Corey James   276
7. Joel Wightman   271
8. Logan Blackburn   237
9. Jake Emanuelli   230
10. Dakota Court   192