Moss dominates in the Top End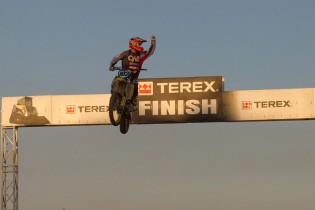 Team Motul Pirelli Suzuki's Matt Moss has completed a clean sweep of the Pro Open class at this weekend's double-header round of Milwaukee presents the Terex Australian Supercross Championship at Hidden Valley Raceway.
Moss took the win ahead of Carlton Dry Honda Racing's Weston Peick and Campbell Mining Racing's Jake Moss, but had to work for the lead in the early stages of the 15-lap race.
It was Motorex KTM rider Kirk Gibbs who claimed the holeshot ahead of Peick. The two battled for the race lead with Peick moving into the lead on Lap 5 when Gibbs succumbed to the pressure and went down.
Moss was smooth and calculated as he meticulously picked off the front -runner and eventually passed Peick for the race lead on Lap 10.
Acknowledging he had enjoyed the perfect weekend Moss said he was looking forward to a bit more preparation time ahead of the next event.
"It was a perfect weekend," Moss said. "Every single session we qualified first so I couldn't ask for anything better.
"I felt really good, I wasn't as fit as I wanted to be with only a week and a half to get ready but all in all it went really well considering the heat.
"I liked the double-header format, we have it again at Phillip Island I am looking forward to it," he added.
US import Weston Peick looked a lot more comfortable on board his CRF450 today.
"We had a lot better day today," Peick said, "We made a lot of changes to the bike for today and everything seemed to come together better.
"I got a good start and it helped to not be fighting from the back. The team is coming together I am starting to get more comfortable on the new bike."
In a reversal of yesterday's results, Serco Yamaha's Luke Styke took the Pro Lites win ahead of Carlton Dry Honda Racing's Gavin Faith with Raceline Suzuki Racing's Ryan Marmont third.
Styke got the holeshot and lead the race from start to finish.
"Today was good, it started off well with P2 in qualifying," Styke explained. "My starts were awesome and definitely helped me a lot in the tough conditions with the heat.
"Overall I had a good final. I got the holeshot and minimized the mistakes I made the day before."
Styke and Faith will leave Darwin tied on championship points at the top of the standings. Faith admitted a lack of seat time probably cost him a better result today.
"I got a pretty good start behind Styke but I struggled a little bit," Faith said. "I wasn't quite used to the bike. I had a very short time on the bike and I struggled with arm-pump pretty bad.
"I am heading back to the US in between but I am looking forward to the next few rounds. We will regroup and I will come in a bit earlier so we can do some testing."
The next round of Milwaukee presents the Terex Australian Supercross series will be held at Mt Gambier on October 12
Top Ten Terex Australian Supercross Championship Pro Open Results  – Rd 2, Darwin 
1. Matt MOSS,
2. Weston PEICK,
3. Jake MOSS,
4. Kirk GIBBS,
5. Daniel McCOY,
6. Jay MARMONT,
7. Kade MOSIG,
8. Josh HILL,
9. Lawson BOPPING,
10. Tim VARE
Top Ten Pro Open Championship Standings (after Rd 2 of 6)
1. Matt MOSS 50,
2. Jake MOSS 42,
3. Weston PEICK 36,
4. Jay MARMONT 35,
5. Kirk GIBBS 31,
6. Daniel McCOY 31,
7. Josh HILL 31,
8. Lawson BOPPING 28,
9. Kade MOSIG 26,
10. Tim VARE 20
Top Ten Terex Australian Supercross Championship Pro Lites Results – Round 2, Darwin
1. Luke STYKE,
2. Gavin FAITH,
3. Ryan MARMONT,
4. Luke ARBON,
5. Kale MAKEHAM,
6. Dylan LONG,
7. Kayne LAMONT,
8. Nickolas SUTHERLAND,
9. Taylor POTTER,
10. Daniel McINNES
Top Ten Pro Lites Championship Standings (after Rd 2 of 6)
1. Luke STYKE 47,
2. Gavin FAITH 47,
3. Ryan MARMONT 38,
4. Dylan LONG 35,
5. Luke ARBON 34,
6. Kale MAKEHAM 31,
7. Kayne LAMONT 27,
8. Nickolas SUTHERLAND 27,
9. Taylor POTTER 24,
10. Luke WILSON 21