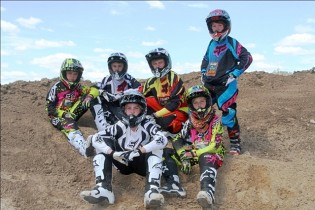 GMR Motorex KTM racers continued to perform well during qualifying at Murray Bridge in South Australia on day four of the 2011 Australian Junior Motocross Championships despite wet and muddy conditions
Callum Norton elected not to race in his heat race for the 9-u12 years 85cc class given his earlier strong results, and moved through to the final with ease. Reece Rayner lined up for heat six with an objective to get a feel for the circuit in the lead up to the finals. Rayner claimed 6th for the race and qualified in 4th position for the finals.
In the 12-u14 years 85cc all three GMR Motorex KTM racers drew heat six with the team-mates all charging through as a group until a pile up between four of the front runners brought down young Mitch Evans who was in 3rd position. Mastin continued his charge and took advantage of the incident in front of him to finish in 2nd for the race, with Dinicol in 5th and Evans recovering well for 8th position. Although official qualification points were not available at the time of report, it is understood that all the riders have made their way through to the finals of the Championship.
Scott Mann raced heat five of the 15 years 100-150cc, taking a very convincing win leading the race from start to finish in the difficult conditions. Mann has qualified at the top of the points tally heading into the finals.
Mastin and Dinicol again drew alongside each other, this time in heat six of the 13-u15 years 100-150cc class. However, in a difficult decision, Dinicol withdrew from this class at the Championship due to his recent shoulder injury and the limited bike time in preparation for the event. Dinicol will now focus solely on his 85cc campaign. Mastin however showed good speed in the heat, moving through the field after an average start. A small crash set him back a little but he dug deep and regained positions finishing in 6th.
Reece Rayner took to the track in the second final for the GMR Motorex KTM racer in the 11-u13 years 65cc class. After a less than perfect start, Rayner charged hard and made his way to 2nd position, finishing within seconds of the leader. Rayner is now placed 2nd overall in the Championship chase.
Scott Mann was the final racer of the day for the team and drew heat six of the 15 years 250F class and was keen to score maximum points to improve his qualifying position. Mann rode impressively to claim 2nd position despite a mechanical issue. It is understood that Mann has qualified well in around 12th position this class despite scoring no points in his first round heat.
Norton also elected to sit out his 9-u12 years 65cc class heat five, having already taken two heat wins. His earlier results were more than enough to have him qualify for the finals.
"Day four of the Junior Nationals was extremely productive" Team Manager Glenn Macdonald said "although we have had a couple of small crashes, the riders adapted to the difficult conditions extremely well and our bikes have been fine-tuned further to meet the needs of both the circuit and each individual rider. Rayner made some real improvements in his 65cc race today and we saw him within a few seconds of the leader at the chequers after coming through the pack, with a good start it could be anyone's race and title. We are definitely looking forward to moving into the finals campaign tomorrow."
Team updates and race results for GMR Motorex KTM Racing Team can be found at www.gmr-motorexktm.com.au and www.ktm.com.au as well as on FACEBOOK at www.facebook.com/gmrmotorexktm
GMR Motorex KTM would like to thank their sponsors: KTM Australia, Motorex, Michelin, Fox, Ringmaster Images, Alpinestars, Easton, Oakley Motocross Advanced Coaching Academy, Hammerhead Designs, Uni Filter & NGK