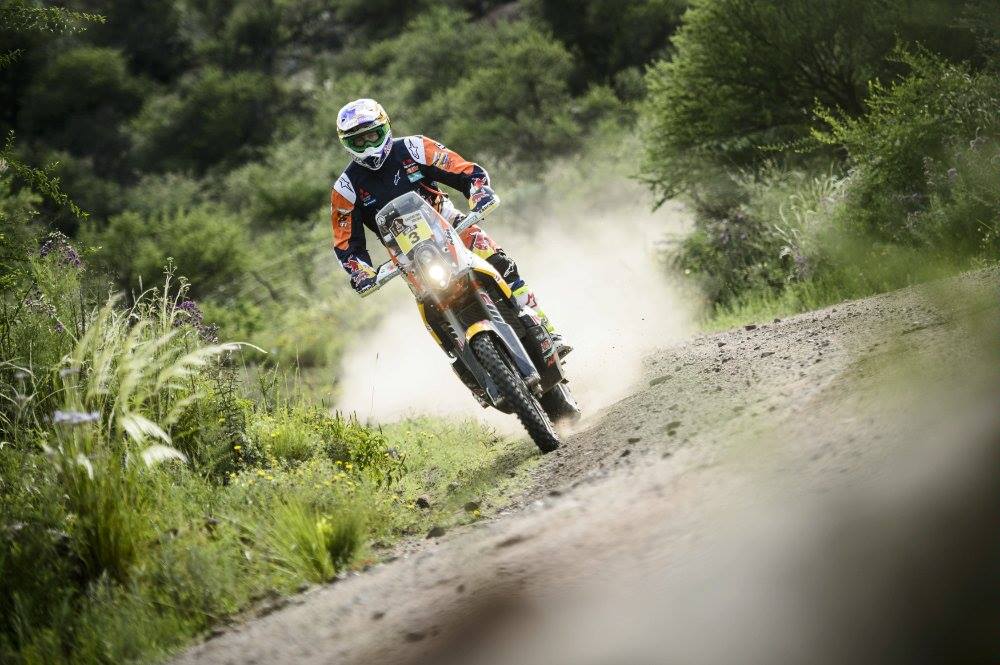 Australian Toby Price narrowly leads the Dakar Rally following the first day of actual competition.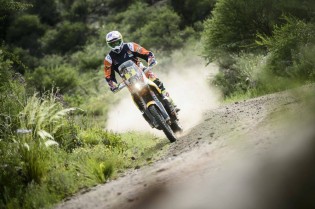 By Hayden Gregory
After storms and heavy rain forced stage one of the Dakar to be cancelled, prologue results would remain for the second stage of competition. Starting the day in 16th Price showed impressive navigational skills to score his second career stage win at the event.
The KTM rider was continuously challenged by Husqvarna rider Ruben Faria who led for most of the day. The pair were able to reign in overnight leader Joan Barreda despite a three minute advantage.  The Honda ace slipped to seventh on the day as he was also overtaken by Stefan Svitko who finished in third, Alain Duclos, Matthias Walkner and Paulo Gonçalves.
Price no doubt has his eyes set on an overall Dakar Rally championship as he looks to not only improve upon his third place position of last year but also become the first Australian rider to achieve the feat.
"It was a weird way to start the Dakar yesterday. We didn't even get to run the course and everything got cancelled, so actually today kicked the Dakar off and getting going is unreal," Price exclaimed.
"I got through that stage pretty clean and pretty comfortable so we're in a good position for tomorrow. It should be fairly similar to what we had today and then day four is when it kicks in with a bit of hard navigation. But we're excited and it's good to be back here.
"It was a long wait and a long stage, around 350 kilometres. We were lucky that had about fifty kilometres taken out of the section. It was a long day in the saddle but, for sure, it's started well for us. We're just looking forward to tomorrow now.
"We'll make sure we look after the bike. There was a bit of mud out there today, so we'll give it a good clean up and Joe will do a really good job, so we look forward to kicking it off again tomorrow.
"It will be a little more difficult, for sure, but we'll take off and get going and take our time with it tomorrow to make sure we make all the right calls.
"Today was really easy navigation and we had a few tracks we could see, plus the route was pretty well marked. Tomorrow should hopefully be fairly similar, except for the tracks: tomorrow I'll be making the trail. For sure, we're excited and keen to see what the day can bring.
"We hope were up for the title. That's what we've come to the Dakar for, to be a title contender, but you've got to have a perfect race go your way for the two weeks. Today was only pretty much day two, but realistically it's day one, so we've got a long way to go. We've just got to make sure we keep cool, calm and collected.
"It's good to get one stage win out of the way, but we're looking forward to being smooth and consistent the rest of the week and see how we go".
Stage three will see riders travel from Termas de Rio Honda to San Salvadore de Jujuy. The 663km route will see them timed for 314km as they navigate tight mountain tracks which may be affected by the continual rain.
Stage 2 Results
1. PRICE (AUS) – 03:46:24
2. FARIA (PRT) +00:00:20
3. SVITKO (SVK) +00:01:28
4. DUCLOS (FRA) +00:01:51
5. WALKNER (AUT) +00:02:00
6. GONCALVES (PRT) +00:02:38
7. BARREDA BORT (ESP) +00:03:22
8. BENAVIDES (ARG) +00:03:36
9. PEDRERO GARCIA (ESP) + 00:04:25
10. QUINTANILLA (CHL) +00:04:32
Overall Standings After Stage 2:
1. PRICE (AUS) – 03:53:09
2. FARIA (PRT) +00:00:02
3. SVITKO (SVK) +00:01:21
4. DUCLOS (FRA) +00:01:53
5. WALKNER (AUT) +00:01:59
6. BARREDA BORT (ESP) +00:03:04
7. GONCALVES (PRT) +00:03:20
8. BENAVIDES (ARG) +00:03:26
9. QUINTANILLA (CHL) +00:04:24
10. PEDRERO GARCIA (ESP) +00:04:30