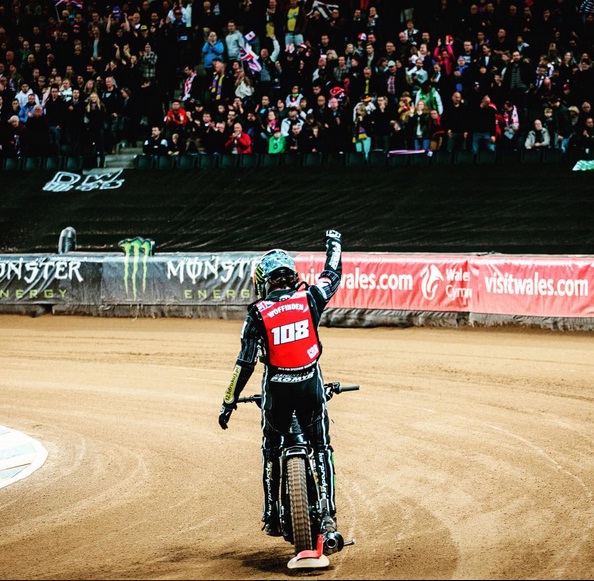 Great Britain's Tai Woffinden sealed his second FIM Speedway World Championship in Torun, Poland on Saturday.
By Hayden Gregory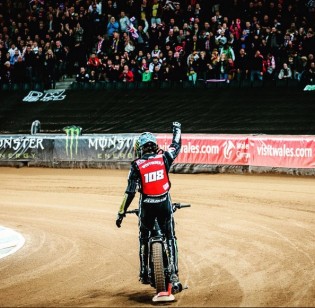 Despite missing out on the semi-finals, Woffinden was able to clinch the title with a round to go, after his closest rival Greg Hancock also failed to reach the final races. The 25 year old is the 16th rider in the history of the sport to win the title multiple times joining fellow countrymen Freddie Williams and Peter Craven.
"I have worked hard this season and it paid off." Woffinden enthused. "I made a pretty big mistake in 2014. I didn't do what I needed to do and I needed that to level me a bit so that I could start again this year. 
"After the last three years, I think I've proved I'm one of those riders who is going to be at the top for a long time. I'll just get my head down, focus and see how many titles we can get.
"I said before the meeting that I'd like to wrap it up in Torun. It didn't happen the way I wanted it to. I would have liked to score the points to win it. It's not really ideal to watch someone come last in a race for me to win the championship. But hey, that's the way it is.
"I said to Greg when I gave him the trophy last year, 'don't get too comfortable because you're giving me that back next year!' That's exactly what happened and we'll see what happens in 2016.
"I want to say a massive thank you to my engine tuner Peter Johns, Monster Energy and all my sponsors, and my team mostly. I have the best mechanics in the world. They work so hard and we have proved that over the last three years." 
Australian Jason Doyle was ecstatic to reach his maiden SGP final, finishing the heats as equal points leader. Doyle made it to the big dance following semi final victory over Maciej Janowski, Chris Holder and Greg Hancock.
Doyle finished runner-up in the final behind three time world champion Nicki Pederson and his late season form has been timed perfectly heading into his home GP.
"I've kept telling people I needed to get this monkey off my back with the semi-finals and finally make a final. To make a final and come second in my first year is an unreal experience. I'm over the moon with second. It's like a win for me. What a night!" Doyle commented.
"To top the season off in Melbourne is great. I can't wait to ride in front of my family, friends and the Australian public. It'll be a memory never to forget. 
"My main goal this year was to make the top eight and we are still going in the right direction. Hopefully I'm secure in there now and can go to Melbourne with no pressure."
Following his finals result, Doyle will head to Melbourne in fifth place overall another indication of his fantastic late season form.
FST GRUPA BROKERSKA TORUN SGP SCORES:
1 Nicki Pedersen 19,
2 Jason Doyle 18,
3 Maciej Janowski 11,
4 Niels-Kristian Iversen 10,
5 Chris Holder 11, 
6 Andreas Jonsson 11,
7 Peter Kildemand 11,
8 Greg Hancock 8,
9 Tai Woffinden 8,
10 Piotr Pawlicki 7, v 11 Matej Zagar 7,
12 Michael Jepsen Jensen 5,
13 Tomas H Jonasson 5,
14 Troy Batchelor 3,
15 Chris Harris 3,
16 Krzysztof Kasprzak 1
WORLD CHAMPIONSHIP STANDINGS:
1 Tai Woffinden 151,
2 Greg Hancock 126,
3 Nicki Pedersen 124,
4 Niels-Kristian Iversen 105,
5 Jason Doyle 103,
6 Matej Zagar 100,
7 Maciej Janowski 95,
8 Chris Holder 93,
9 Peter Kildemand 79,
10 Michael Jepsen Jensen 77,
11 Andreas Jonsson 76,
12 Troy Batchelor 57,
13 Chris Harris 55,
14 Tomas H Jonasson 51,
15 Krzysztof Kasprzak 36,
16 Jaroslaw Hampel 31