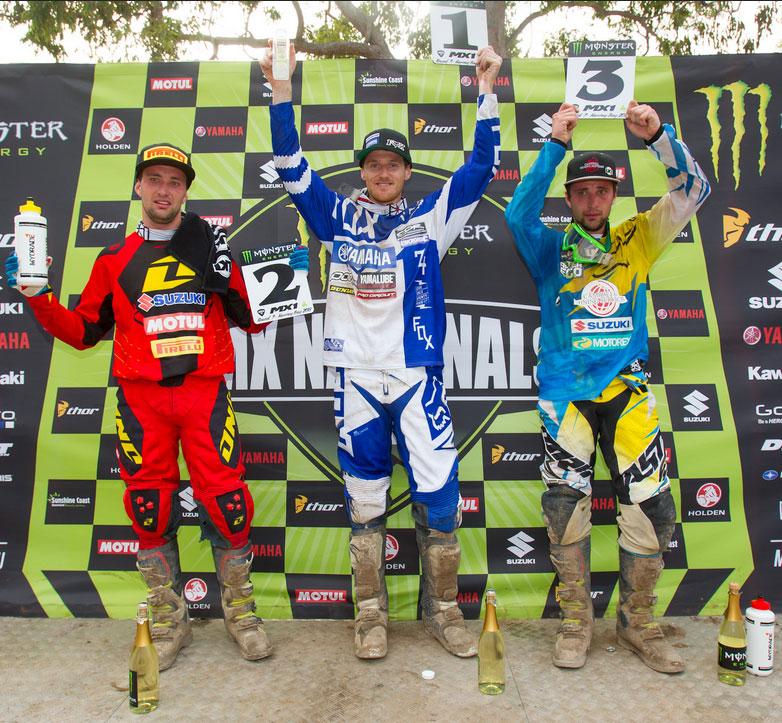 In front of Yamaha VIP's in from Japan, all four Yamaha factory supported race programs put their best foot forward in the sands of Hervey Bay and took home round honours with CDR Yamaha, Serco Yamaha, GYTR Yamaha and Yamaha Junior Racing riders winning their respective classes showcasing the brilliant YZ range and their professional race teams in place.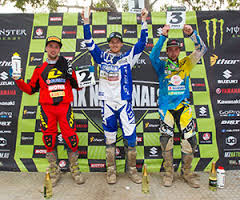 Billy Mackenzie won his first MX National round of the year and his first for CDR Yamaha with a consistently strong day, taking the Superpole victory followed by two top three moto results to hit the top spot of the podium and remain in third place in the premier MX1 championship. Mackenzie spent all day at the front of the pack leading several laps on the gruelling Hervey Bay circuit.
Luke Styke continued his success on the Serco Yamaha claiming another round win at Hervey Bay. The victory was Styke's sixth for the season out of the seven rounds contested and he now holds a commanding 91 point lead with three rounds to go. Styke led race one from start to finish but worked hard for his victory in race two making it a perfect 1-1 day.
GYTR Yamaha's Jay Wilson took the honours in the MXD class with his 1-2 results. Wilson has been gaining momentum at each round and it was only a matter of time before he won a round of the MX Nationals in season 2013. The round win takes him to third in the championship and hits the last three rounds with plenty of momentum.
And it was almost a GYTR Yamaha 1-2 with Joel Dinsdale just missing second by one point to snare third for the day. Dinsdale finished with 2-3 moto finishes and both riders stood on the podium together for the first time this year.
The MXR (MX Rookies) class also saw plenty of YZ250F's out front with QLD Yamaha Junior Racing rider Nathan Crawford making it four class wins for Yamaha with his 1-1 display. Crawford has now won both MXR rounds this year and showed great skill and speed in his final year of junior racing.
He finished just ahead of Victorian YJR teamster, Jed Beaton, who posted 2-2 results and looked sensational in his first hit out at national level. Wilson Todd was in line to make it a Yamaha 1-2-3 in the MXR class but fell ill between the motos and was unable to start the second race after finishing third in moto one.
"What a day!" enthuses Yamaha Motorsports Manager Ray Howard. "All the riders and teams acquitted themselves extremely well this weekend and it was an impressive display for Yamaha. Congratulations to all riders and teams on a successful days racing and the Hervey Bay round will long be remembered by everyone at Yamaha.
"It was particularly pleasing to have some special guests here from Yamaha Motor Company, Mr Itou, Mr Yokoi and our Australian Managing Director Mr Otani, on hand to witness how our teams and riders function and I'm sure they will take back the great news to their colleagues in Japan," Howard ends.
Individual Yamaha team race reports to follow in the coming days.
MX1
1st Billy Mackenzie (CDR Yamaha)
MX2
2nd Luke Styke (Serco Yamaha)
MXD
1st Jay Wilson (GYTR Yamaha)
3rd Joel Dinsdale (GYTR Yamaha)
MXR
1st Nathan Crawford (YJR)
2nd Jed Beaton (YJR)