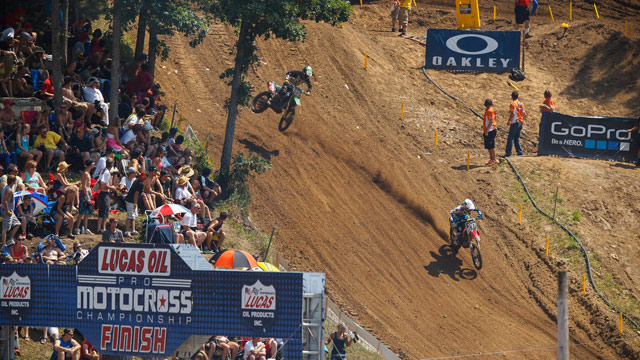 Tomac Takes 3rd Overall Win
In the 250 Class, Baggett was targeting his third consecutive overall win and got the day off to a strong start in the opening moto. After crossing the line in eighth at the conclusion of the first lap, Baggett stormed through the field, climbing his way into a four-way battle at the front of the field by Lap 5 with GEICO Honda's Justin Barcia, of Monroe, N.Y., Red Bull KTM's Ken Roczen, of Germany, and Tomac.
The four riders paced each other for several laps, often alternating positions, but Baggett eventually moved into the lead on Lap 12, surpassing his rivals and cruising to the win.
In Moto 2, Baggett once again put himself in a winning position, coming out of the gate in third and passing Tomac for the lead on Lap 6. However, Baggett encountered misfortune on the following lap, losing rear traction and dropping to seventh in the running order.
Tomac capitalized on Baggett's fall and extended his lead over Barcia in second, eventually winning the moto and securing the overall.
"That first moto was a barn burner, we all just went at it," said Tomac. "I needed some better starts and I got those this weekend. Blake and I were going at it (in the second moto), but he made a mistake. I was kind of lucky he fell where he did. I just took it from there."    
Barcia posted back-to-back runner-up efforts to finish second overall, while Baggett rebounded to finish fourth in the second moto and claim third overall (1-4).
Although he missed an opportunity to gain some ground in the championship standings, Baggett still holds an 18-point lead over Barcia.
The 2012 Lucas Oil Pro Motocross Championship continues next Saturday, July 21, with round eight from Washougal MX Park in Washougal, Wash., and the Peterson CAT Washougal National.
Lucas Oil Pro Motocross Championship
Bob's Cycle Supply Spring Creek National
Spring Creek MX Park – Millville, Minn.
July 14, 2012
Round 7 of 12
250 Class (Moto Finish)
1. Eli Tomac, Cortez, Colo., Honda (3-1)
2. Justin Barcia, Monroe, N.Y., Honda (2-2)
3. Blake Baggett, Grand Terrace, Calif., Kawasaki (1-4)
4. Ken Roczen, Apolda, Germany, KTM (4-3)
5. Blake Wharton, Pilot Point, Texas, Suzuki (6-5)
6. Wil Hahn, Decatur, Texas, Honda (5-7)
7. Marvin Musquin, La Reole, France, KTM (7-6)
8. Justin Bogle, Cushing, Okla., Honda (10-8)
9. Jason Anderson, Edgewood, N.M., Suzuki (8-10)
10. Jake Canada, Sun City, Calif., Honda (9-13)
250 Class Championship Standings
1. Blake Baggett, Grand Terrace, Calif., Kawasaki, 315
2. Justin Barcia, Monroe, N.Y., Honda, 297
3. Eli Tomac, Cortez, Colo., Honda, 281
4. Ken Roczen, Apolda, Germany, KTM, 273
5. Marvin Musquin, La Reole, France, KTM, 218
6. Wil Hahn, Decatur, Texas, Honda, 191
7. Blake Wharton, Pilot Point, Texas, Suzuki, 156
8. Jason Anderson, Edgewood, N.M, Suzuki, 145
9. Jessy Nelson, Paso Robles, Calif., Honda, 128
10. Jake Canada, Sun City, Calif., Honda, 125