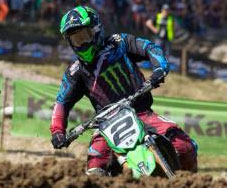 Monster Energy Kawasaki's Jay Marmont overcame a painful collarbone injury sustained during practice at the 2013 Australian Monster Energy MX Nationals opener at Raymond Terrace, NSW to take 4th overall for the round. Team mate Adam Monea finished inside the top ten with 9th place overall.
Jay Marmont's day got off to a less than perfect start when he took a rock to the collarbone during practice. Putting that behind him Marmont came out charging in the first moto taking an early race lead, eventually finishing in 2nd place.
The injury took its toll in the second race though and with diminished strength in his arm, Marmont did his best to hold on for a 9th place finish. His 2-9 results give him 4th for the round and a solid points haul from the series opener.
Jay Marmont was pleased with his results at Raymond Terrace saying, "Although I just missed the podium, it's a strong start for the season. I'm really happy with my start in the first race. I wasn't happy with qualifying, I got hit by a rock in the collarbone and it shook me about and I was unable to put down a good qualifying time. That affected my overall unfortunately because I didn't get any points from Super-pole. But I bounced back in the first moto with a very good start and eventually finished 2nd behind Todd. I was really confident going into the second moto. I didn't take any pain killers though and I was expecting everything to be OK but I lost strength in my arm and didn't get the result I was after. It's still a good position to be sitting in 4th overall heading to Murray Bridge".
Adam Monea came out firing in his first race with Monster Energy Kawasaki finding 2nd place behind his team mate, Jay Marmont, in the early stages of the first moto. He eventually finished in 6th place. Roost severed the tear-off post on his goggles in the early stages of the second moto leaving him with no tear-offs but he soldiered on to a 10th place finish leaving him inside the top ten (9th overall) in the championship.
Adam Monea say's, "I'm not really pumped with my results but I'm taking a lot of positives away. I'm pleased with my speed, I know that I can run up the front and I'm confident heading into the rest of the season. I always believed that this was going to be the toughest track for me so I'm looking forward to a track that suits me more so I can get up there".
Monster Energy Kawasaki Team Manager, Troy Carroll was encouraged with his team's performance, saying, "It was a slightly disappointing day for Jay. He got tired in the second moto after getting injured in practice. He showed good speed though in the first moto. He'll mend up now and come back strong so we're not concerned. It was a solid start, he's in a great position in the championship and we can build from here. Adam had a brilliant start to the season. He showed he had the speed in the first moto so that's something that is a big confidence boost for him. Adam's a better soft track rider than hard-packed so he's looking forward to going to Murray Bridge. We're expecting his season to get better from here. I'd like to thank the whole team for a good job at the opening round."
Monster Energy Kawasaki will look to carry their strong 1st round momentum with them to the 2nd round of the 2013 Monster Energy MX Nationals at Murray Bridge, SA on 28th April.
2013 Monster Energy MX Nationals – Australian Motocross Championship
Round One – Raymond Terrace, NSW
MX1 Overall Results:
1. Todd Waters – KTM 75
2. Cody Cooper – Suzuki 60
3. Billy Mackenzie – Yamaha 58
4. JAY MARMONT – MONSTER ENERGY KAWASAKI 54
5. Matt Moss – Suzuki 53
6. Tye Simmonds – Yamaha 52
7. Lawson Bopping – Yamaha 50
8. Jake Moss – Suzuki 47
9. ADAM MONEA – MONSTER ENERGY KAWASAKI 46
10. Ford Dale- Honda 43