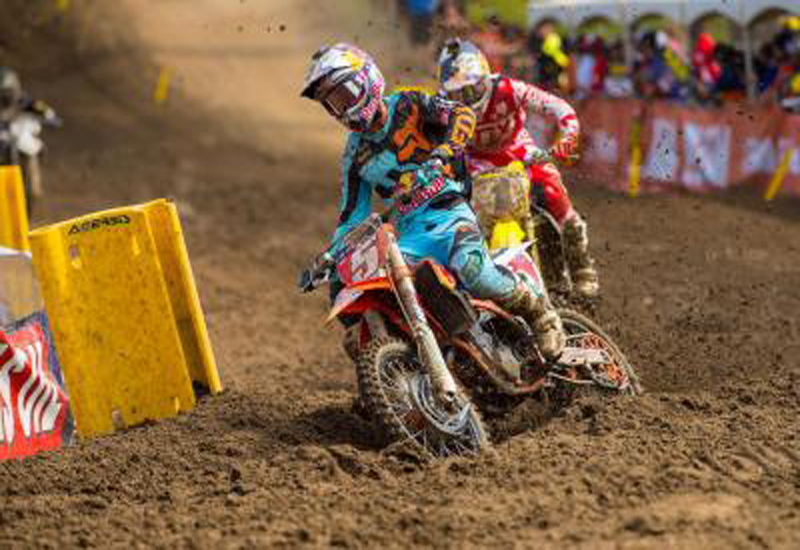 Redbull KTM's Ryan Dungey has kept his hand on full throttle in the final round of the 2015 Lucas Oil Pro Motocross Championships, winning overall honours despite already holding claim to the 450 title.
Story by Hayden Gregory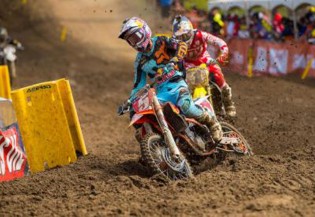 Having wrapped up the championship last round, many expected Dungey to approach Indiana as an extended victory lap, cruising through each moto – how wrong they could be.
The first moto saw Dungey absolutely dominate, winning by more than 15 seconds over opponent Jason Anderson.
The battle for second place overall continued between Justin Barcia and Ken Roczen. Both riders made bad starts but quickly began to move through the pack. With three laps remaining Roczen was able to pass Barcia, Baggett and Pourcel to finish in third place.
Barcia was unable to keep up with the pace and finished in seventh place. The pressure was now on to play catch ups in moto two, trailing Roczen in overall standings.
Moto two started perfectly for Barcia as he found himself in the lead early on. Roczen rallied in fourth before passing both Dungey and Pourcel on the same corner. Champion Dungey suffered from a small fall which saw him remount his bike in sixth place. As Dungey tried to spark a comeback it was Roczen who was making a statement up front, passing Barcia to take full control of the race.
Roczen would continue to pull away for the lead while Dungey showed the crowd exactly why he was to be crowned the 2015 champion, rounding up Barcia to finish in second place.
Roczen was proud of his efforts taking the round win and an overall second place in the championship.
"The track was gnarly out there, probably one of the toughest of the year. It feels great to end the season this way," said Roczen. "I knew we had the ability to get into second in the championship and we came out here and did that. I was confident coming into the day because the bike's been great and we did what we needed to do."
Justin Barcia who entered the weekend in second place overall, finished six points behind his German counterpart to round out third place on the podium.
"It was a tough day. I had a big crash in practice, but no excuses," explained Barcia. "I rode as hard as I could all day long and today that put us in fourth. I'm so proud of the entire JGR [Joe Gibbs Racing Motocross] team and everything we've accomplished this season. It's been a memorable year."
Champion Dungey commented after the round that it was important for him not to be complacent after winning the title. The KTM rider still wanted to put on a show for his team and the fans.
"We were running fourth at the beginning [of Moto 2], so it's a little tougher to take the lines you want when you aren't out front. I hit a little bump and it caused a little tip over, so I just got back up and put my head down the rest of the moto," said Dungey. "We were able to make up the ground we needed to get the win and end the season the way we wanted. It's been a great year and I'm excited for what lies ahead."