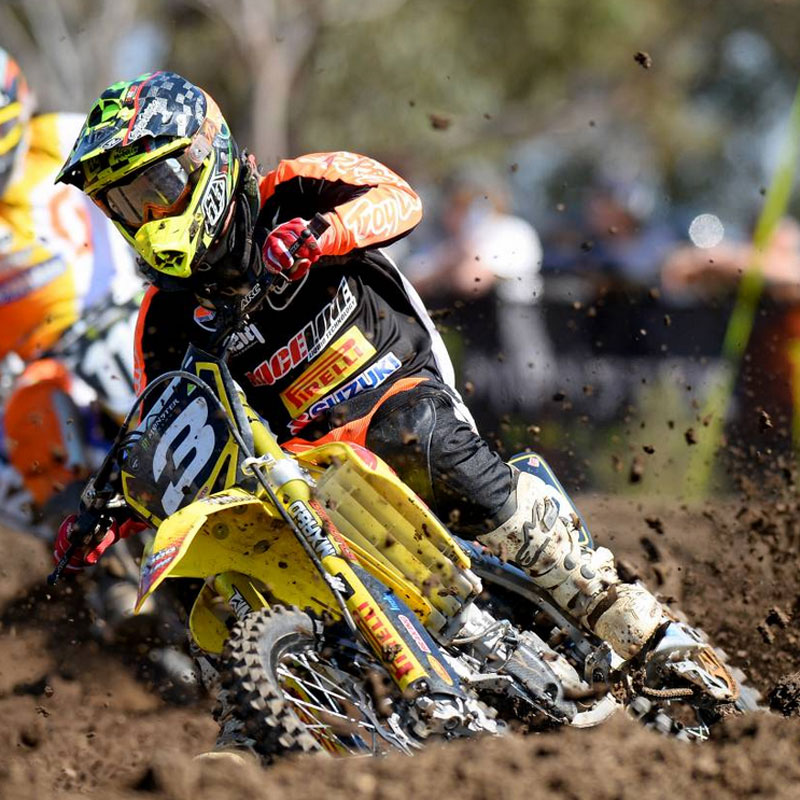 Raceline Pirelli Suzuki had an encouraging day at the opening round of the 2014 Monster Energy MX Nationals, with both Ryan Marmont and Geran Stapleton showing glimpses of what is to come this year.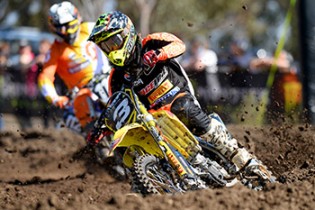 Conditions at the State Motorcycle Complex at Broadford fluctuated throughout the day, with steady rain falling through practice and qualifying in the morning before it cleared and warmed significantly in the afternoon.
Marmont, who previously won this category of the Australian Championship in 2006, finished the day with ninth, eighth and 13th placings from his three races to finish the round out in seventh overall.
Teammate Stapleton managed to finish seventh and 11th in the opening two races before he was part of a pile-up at the first corner in race three, which ended his day prematurely. Stapleton, although disappointed, is optimistic about his performance. The young rider registered a DNF in the final moto, yet he still managed to finish an encouraging 16th overall in the full field of 40.
Ryan Marmont MX2 – 7th Overall (9th, 8th, 13th):
"All in all I think the weekend went fairly well. I had a kind of consistent day. Just the last moto I had a bad ride finishing 13th. Broadford was a lot more demanding than what I expected. The track was really rough and rutty, so it was definitely tough conditions for the first round and sorted a few riders out. Other than that, I'm really happy that I put three races together and got some points on the board for the team, now just looking forward to round two at Appin."
Geran Stapleton MX2 – 16th Overall (7th, 11th, DNF):
"In the first moto I didn't have the best start, but I managed to make my way through to seventh. I struggled really hard with passing on the weekend, the track ended up being really one-lined. In race two, I just got pinned straight away off the gate. I had two two-strokes next to me and they just killed me out of the gate. I made my way back to about 11th but I got stuck behind a lot of riders so that made things difficult. In the last one, I crashed in the first turn. When I came across the start, there was a rut that had built up from the main race line, I got unbalanced and the back swung in and I ended up cartwheeling. I had CAT scans this morning and they think I have a fractured sternum. I will find out more today, but hopefully it won't put me out and I will be ready for Appin."
Chris Tisdale – Raceline Pirelli Suzuki Team Manager:
"We struggled for starts on the uphill start straight against the two-strokes which was to be expected. The boys managed their positions well though, and found a way into the top ten within the first few laps of every moto. Ryan we were pleased with considering it's only the first round. A seventh place result is a little further back than we'd like, but certainly still good points to kick off a long season. We're obviously really disappointed about Geran. After just returning from an injury Geran started the first two motos pretty well, but went down hard in the third moto resulting in a DNF. We're hoping his scans this week don't show anything too serious. Lap speed for both boys looks pretty close to the pace of the front-runners. So on the tracks a little more suited to our four-strokes we know we're going to be capable of winning races. I think solid points at the first round for both the boys is the key at this stage in such a long series."
Raceline Pirelli Suzuki are proudly sponsored by Pirelli, Suzuki, Von Zipper, Troy Lee Designs, Lusty, Motul, RK Chains, ARC, Ogio, Ethika, Ferodo, Polisport, and JT Sprockets.
The Raceline Pirelli Suzuki Team will head to Appin on the 13th of April for Round 2 of the Monster Energy MX Nationals.
To stay updated with all team progress, 'like' Raceline on Facebook or follow their Instagram via Raceline_motosport