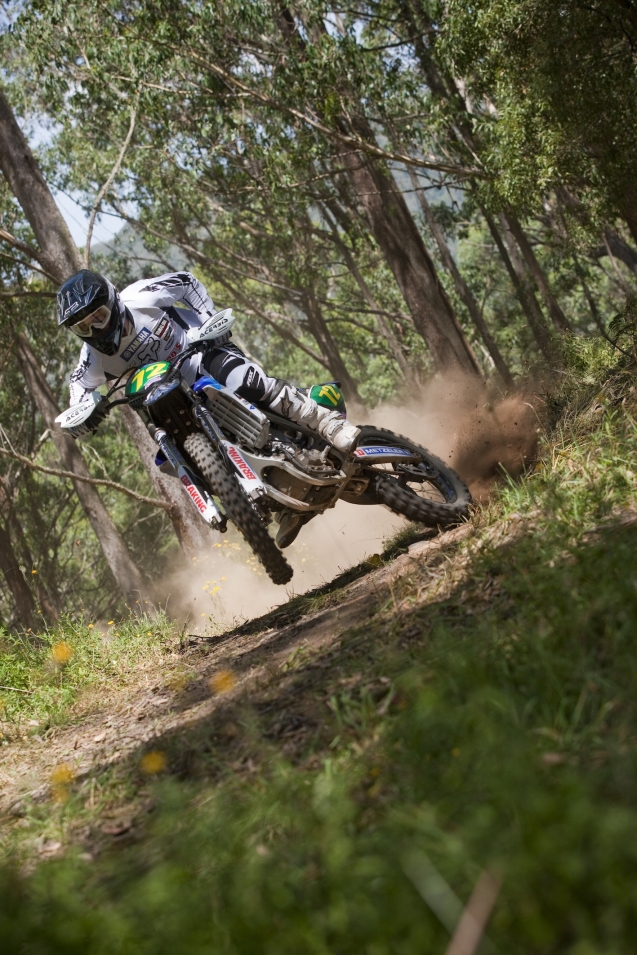 Ballard's Yamaha Park and Fly Off-Road Team riders Matt Phillips and Daniel Milner claimed their fourth and fifth class wins respectively at round five of the Yamaha Australian Off-Road Championship (AORC), held yesterday at Coonabarabran (NSW).
For Immediate Release: Sunday, April 29, 2012.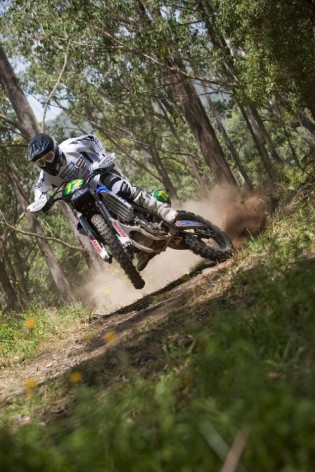 Matt Phillips and the All-New WR450F racing at Coonabarabran yesterday
The event was the first of two
Yamaha
AORC rounds being held this weekend at Gooana Motor Sports Park.
Conditions at the park are dusty and the course is reportedly tight, rutted and technical.
Milner, 20, from Lang Lang (VIC) continued his domination of Championship E1, winning all seven of yesterday's sprint heats aboard his YZ250F.
In Championship E2, it was 18-year-old Matt Phillips who raced to victory aboard the all-new WR450F.
Championship E3 also saw a Yamaha rider on the top rungs of the podium, with big-bore WR450F rider, Stefan Merriman, taking second spot in the class.
In the Outright top 10, Yamaha racers claimed five of the total spots, with Milner leading the charge in second Outright.
Riders on blue machines similarly excelled in the Women's Championship division.
Jess Gardiner, Jemma Wilson and Emilie Karlsson took the three podium positions after a day of heated racing.
Ballard's Yamaha Park and Fly Off-Road Team are proudly supported by: Ballard's Off-Road, Yamaha, Park and Fly, www.jumbopets.com, www.tradingpost.com.au, Trakka, GYTR, Kustom, Choice Suspension, FOX, Endura, Metzeler, Go Pro Cameras, Uni Filter, Talon, DID, Tag, Scott and Braking.
Round six of the Yamaha AORC is being held today at the same venue.
For full results from the weekend, or for more information on the Yamaha AORC, please visit http://www.ma.org.au/index.php?id=1417
For more information on Yamaha, please visit http://www.yamaha-motor.com.au/
Yamaha AORC Round 5
(Results courtesy of Motorcycling Australia)
E1 
1st Daniel Milner      YAMAHA
2nd Ben Burrell
3rd Josh Green         YAMAHA
E2 
1st Matt Phillips       YAMAHA             
2nd Glenn Kearney
3rd Jarrod Bewley     YAMAHA
E3 
1st Toby Price
2nd Stefan Merriman          YAMAHA
3rd Mitch Bowen
Outright Top 10 
1st Toby Price
2nd Daniel Milner     YAMAHA
3rd Matt Phillips       YAMAHA
4th Glenn Kearney
5th Ben Burrell
6th Josh Green        YAMAHA
7th Jarrod Bewley   YAMAHA
8th Chris Hollis
9th Stefan MerrimanYAMAHA
10th Luka Bussa