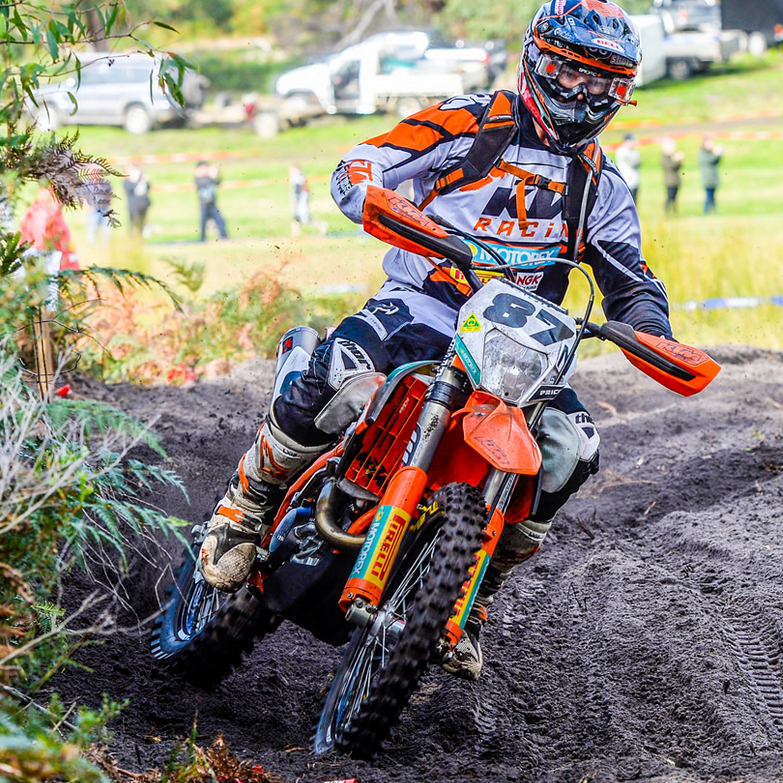 The Yamaha Australian Off-Road Championship (AORC) saw a pack of weary riders switch from the XC format to the sprints today at Hedley.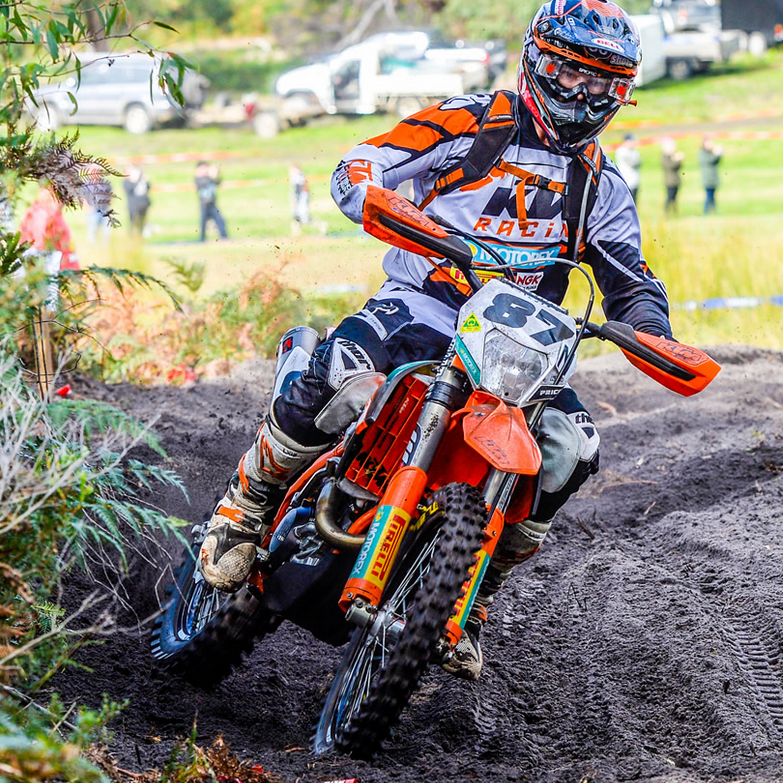 Toby Price (Motorex KTM) was again in fine form, snaring the round six win. It was a master class ride by Price who took the win with a total time of 57minutes 08.374 seconds and was once again the overall victor in the E2 class.
After winning all five heats, bar the last which was taken out by CDR-Yamaha's Chris Hollis, the three times AORC champion now leads the outright championship on 119-points. "A great weekend all in all" beamed Price after the race.
"The KTM 450 EXC was working awesome all day today, I had no problems at all this weekend, so I can't complain at all!
"I can't thank the whole team enough for a great job they have done all weekend, massive credit to them" added Price who will now turn his attention toward the Finke desert race which kicks off 7 June"
Active8 Yamaha Yamalube rider Josh Green was second once again to Price and started strong but had a few falls towards the end of the day.
Green ended up 1 minute 01.058 seconds down on Price and admitted to having a pretty tough weekend. "I'm happy enough with my result, but I want to win" said Green.
"I'm just finally starting to get to 100% fitness now, so I find every round I get stronger and fitter and faster so I'm really looking forward to the last second half of the championship to have a crack at this title." added Green.
Glenn Kearney climbed on to the final podium spot for Husqvarna recording a total time of 58 minutes 46.747 seconds, Kearney was once again the winner of the E3 class beating JBR Husaberg's Jarrod Bewley who was sixth overall. Kearney and Green are now locked up in second overall with 114-points each
The first Victorian rider home was yet again Daniel Sanders on his KTM. Sanders prevailed after a mechanical problem in the first heat which forced the youngster to ride his practice bike. "I'm stoked to finish in fourth place as it's my best finish to date.
"I'll keep chipping away with it and hopefully get up there in the top three." Sanders did admit he needs to get on the bike a bit more to get his fitness up as he cramped up a bit.
Rounding out the top five was Chris Hollis who had a few falls in the first few tests but made up for lost time as the day went on. "I lost too much time this morning" explained Hollis.
"It took me a while to adapt to the pace in the sand. I don't have anything like this at home, so it's something I definitely have to work on for next time."
After a DNF in round five due to mechanical gremlins, Bewley wrapped up sixth from Lachlan Stanford (Husqvarna Racing Team) in seventh. Active8 Yamaha Yamalube's Beau Ralston was eighth.
Price's Motorex KTM teammate Peter Boyle was ninth and the winner of the E1 class with another Active8 Yamaha Yamalube pilot in Stefan Granqvist who rounded out the top ten.
Jess Gardiner recorded her fourth consecutive victory with a faultless ride to take out the Women's class. The Balllard's Motorex Off Road Team rider proved to be in a league her own as she beat Emelie Karlsson aboard her Yamaha and Tayla Jones mounted on her KTM. 25-year old Jemma Wilson was fourth again with Sophie Coldicutt rounding out the top five.
Other class winners included Kirk Hutton in the Vets. David Flemming took out the Masters from Geoff Ballard and Trent Lean. The J2 Class was taken out by Joshua Brierley. J3 was won by Ben Kearns while Lyndon Snodgrass took out the J4.
Rounds 7 & 8 will be on 21-22 June at Coonawarra in South Australia, the return of reigning champion Daniel Milner will certainly make for some interesting racing.
2014 Yamaha Australian Off-Road Championship Outright Points after 6 of 12 Rounds:
1 Toby Price 119,
2 Josh Green 114,
3 Glenn Kearney 114,
4 Chris Hollis 95,
5 Lachlan Stanford 90,
6 Daniel Milner 85,
7 Daniel Sanders 82,
8 Jarrod Bewley 74,
9 Tom McCormack 71,
10 Stefan Granqvist 66