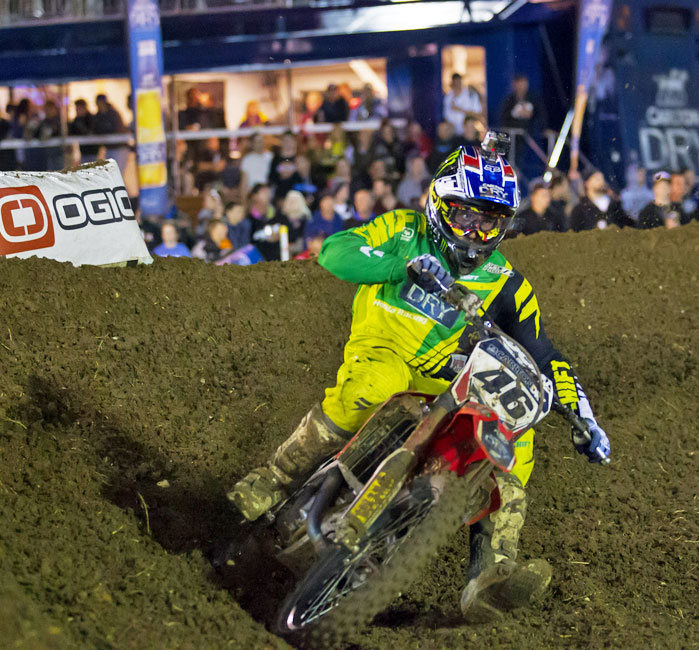 Carlton Dry Honda Racing's Weston Peick has reduced the points gap to championship leader Matt Moss with a solid second place finish in last nights third round of Milwaukee presents the Terex Australian Supercross Championship.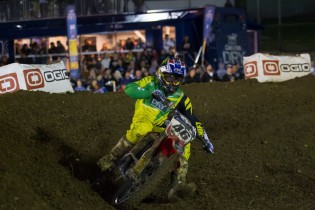 Peick's Pro Open teammate Hayden Mellross, achieved his goal of a top ten finish but it was heartbreak for Gavin Faith who washed out on the last lap of the 15-lap Pro Lites final, whilst in the lead.
Peick, who was pleased with the improvements made by the Carlton Dry Honda Racing team, said they would work on a few more changes ahead of next weekends event at the Australian Motorcycle Grand Prix.
"I had a good night," Peick said. "I tried to stay as consistent as possible but the track really started to break up towards the main event.
"I think we have a few more changes to make before we can get up there on the number one spot on the podium.
"The championship has definitely tightened up with moss boys going down, but consistency is going to be the key," Peick continued.
Just four points seperate Peick from second placed Jake Moss with twin Matt Moss a further four points ahead in the championship standings.
Whilst disappointed at crashing out on the final lap of the race, Faith, who had dominated the final, finished fourth and maintains second in the championship standings.
"I am so disappointed in myself," Faith said. "I didn't get the best start but I put the power down and moved into the lead on the opening lap.
"I had a comfortable lead but I hit that corner and the front just washed out. I got back up and finished fourth but that is cold comfort."
Rounds 4 and 5 of the Terex Australian Supercross Championship will be run alongside the Moto GP at next weekends Tissot Australian Motorcycle Grand Prix.
Top Ten Pro Open Round Results – Mt Gambier
1. Josh HILL (Suzuki) 25,
2. Weston PEICK (Honda) 22,
3. Jake MOSS (Suzuki) 20,
4. Daniel McCOY (KTM) 18,
5. Matt MOSS (Suzuki) 16,
6. Sam MARTIN (Suzuki) 15,
7. Kade MOSIG (Yamaha) 14,
8. Jay MARMONT (Kawasaki) 13,
9. Jacob WRIGHT (Honda) 12,
10. Hayden MELLROSS (Honda) 11
Top Ten Pro Open Championship Standings (After Rd 3 of 6) 
1. Matt MOSS (Suzuki) 66,
2. Jake MOSS (Suzuki) 62,
3. Weston PEICK (Honda) 58,
4. Josh HILL (Suzuki) 56,
5. Daniel McCOY (KTM) 49,
6. Jay MARMONT (Kawasaki) 48,
7. Kade MOSIG (Yamaha) 40,
8. Sam MARTIN (Suzuki) 34,
9. Kirk GIBBS (KTM) 31,
10. Lawson BOPPING (Yamaha) 28
Top Ten Pro LiItes Round Results – Mt Gambier
1. Luke STYKE (Yamaha) 25,
2. Brenden HARRISON (KTM) 22,
3. Ryan MARMONT (Suzuki) 20,
4. Gavin FAITH (Honda) 18,
5. Taylor POTTER (Honda) 16,
6. Nickolas SUTHERLAND (KTM) 15,
7. Luke ARBON (Yamaha) 14,
8. Dylan LONG (KTM) 13,
9. Kayne LAMONT (KTM) 12,
10. Tristen CACHIA (Honda) 11
Top Ten Pro Lites Championship Standings (After Rd 3 of 6)
1. Luke STYKE (Yamaha) 72,
2. Gavin FAITH (Honda) 65,
3. Ryan MARMONT (Suzuki)58,
4. Luke ARBON (Yamaha) 48,
5. Dylan LONG (KTM) 48,
6. Nickolas SUTHERLAND (KTM) 42,
7. Taylor POTTER (Honda) 40,
8 Kayne LAMONT (KTM) 39,
9. Brenden HARRISON (KTM) 31,
10. Kale MAKEHAM (KTM) 31