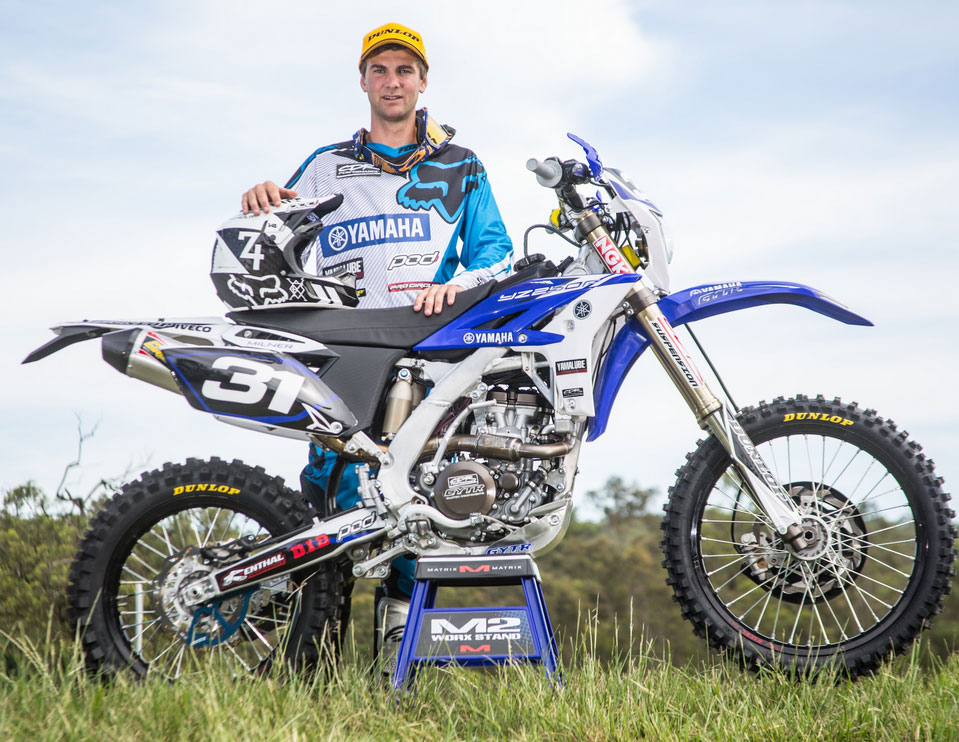 CDR Yamaha's Daniel Milner rode to his third Outright win in a row today at round eight of the Yamaha Australian Off-Road Championship (AORC) held at Coonawarra, South Australia.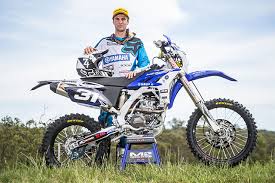 Milner, 22, from Lang Lang (VIC) beat the field by about 53-seconds after seven back-to-back special tests.
"It's the first time I've won both rounds in a weekend, so I'm really happy with that," Milner said.
"I didn't have any crashes or anything today, I got through pretty clean.
"I did have a couple of big moments on one of the tracks, though, in the rough whoops.
"The front end tucked under wildly one time, but thankfully I was able to ride out of it without hitting the ground.
"I'm stoked to be on a roll coming into the four day.
"Hopefully I can back up the win… I won the four day Outright for the first time last year.
"From what I've heard about Harvey, the tracks will be fast and sandy, so hopefully they will suit me well.
"I would love to bring home my second Australian Enduro Championship in the E1 Class and my second Outright win."
Milner's teammate, Stefan Merriman, had his best weekend in the 2013 Yamaha AORC so far, claiming second Outright in round seven and third Outright in today's round eight.
Merriman, 39, from Nelson Bay (NSW) took the win in the Championship E2 Class both days aboard his WR450F.
"The conditions were very similar to what I ride at home," Merriman said.
"I felt comfortable and the WR450F was going great. I wasn't able to keep up with Daniel, but second and third were great results for me.
"Our next major race is the four day coming at Harvey in Western Australia.
"I would like to get a win in my class, that's my main goal now."
The 2013 Harvey Fresh Australian 4-Day Enduro (A4DE) is being held from July 17th to 20th at Harvey (WA). For more info, please visit: http://2013a4de.com.au
For full results so far for the 2013 Yamaha AORC, please visit: www.mylaps.com
The CDR Yamaha Team is proudly supported by the following companies: Yamaha, GYTR, Yamalube, FOX, Dunlop, Vortex, Alpinestars, Pro-Circuit, NGK, CDR Performance.
For more information on Yamaha please visit http://www.yamaha-motor.com.au/
2013 Yamaha AORC
Round Eight
Top-10 Outright 
Daniel Milner  YAMAHA  
Glenn Kearney
Stefan Merriman  YAMAHA
Chris Hollis
Josh Green  YAMAHA
Jarrod Bewley
Geoff Braico
Tom McCormack  YAMAHA
Scott Keegan
Lachlan Stanford
Champ E1
Daniel Milner  YAMAHA
Glenn Kearney
Tom McCormack  YAMAHA
Champ E2
Stefan Merriman  YAMAHA
Chris Hollis
Josh Green  YAMAHA
Champ E3
Jarrod Bewley
Geoff Braico
Stefan Granquist  YAMAHA
AJ Roberts  YAMAHA
Champ Vet's
Kirk Hutton  YAMAHA
Damian Smith
Jason Pearce
Champ Women's
Jessica Gardiner
Emelie Karlsson  YAMAHA
Tayla Jones