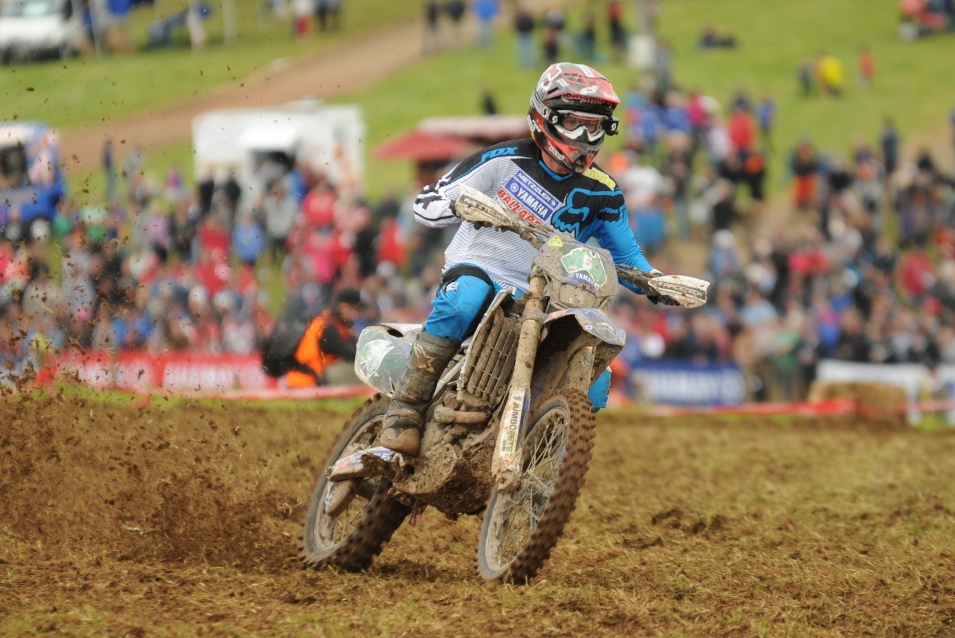 Local boy Daniel Milner claimed his first-ever Australian enduro class title and Outright crown in front of hundreds of family, friends and fans today at the final motocross event of the 2012 WR450F Yamaha Australian 4-Day Enduro (A4DE) held at Warragul, Victoria.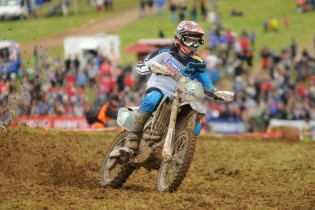 Milner, 21, from Lang Lang, led the wet, cold and grueling race from Day 1, ending up with a total lead of about three-minutes in the Championship E1 Class and more than a minute and a half in the Outright.
"I'm so stoked to win an A4DE," Milner said. "Finishing the final moto today was a monkey off the back, that's for sure.
"As soon as I finished the final moto, it felt unreal. I was super relieved to have it over with and the Outright win for the first time – which has been a huge goal of mine ever since I was a kid.
"Taking the win in my home town was also unreal – it felt amazing to have all the family there and all the supporters and all my mates were there too.
"Winning a four day gets me pretty hungry to do it again. Especially seeing that number one on the bike next year – just makes me want to hang onto it."
Milner said he was looking forward to celebrating at the presentation ceremony this evening.
"It's going to be a great night," he said. "Then on Monday I fly to the United States do the last round of the Grand National Cross-Country series at Loretta Lynn's.
"I'll be riding the YZ250F again. After winning the four-day on this bike, it's pretty special to me.
"The confidence is definitely peaking right now after winning this, so we'll go there feeling pretty confident – but we'll just see how I go.
"I wouldn't mind getting in the top-10, but I've never been to the States before, so I'm just excited to be going. It's going to be an awesome experience."
Milner's teammate on the Ballard's Yamaha Park and Fly Off-Road Team, Matt Phillips, also brought home the goods at this year's A4DE, claiming the Championship E2 Class Australian title and fourth outright.
Phillips, 18, from Tasmania, was over the moon to have won his second Australian enduro crown aboard the all-new WR450F.
The team's big-bore rider, five-time world champion Stefan Merriman, also had a strong event, landing second to Toby Price in Championship E3 and fifth Outright.
Merriman, 39, from Nelson Bay (NSW) contested the race aboard the all-new WR450F (big-bore).
Fellow WR450F rider, Josh Green, came second in Championship E2 and eighth Outright.
In Championship Veterans, five-time Australian enduro class champion, Kirk Hutton, won the final motocross aboard his WR450F and finished second to Damian Smith in class.
Two Yamaha riders landed on the podium in Championship Masters, with Derek Grundy and Pete Golding finishing second and third respectively.
And in Championship Women's, defending A4DE champion, Jessica Gardiner (WR250F), was again the victor, taking the class crown ahead of Tanya Hearn and fellow Yamaha racer, Tamara Gray.
Full results from today can be found at: http://www.mylaps.com/results/showevent.jsp?id=852587
The WR450F Yamaha A4DE is one of the world's biggest and most prestigious enduro motorcycle events and contributes an estimated $5 million annually to the economy of the host area.
The 2013 A4DE is being held in Harvey, Western Australia.
For all the latest news and information on the 2012 Yamaha WR450F A4DE, stay tuned to the official event website www.a4de.com and Facebook page.
Ballard's Yamaha Park and Fly Off-Road Team are proudly supported by: Ballard's Off-Road, Yamaha, Park and Fly, www.jumbopets.com, www.tradingpost.com.au, Trakka, GYTR, Kustom, Choice Suspension, FOX, Endura, Metzeler, Go Pro Cameras, Uni Filter, Talon, DID, Tag, Scott and Braking.
For more information on Yamaha, please visit http://www.yamaha-motor.com.au/
2012 WR450F Yamaha A4DE
Top-15 Outright
1. Daniel Milner YAMAHA
2. Toby Price
3. Alex Salvini
4. Matt Phillips YAMAHA
5. Stefan Merriman YAMAHA
6. Glenn Kearney
7. Peter Boyle
8. Josh Green YAMAHA
9. Daniel Sanders
10. Ben Grabham
11. Tom McCormack YAMAHA
12. Ben Burrell
13. Lachlan Stanford
14. AJ Roberts YAMAHA
15. Jarrod Bewley YAMAHA
 E1
1. Daniel Milner YAMAHA
2. Alex Salvini
3. Peter Boyle
4. Tom McCormack YAMAHA
E2
1. Matt Phillips YAMAHA
2. Glenn Kearney
3. Josh Green YAMAHA
E3
1. Toby Price
2. Stefan Merriman YAMAHA
3. Daniel Sanders
Veterans
1. Damian Smith
2. Kirk Hutton YAMAHA
3. David Flemming
Masters
1. Stuart Bennett
2. Derek Grundy YAMAHA
3. Pete Golding YAMAHA
Womens
1. Jessica Gardiner YAMAHA
2. Tanya Hearn
3. Tamara Gray YAMAHA
*ALL RESULTS PROVISIONAL AT TIME OF RELEASE.