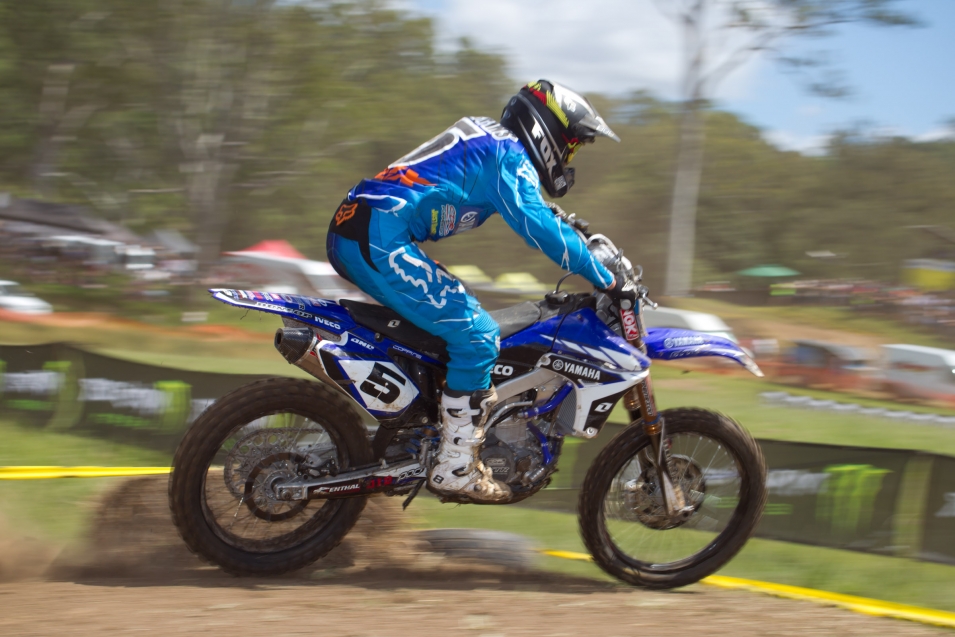 For Immediate Release: 2nd April 2012
The CDR Yamaha team laid down some solid foundations for their 2012 championship aspirations with a strong showing at the opening round of the Monster MX Nationals held at the picturesque Conondale circuit, on the Sunshine Coast.
Josh Coppins proved he is over his shoulder injury and back up to speed with another gritty performance over the weekend. Coppins took 3-3-2 results in the three races and is well placed as the championship moves on.
The only blemish on a pretty clean race sheet for Coppins came in the opening moto when a small fall and then being caught in another riders accident hindered his climb through the field.
"Ben was on another level today and raced extremely well, so congratulations to him," said the ever graceful kiwi.
"I'm satisfied with how I raced today. I was able to make the passes I needed to and ride some good laps to break clear of the riders behind me. For a hot day and rough track, my fitness proved to be good and I think it was a good start to the championship."
CDR Yamaha new recruit Lawson Bopping also finished up well in the ultra competitive MX 1 class. Bopping worked hard for his sixth overall for the round but acknowledges he was physically taxed by the end of the final 35 minute race.
Bopping also provided the single biggest highlight of the day when he launched the massive 42metre step down jump on the famous drunks' hill. It was a jaw dropping leap that had fans stunned when he fired his number 70 YZ450F skyward.
"Reflecting on the day, I probably didn't take in enough fluids and food between the motos," Bopping explains. "It was quite warm and I worked pretty hard in the opening two motos and as a result felt a bit flat in the last one. But that's something the team and I already have spoken about and ensure we have under control at the next round."
CDR Yamaha owner, Craig Dack left the Conondale circuit in an upbeat mode and feels his riders laid a solid platform at the opening round.
"Second and sixth at the opening round is a good start and far better than where we were 12 months ago yet still went on for a championship 1-2. Josh continues to put in each and every race and is ultra professional in the way he handles everything while Lawson showed he has the speed to mix it up the front and that we just need to take a closer look at his race day requirements to get the most from his body."
"I felt our bikes worked well and that was cemented when the riders said they wanted no changes for the upcoming round. It was a positive start for the team and we now have a good base to contend for the 2012 championship," Dack concludes.
For a full list of results: www.mxnationals.com.au
to follow CDR Yamaha on facebook: www.facebook.com/cdrrockstaryamaha
Results
MX Nationals – Round One
MX1
1. Ben Townley 75 – Honda
2. Josh Coppins 62 – CDR Yamaha
3. Todd Waters 54 – Suzuki
4. Jake Moss 46 – Honda
5. Brad Anderson 44 – Honda
6. Lawson Bopping 41 – CDR Yamaha
7. Jay Marmont 41 – Kawasaki
8. Cody Cooper 38 – Suzuki
9. Tye Simmonds 38 – Honda
10. Billy Mackenzie 34 – Kawasaki