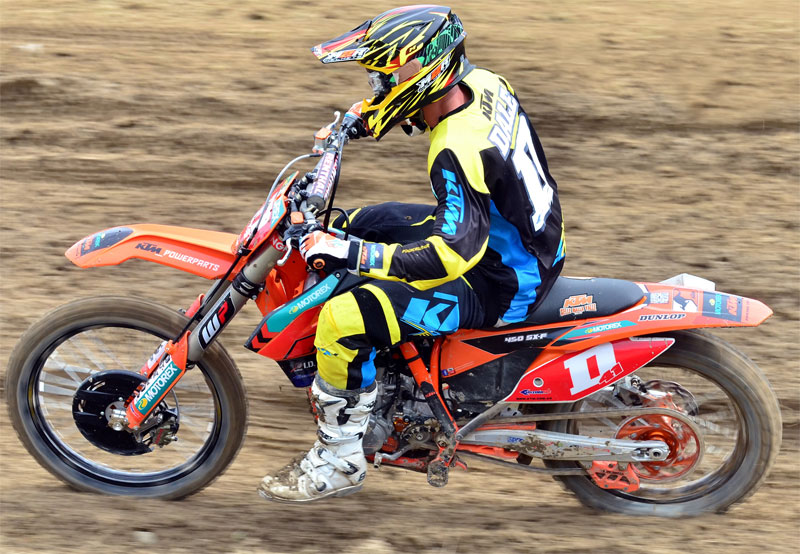 KTM Motocross Racing Team's new signing Ford Dale has got his tenure off to the best possible start, winning his first two races in team colours at the Woodville MX Grand Prix in New Zealand.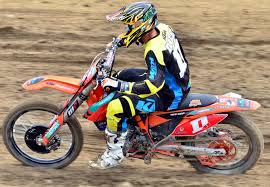 Despite being clearly the fastest rider throughout qualifying and the first half of the program, a lack of race conditioning ultimately forced the Queenslander, who sat out most of 2013 with a knee injury, out of both the day's final race and the running for the Woodville GP crown.
Team mate and Aussie national number five Kirk Gibbs – also using the event as his first hit-out for the year – got faster and faster throughout the day and ended up third overall behind Cody Cooper and Brad Groombridge.
The KTM Motocross team used the event as the start of its competitive preparation for this year's MX Nationals which begins at Broadford in Victoria on March 30.
Rob Twyerould – "Ford really showed amazing speed after having been off for nine months. He won the first race quite convincingly, but by the third he was starting to fatigue – as much as you can train on your own it's never quite like racing. By the end he had a crash because of cramps in his hands and he wisely pulled out but I'm very happy with the speed he showed. Both boys got great starts today, Gibbsy was a bit rusty at first but he got a great start in the first moto only to run wide and drop back to fifth. Then in the next two races he was battling for top three in each. He pulled another awesome holeshot in the last race and led for a while before a little bit of fatigue set in and he finished third, for third on the day.
"I'm very happy with both boys, they showed good speed – we've got to work on the fitness but that makes sense. Our season starts in March whereas the Kiwis have been building for this event itself. I need to thank Apro and Kyle who put in big effort for this event, we had to bring a lot of stuff with us and Patrick and Cannon from KTM New Zealand have been unbelievable here too."
Kirk Gibbs (Q4, 5th, 3rd, 3rd) . "Today wasn't a bad start. I started off slow – I've been riding a little but only got back on the track three weeks ago and I knew today would be a bit of a task. I got real bad arm pump in the first two but from there on it got sorted out and I rode good. I've still got a while to be where I need to be for the nationals, so I can take good stuff from this, do some more testing in the next few weeks and get the ball rolling even better."
Ford Dale (Q1, 1st, 1st, DNF). "I feel really good overall, the bike was just unreal and the testing work is paying off.  Our preparation for the Nats has started well. In the last moto I just cramped up. My hands locked up on the first lap so I came in. I was pretty gutted, I really felt like I was going to win but that's the way it is so I've got to take the positives with the negatives. Everything with the team is working really well."