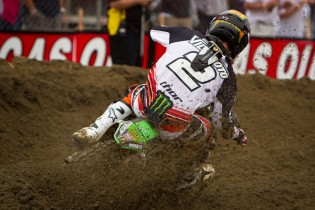 Ryan Villopoto Captures First 450 Class Title in American Motocross Finale. 250 Class Champion Dean Wilson Caps Off Season With Win.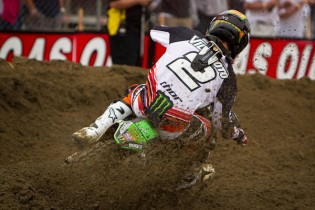 PALA, Calif. (September 10, 2011) – After a summer full of some of the best competition in series history, the 2011 Lucas Oil AMA Pro Motocross Championship came to a close on Saturday, in the heart of the motocross industry; Southern California. Thousands of fans were on hand to witness the Traxxas Pala National from Pala Raceway, as Monster Energy Kawasaki's Ryan Villopoto, secured his first premier 450 Class title. In the 250 Class, Monster Energy/Pro Circuit/Kawasaki's Dean Wilson, of Scotland, capped off his championship season by sweeping the day's motos for his third win of the season.
In the opening moto of the 450 Class, all eyes were on Villopoto and his championship rival, Rockstar/Makita Suzuki's Ryan Dungey, who were separated by just 14 points. Out of the gates, the duo positioned themselves within the top 10, and immediately began working on moving forward. Out front, Red Bull KTM's Mike Alessi, looked to pull away, with American Honda's Justin Barcia, in pursuit. After just three laps, Barcia took over the top spot, but it was only a matter of time before the series' perennial front-runners were battling for the lead. Both Villopoto and Dungey followed nose to tail throughout the moto, and on Lap 12, Villopoto slipped past Barcia and never looked back. Dungey followed suit two laps later, finishing second, and also losing an additional three points in the standings.
In Moto 2, the championship leaders found themselves in similar positions off the start, while TwoTwo Motorsports/Bel-Ray Racing's Chad Reed, of Australia, took over the early lead. While leading, Reed went down, allowing a closely-pursuing Barcia to assume the position. Upon remounting, Reed was forced to deal with a hard-charging Dungey and Villopoto. Dungey worked his way past quickly, and set his sights on Barcia, and the overall win. Villopoto took his time getting around Reed, using his healthy points lead to his advantage, but eventually settled into third, where he would finish the moto. At the front of the field, Barcia and Dungey brought the fans to their feet, battling for the win over the final two laps, with Dungey prevailing to secure his fourth win of the year.
"It was a great day," said Dungey. "It's been a long, hard-fought season. I'm bummed I couldn't come out on top, but there is a sense of happiness along with it. Every race, you had to be on top of your game. Every single week, just trying to get more out of yourself. This is definitely the toughest season of my career. I know I gave it my all, and did everything I can, so I can walk away happy knowing that."
Villopoto's 1-3 moto results placed him second overall for the day, but with 12 points to his credit over Dungey, was able to claim the season championship – his fourth career AMA Pro Motocross title. With the AMA Supercross Championship to his credit earlier this season, Villopoto becomes the 12th rider in AMA Pro Racing history to win the title in both disciplines in the same year.
"I didn't want to just go out there and ride today," said Villopoto. "I felt good in the first moto, and I went into the second just looking to stay out of trouble. We started off outdoors not very good, but we finally came around. It's been a tough year. If it weren't for (Dungey's) DNF at Texas, I would have come up a little shy (of the title). But, things like that happen. The turning point was at Unadilla, when we brought out our new bike. We made a lot of progress there."
Barcia finished third (2-3), giving him his second overall podium finish in four rounds of 450 Class competition.
With the 250 Class title wrapped up one week ago, the storyline in the smaller displacement turned to Monster Energy/Pro Circuit/Kawasaki's attempt to become the first team in AMA Pro Racing history to collectively win all 12 rounds of the season in their division.
Newly-crowned champion Wilson kicked off his team's efforts with a convincing Moto 1 win. The sophomore rider took over the lead on the opening lap, and never looked back, leading all 16 laps and even fending off a late challenge from teammate Blake Baggett, of Grand Terrace, Calif.
In Moto 2, Wilson had to charge from a fifth-place start in order to claim the overall. GEICO Honda's Justin Bogle, ran out front for nearly the entire moto, but Wilson gradually closed in, ultimately taking over the lead on Lap 11, to remain the only rider in the 250 Class to ever win a moto at Pala Raceway. The win also signified the historical feat Monster Energy/Pro Circuit/Kawasaki had achieved.
"To win both motos today was a great feeling," said Wilson. "It feels so good to finish the season that way. I fought for it hard. I'm not sure why I do so well here. The track just maybe suits my style. We just gel together."
Baggett's 2-3 moto finished placed him second overall, while Red Bull KTM's Marvin Musquin, of France, grabbed his second straight podium finish in third (4-4).
In the 250 Class standings, Monster Energy/Pro Circuit/Kawasaki finished 1-2-3, with Tyla Rattray, of South Africa, and Baggett following Wilson, respectively. This marks the first time since the inception of factory teams for each manufacturer that such a feat has been achieved.
The season finale of the Motorcycle-Superstore.com Women's Motocross Championship presented a showdown between the class' two most recent champions in American Honda's Ashley Fiolek, and DNA Shred Stix/Star Racing Yamaha's Jessica Patterson. Fiolek entered the day with a 22-point advantage over her rival, and relied on 2-3 moto results to finish third overall, and claim her third WMX Class title in four years. Patterson swept the day's motos for the overall victory, while Troy Lee Designs/Lucas Oil Honda's Tarah Gieger, of Puerto Rico, finished in the runner-up spot (3-2).
Lucas Oil AMA Pro Motocross Championship Round 12
450 Class (Moto Finish)
1. Ryan Dungey, Belle Plaine, Minn., Suzuki (2-1)
2. Ryan Villopoto, Poulsbo, Wash., Kawasaki (1-3)
3. Justin Barcia, Monroe, N.Y., Honda (3-2)
4. Brett Metcalfe, Mannum, Australia, Suzuki (5-5)
5. Mike Alessi, Victorville, Calif., KTM (4-7)
6. Kyle Regal, Howell, Mich., Suzuki (6-8)
7. Chad Reed, Kurri Kurri, Australia, Honda (12-4)
8. Justin Brayton, Fort Dodge, Iowa, Yamaha (9-6)
9. Jake Weimer, Rupert, Idaho, Kawasaki (10-12)
10. Les Smith, York, S.C., Yamaha (14-9)
450 Class Championship Standings
1. Ryan Villopoto, Poulsbo, Wash., Kawasaki – 526
2. Ryan Dungey, Belle Plaine, Minn., Suzuki – 514
3. Chad Reed, Kurri Kurri, Australia, Honda – 429
4. Brett Metcalfe, Mannum, Australia, Suzuki – 374
5. Mike Alessi, Victorville, Calif., KTM – 304
6. Jake Weimer, Rupert, Idaho, Kawasaki – 271
7. Justin Brayton, Fort Dodge, Iowa, Yamaha – 218
8. Andrew Short, Colorado Springs, Colo., KTM – 196
9. Kevin Windham, Baton Rouge, La., Honda – 193
10. Davi Millsaps, Murrieta, Calif., Yamaha – 173
250 Class (Moto Finish)
1. Dean Wilson, Glasgow, Scotland, Kawasaki (1-1)
2. Blake Baggett, Grand Terrace, Calif., Kawasaki (2-3)
3. Marvin Musquin, La Reole, France, KTM (4-4)
4. Tyla Rattray, Durban, South Africa, Kawasaki (3-5)
5. Justin Bogle, Cushing, Okla., Honda (10-2)
6. Gareth Swanepoel, Johannesburg, South Africa, Yamaha (5-7)
7. Kyle Cunningham, Aledo, Texas, Yamaha (6-8)
8. Jason Anderson, Las Cruces, N.M., Suzuki (8-9)
9. Eli Tomac, Cortez, Colo., Honda (7-11)
10. Alex Martin, Millville, Minn., Honda (14-10)
250 Class Championship Standings
1. Dean Wilson, Glasgow, Scotland, Kawasaki – 538
2. Tyla Rattray, Durban, South Africa, Kawasaki – 472
3. Blake Baggett, Grand Terrace, Calif., Kawasaki – 469
4. Eli Tomac, Cortez, Colo., Honda – 314
5. Kyle Cunningham, Aledo, Texas, Yamaha – 311
6. Gareth Swanepoel, Johannesburg, South Africa, Yamaha – 300
7. Broc Tickle, Holly, Mich., Kawasaki – 253
8. Alex Martin, Millville, Minn., Honda – 213
9. Martin Davalos, Quito, Ecuador, Suzuki – 213
10. Darryn Durham, Butler, Pa., Honda – 195
WMX Class (Moto Finish)
1. Jessica Patterson, Tallahassee, Fla., Yamaha (1-1)
2. Tarah Gieger, Aguadilla, Puerto Rico., Honda (3-2)
3. Ashley Fiolek, St. Augustine, Fla., Honda (2-3)
4. Vicki Golden, El Cajon, Calif., Kawasaki (4-4)
5. Steffi Laier, Germany, KTM (6-5)
6. Sayaka Kaneshiro, Osaka, Japan, Suzuki (5-6)
7. Mariana Balbi, Belo Horizonte, Brazil, Yamaha (11-7)
8. Sarah Whitmore, Cheboygan, Mich., KTM (10-9)
9. Marissa Markelon, Bridgeport, Conn., Yamaha (12-11)
10. Tatum Sik, Fallbrook, Calif., Honda (9-14)
WMX Class Standings
1. Ashley Fiolek, St. Augustine, Fla., Honda – 363
2. Jessica Patterson, Tallahassee, Fla., Yamaha – 349
3. Tarah Gieger, Aguadilla, Puerto Rico., Honda – 310
4. Jacqueline Strong, Cottonwood, Ariz., KTM – 209
5. Vicki Golden, El Cajon, Calif., Kawasaki – 207
6. Marissa Markelon, Bridgeport, Conn., Yamaha – 187
7. Kasie Creson, Vallejo, Calif., Honda – 180
8. Alexah Pearson, Sacramento, Calif., KTM – 176
9. Sayaka Kaneshiro, Osaka, Japan, Suzuki – 171
10. Lindsey Palmer, Albuquerque, N.M., Honda – 155