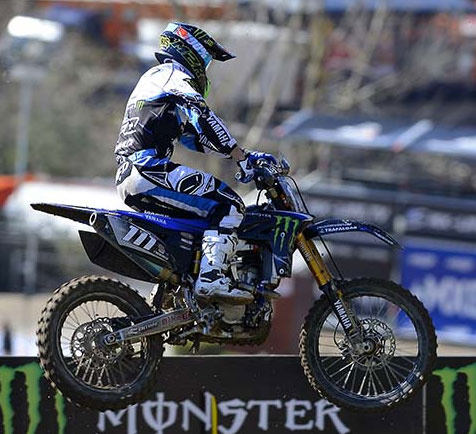 Less than a month after an operation on a broken left collarbone Monster Energy Yamaha's Dean Ferris was able to blast back into the top three of a Grand Prix moto after sealing an impressive third place in the second race at Arco di Trento in Italy.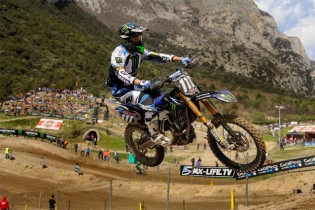 The fourth round of seventeen in the FIM Motocross World Championship (the quantity of races now amended after the cancellation of the Mexican fixture in May) took place in the shadows of the epic Dolomite mountains and around a winding and tricky Trentino layout. The bumpy and hard terrain made refining bike set-up to find optimum grip a harder task than usual for the GP elite.
Ferris, back in the saddle after an aborted attempt in Holland two weeks ago, came to Italy unsure of his possibilities and would leave the well-attended event (23,000 crowd for the weekend) pleased with his speed and fitness. In truth a podium result was entirely possible after qualifying in third position on Saturday. The Australian lost the chance of a second grasp of silverware however through a slip on the first corner of the first moto and crashed at the front of the pack. Luckily he avoided injury but after a few laps of hard-charging  he was too far behind the field to consider gaining any points so reluctantly retired to the pits. A determined attempt in the second moto saw '111' chasing Jose Butron for the runner-up slot for most of the race. At one stage it looked as though Dean was ready to mug the KTM rider on his Cosworth-powered YZ250F but he couldn't quite find the space on a narrow course to make the timely manoeuvre.
Being able to run with the leaders and produce three starts that placed him right at the peak of the MX2 gaggle was encouraging signs for the Qatar GP podiumee and the team have to be excited for his prospect at the coming events in Bulgaria and Portugal.
The race bike's strength away from the gate was an asset that suited both Mel Pocock and Maxime Desprey. The European Champion was up front in both 35 minute and 2 lap affairs and just a lack of flow and an ill-fated choice of tyres in the second race prevented a ranking higher than 11th overall (10th and 13th). Desprey marked a career-best GP finish thus far in his rookie season with 11th in the second moto and was running as high as sixth in the formative stages.
Monster Energy Yamaha will now move directly east and to the fast and furious circuit of Sevlievo for the Grand Prix of Bulgaria.
Dean Ferris:
"It was a shame about the first race because there might have been a chance of sticking the bike on the box but I'm happy about how strong I am after the injury and it's good to be back and scoring points like that. It is less than four weeks since I had surgery, so I'm pumped. We changed the bike a bit for the second moto and that's the most comfortable I've felt all year and I could flow on what wasn't an easy track. We made a couple of clicks on the suspension and used a different tyre; it worked. There were a couple of spots where I could have possibly passed Butron for second but then also a few places that let me down and he was a bit quicker. I paced myself at the start because I didn't know how fit I'd be. I haven't practiced on the bike during the week since I left Australia because of the flyaways and then the injury. I thought I'd try to pounce on him [Butron] at the end and that he might tire but he stayed strong. I did everything I could. Hopefully from now on I can start the ball rolling again and start to get some podiums for the team."
Mel Pocock:
"I was happy with my qualification race yesterday and that gave me some confidence for the motos. The first start was OK but I couldn't run the pace of the leaders and found a flow that I could manage because it was really easy to get out of shape on this track. I went to a hard-pack tyre compound in the second moto and that was a mistake. I should have stayed with the softer one because it made the bike feel very nervous in the corners and I was fighting for grip. I feel like I should have done better today but I struggle on these hard, fast square-edge bumpy tracks. Just need to keep going…it's a tough sport!"
Maxim Desprey:
"In the first moto my start was really bad. I was twenty-fifth on the first lap! So to come back to fifteenth was OK. In the second I was right up there until a small crash but I rode well and I'm happy. I'm getting better and I feel like I am making progress. These races offer many challenges and that's the best way to learn."
Steve Dixon, Team Principal:
"Yesterday was really good for our team and we were really surprised with Dean's progress as he had only ridden once during the week since Valkenswaard. Again we took some good starts and unfortunately Dean went down in the first race. He came back but was too far away for points but then made up for the mistake in the second moto. All the riders did well. Mel struggled a little bit but even for Italians this track is quite unique; it is slippery and difficult to get a good rhythm going. Overall we are happy to have posted some good points and will now try and build again with Dean and get back up the table. It is a long season and other riders will have ups and downs. We have to try and stay solid and keep up there with the results."