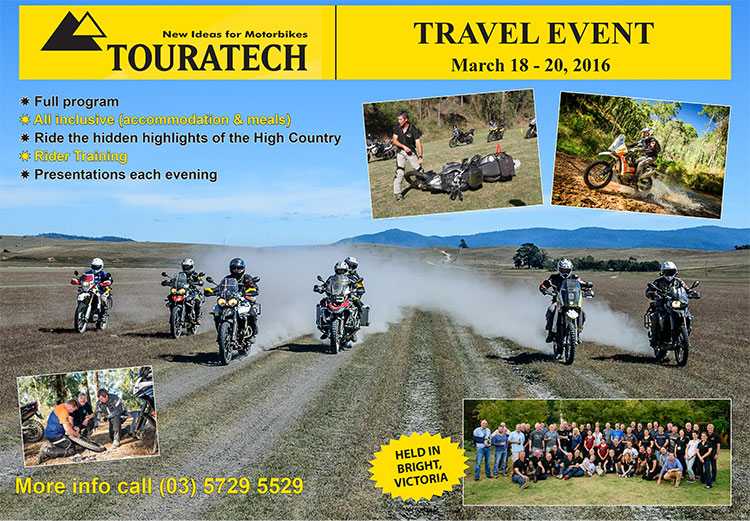 The fourth-annual Touratech Travel Event is fast approaching, with the March 18 to 20 event set to run alongside the inaugural Touratech Adventure Challenge in Bright, Victoria.
Press Release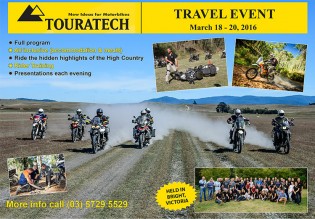 The Touratech Travel Event has established a strong reputation in the Adventure motorcycle industry since its inception, and this year's event promises to build on that success.
The event combines a number of presentations from industry experts, along with rider training and, this year, the opportunity to compete in the Touratech Adventure Challenge.
Whether you're joining us again and are an experienced adventure traveller, or are new to adventure riding, we'll have plenty of new information for you, with many like-minded people to learn from and share experiences and information with.
The camaraderie among participants has been a real feature of previous events, ensuring you'll come away from the weekend with lots of new knowledge and information.
As always, the Sunday ride will be one of the real highlights, which this year has a bushranger theme and will take in historic locations such as Stringybark Creek, Power's Lookout and Paradise Falls.
You'll follow in the footsteps of Ned Kelly and Harry Power while traversing some of North East Victoria's most spectacular countryside.
Once again the Touratech Travel Event will be based at the Bright Chalet. The event cost of $750 includes three nights accommodation and all meals from Friday evening until Monday morning. The meals from the renowned Chalet kitchen are always an event highlight.
This year's presentations will include Compass Expeditions' Mick McDonald speaking about on-road preparation, maintenance and repairs, while on Sunday night the topic will be packing for adventure travel.
All Touratech Travel Event participants will receive a Touratech welcome pack, a day ride program with options for riders of all abilities, and our signature rider training. Or, if you would like to test your skills in the Adventure Challenge, you can do this for a much reduced entry fee.
You can also bring a partner, not wanting to participate in the Travel Event this year if you like. For $450 per person they will receive all accommodation and meals, and the chance to enjoy the sights of Bright and the surrounding region for the weekend.
There are still some places left, but intending participants are advised to book quickly.
Call Ebony on (03) 5729 5529 for more information.