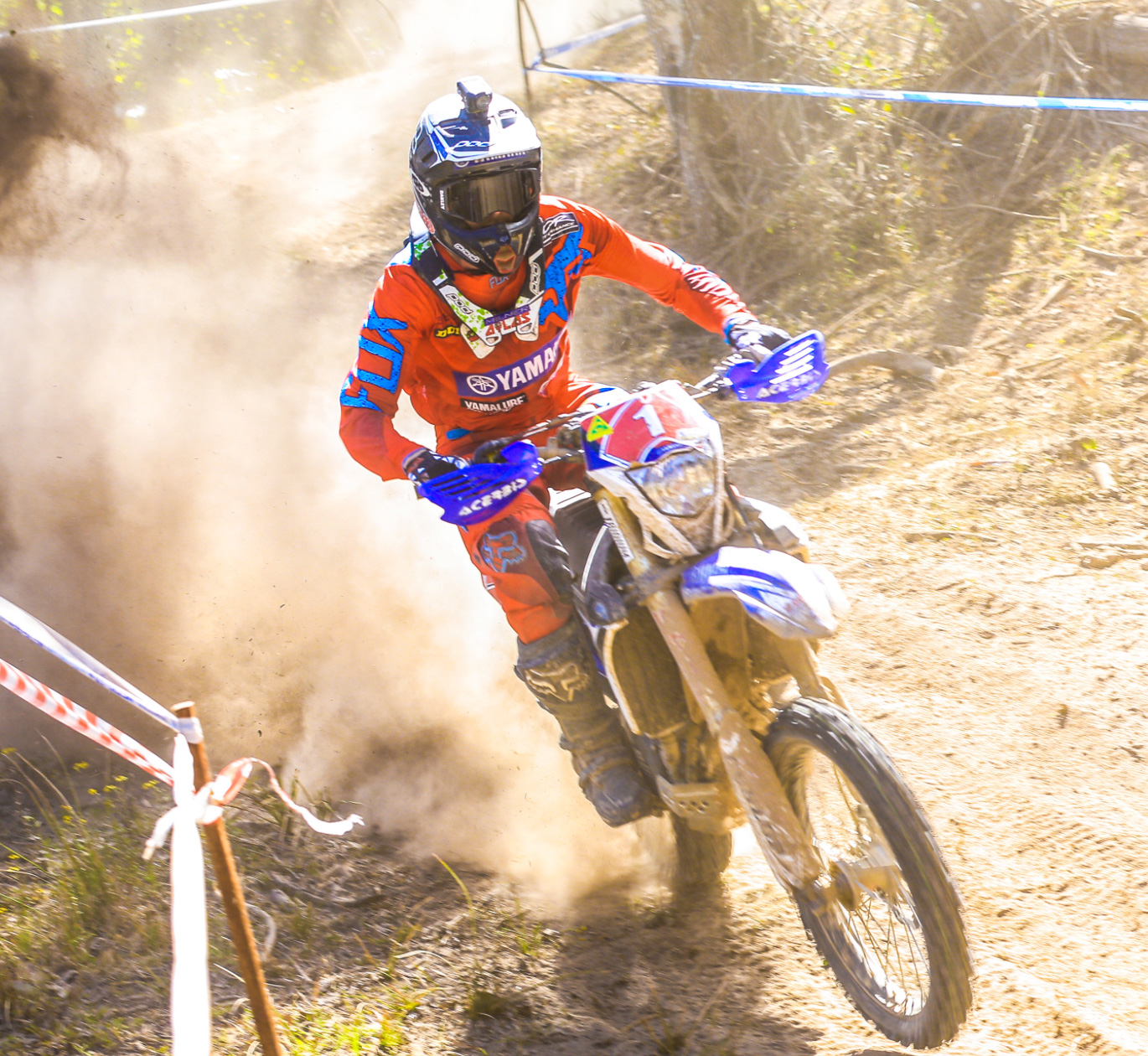 Daniel Milner makes it three in a row after his 2014 A4DE victory
CDR Yamaha's Daniel Milner has won the 2014 Yamaha Australian Four Day Enduro (A4DE) after the final motocross test was completed today at Dungog, NSW.
The 2014 victory has made it a three-peat for Milner and Yamaha as he had previous won the event in 2012 and 2013.
Mounted on his YZ450F, Milner won the event with a 25 second gap over Toby Price after two and a half hours racing over the four days. Milner didn't need to win a the final motocross test, all that was required was a common sense race that allowed him to keep Toby Price in sight and that is how it played out.
Milner crossed the finish line with fist in the air, elated that he had been able to secure his third consecutive victory in Australia's most prestigious off road motorcycle event.
"I'm so stoked right now, Milner said with excitement. "With my recent ankle injury, getting back to anywhere near 100% was going to be difficult so to be able to recover from that and then win the Four Day is really special to me."
"I can't thank CDR Yamaha and our sponsors enough for providing me with the support and help I need to race at this level. This is an awesome team to be a member of and I'm proud to race on their behalf."
Active8 Yamaha's Tom McCormack took out class honours in the E1 division (250cc) on his YZ250F. McCormack started the event slowly but surged home on days 2,3 and four to win the class and finish an impressive seventh outright.
"My goal was to win E1 and finish as high up as possible in Outright honours. Day one didn't help me for the best Outright result, but I'm really proud of myself and the team that we were able to turn around a pretty average start and come back to claim the class win."
"Congratulations to Daniel, Tom and all the Yamaha supported riders in this years' event," states Yamaha's Ray Howard. "It has been another exceptional event for Yamaha and superbly led by Daniel and Tom who have raced well and done a fantastic job."
A full report from both the CDR Yamaha Off Road and Active8 Yamaha teams will follow on Monday.
OUTRIGHT Results
1st Daniel Milner – 2.27.59.511(CDR Yamaha)
2nd Toby Price – 2.28.24.085
3rd Chris Hollis – 2.29.46.023 (CDR Yamaha)
4th Josh Strang – 2.30.03.089 (Yamaha Australia)
5th Beau Ralston – 2.31.52.301 (Active8 Yamaha)
6th Lachlan Stanford -2.31.58.057
7th Tom McCormack – 2.32.10.469 (Active8 Yamaha)
8th Glenn Kearney – 2.32.53.687
9th Josh Green – 2.33.17.284 (Active8 Yamaha)
10th Daniel Saunders – 2.33.46.246
Tom McCormack takes the win in the E1 division on his YZ250F
Credits: Four Oh Four