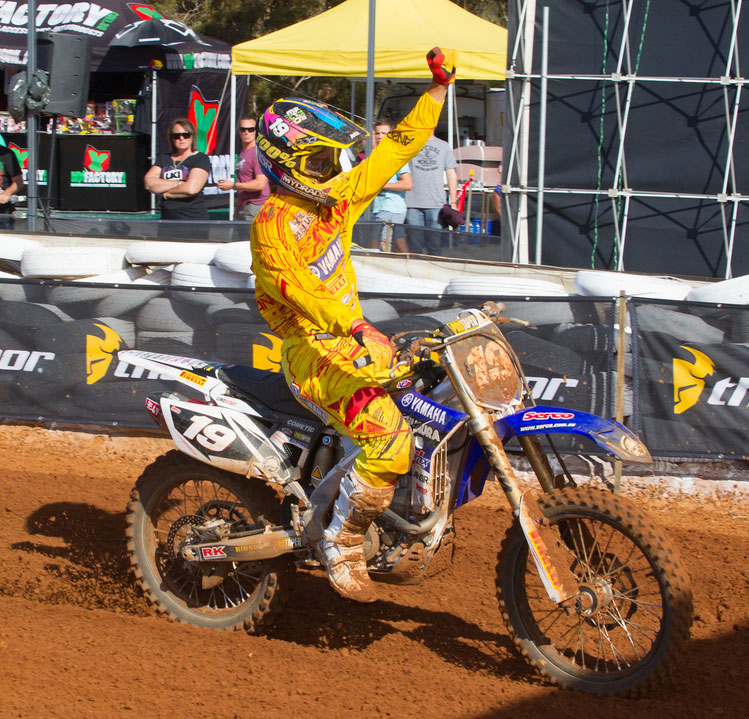 Serco Yamaha's Luke Clout landed his first MX2 overall round victory with a stunning performance at round two of the MX Nationals at Murray Bridge over the weekend.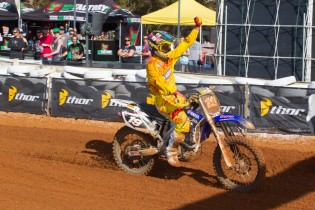 In a red letter day for the Serco Yamaha team, Clout led home a Serco 1-2 with team mate Luke Styke overcoming a first race fall to take second overall for the round.
18 year old Clout qualified in second place, just a few tenths behind his team mate, and took that form into race one. He took control of moto one in the early going and went on to stretch his lead each and every lap to take a comfortable victory.
Moto two turned into a Serco parade with Clout and Styke out front. Clout locked onto second place and shadowed his teammate for the full 30 minutes but safe in the knowledge that a 2-1 result would give him the round victory. He cruised over the finish line a few seconds behind Styke with his fist in the air.
"I'm so pumped right now," Clout enthuses. "This is my first race win for Serco, my first MX National round win in the MX2 class and it's just been an awesome day. It's been a lot of hard work for me, my family and the team but the feeling I got when I finished that last race was amazing."
"I will never forget today," Clout ends.
As mentioned Luke Styke had to fight off a big crash in the opening moto and a battered and bruised body to claim second for the round and maintain his lead in the championship. Styke fell heavily on the opening lap and picked up his the chase well down the field. His pursuit took him all the way through the field to finish the race in an astounding third place and a brilliant bit of damage control for points.
Moto two was right from the Styke play book, holeshot and win, and that's exactly what he did. He took the win and instantly went back to the race truck to begin his recovery for the next weekend.
"To finish up how I did considering what happened in race one was pretty good. The bike got me in my crash so I'm pretty sore right now but to leave here with second place and lose only two points from my lead is good."
"My focus now is to get myself up and right for next weekend at Wonthaggi," Styke said.
The Serco Yamaha team now face a quick turnaround as round three of the MX Nationals picks up at Wonthaggi this weekend.
To follow Serco Yamaha on Facebook; www.facebook.com/sercoyamaha or on Instagram @sercoyamaha
Round Two Results – Murray Bridge
MX2
1st Luke Clout – 67 – Serco Yamaha
2nd Luke Styke – 65 – Serco Yamaha
3rd Brock Winston – 57 – KTM
4th Kale Makeham – 54 – KTM
5th Ryan Marmont – 50 – Suzuki
6th Dylan Long – 49 – KTM
7th Geran Stapleton – 47 – Suzuki
8th Rhys Carter – 45 – Suzuki
9th Kayne Lamont- 44 – KTM
10th Matt Ryan – 43 – Honda
MX2 Championship Points: After Round Two
1st Luke Styke 135
2nd Luke Clout 122
3rd Kale Makeham 112
4th Brock Winston 109
5th Geran Stapleton 90
6th Kayne Lamont 90
7th Matt Ryan 90
8th Josh Cachia 88
9th Takeshi Katsuya 82
10th Kade Mosig 73