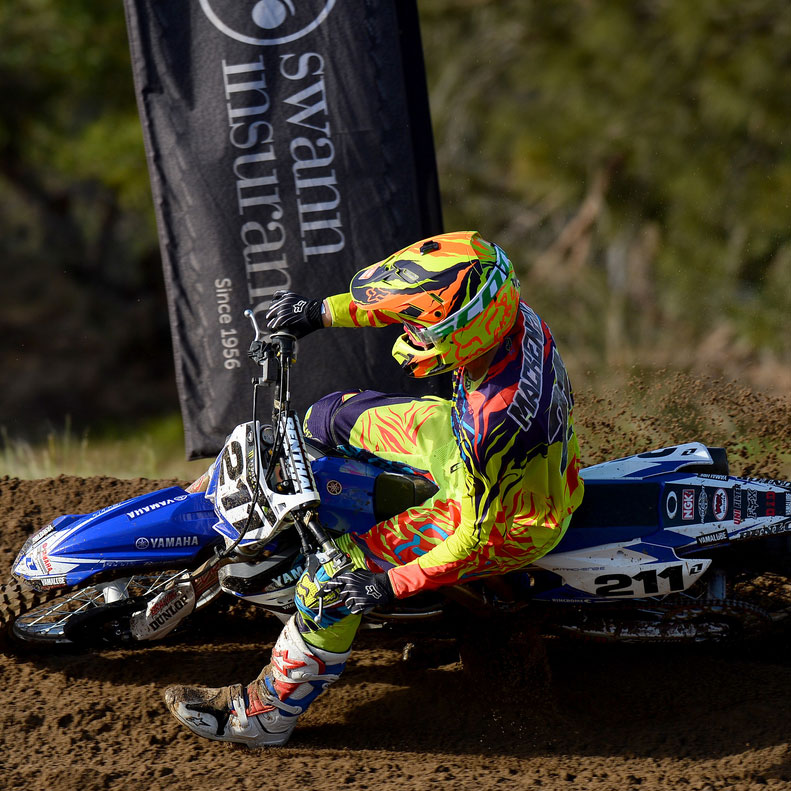 The form of CDR Yamaha's Billy Mackenzie continues to rise as he took out his first round win of the 2014 season at round five of the MX Nationals, held in the deep sand of Wanneroo in WA.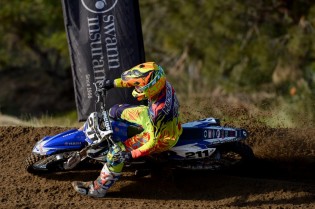 Mackenzie had shown over the previous couple of rounds that he had the speed to match anyone in the class, it was just a matter of time before he put a good days racing together and claimed victory.
His plan of consistently good results across all three races contested in WA worked perfectly and he tamed the difficult, sandy conditions although he was unable to qualify for the top 5 Superpole event in the morning session.
Mackenzie took the overall win in the premier MX1 division with his 1-2-4 results for the day. His win in moto one clearly the highlight of his day as he took control right from the get go. Race two saw him in a tight battle at the front of the field that landed him in second while moto three was all about closing out the victory and Mackenzie rode a smart race.
Mackenzie sits in fifth place in the championship as it reaches the halfway point but with momentum in his corner, he is looking to improve that position before the final round at Coolum.
"It's nice to finally get a round victory," Mackenzie said. "I could feel it building over the last few rounds, starting at Wonthaggi, then Murray Bridge was better and now the win here.
"It's a good way to go into the break, as we leave here positive, the team gets a reward for their work and I have a lot of motivation to keep the work up over the next few months. I need to improve on my fifth place in the championship and if I keep riding like I have been, I'm sure the results will continue.
"The bike is working awesome and the CDR Yamaha team have done a great job behind the scenes," Mackenzie ends.
Jay Marmont rounded out his day in the sand of WA with a 10th place overall and maintains 10th in the MX1 championship. The gap between sixth and 10th is only 12 points and a good round will see Marmont jump several positions in the championship chase.
The MX Nationals now takes a five week break before resuming for the second half of the championship, starting with round six at Swan Hill in Victoria.
For more information on the MX Nationals, www.mxnationals.com.au
To follow the CDR Yamaha team on social media: www.facebook.com/cdryamaha or @cdr_Yamaha on Instagram.
Round Five Results – Wanneroo
MX1|
1st Billy Mackenzie – 95 (CDR Yamaha)
2nd Matt Moss – 92
3rd Jake Moss – 91
4th Kirk Gibbs – 84
5th Adam Monea – 79
6th Jacob Wright – 69
7th Ben Townley – 68
8th Sam Martin – 66
9th Hayden Mellross – 57
10th Jay Marmont – 57 (CDR Yamaha)
Championship Standings – After Round Five
1st Matt Moss – 389
2nd Kirk Gibbs – 367
3rd Jake Moss – 343
4th Adam Monea – 342
5th Billy Mackenzie – 337 (CDR Yamaha)
6th Kade Mosig – 265
7th Hayden Mellross – 263
8th Rhys Carter – 256
9th Jacob Wright – 254
10th Jay Marmont – 253 (CDR Yamaha)