Wilson wins second Under 19s round in a row.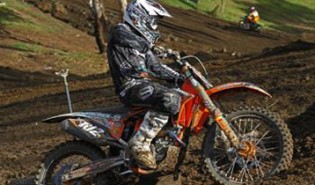 JDR Motorex KTM's Matt Moss has scored a podium finish in the Coonabarabran round of the Rockstar Energy Drink MX Nationals today, extending his series lead in the Pro Lites category.
Moss finished third overall in the series' debut at the Goanna Tracks Complex, finishing with 10-7-2-1 finishes across the round's four motos on Sunday, 19 June.
The podium for Moss saw his series lead stretch out to 54 points with three rounds remaining on his 250 SX-F.
"I had three weeks off the bike heading into this weekend, which allowed my shoulder to heal after Toowoomba," Moss, 23, commented. "It feels good to build my points lead and that's really what I want to do – win this championship."
JDR Motorex KTM had all three of its Lites riders in the top 10, with Queensland talent Brenden Harrison sixth overall with 4-8-7-5 finishes, positioning him fourth in the standings.
Cachia was ninth and content with the result as he continues to recover from a broken hand, scoring 6-10-6-16 finishes at the undulating 2.9-kilometre circuit.
In the Pro Open class the JDR Motorex KTM fielded 2007 champion Dan Reardon, who raced his 450 SX-F to 10th overall after a series of bad luck struck him in the opening motos. Reardon was credited DNF-10-7-8 results.
"I really enjoyed the 450 today and we are planning to continue testing on the bike next week," Reardon explained. "I was able to lead for a few laps in moto three, which was good. Overall the bike was good and the track was fun. I'm just dealing with some niggling injuries that are really holding me back at the moment, but we'll try to get them sorted and get the old me back on top."
Teammate Ryan Marmont sat out the Coonabarabran round, currently recovering from ankle surgery that he underwent earlier this month.
Other KTM runners to rank well at round six included Louis Calvin in 11th for Herb Watson Racing KTM, while Coastal KTM's Robbie Marshall rounded out the top 15.
The Under 19s class saw Coastal KTM's Jay Wilson score his second win in succession today, the former 85cc World Champion putting in another stunning performance in what is his rookie season on the national circuit in the senior ranks.
Wilson used another consistent effort including a moto win to seal the overall, finishing with 2-6-1-6 results for the round. He now sits seventh in the series, quickly homing in on the top five overall.
"It was a good day for me and feels really good to win another overall," Wilson said. "I feel like I'm getting stronger at every round and my team has been right behind me all along – I just need to thank Coastal KTM and all of our sponsors so much for sticking behind me."
Eco-Pest Control KTM's Dan Banks scored another top 10 result for the season with a hard-fought eighth overall.
The series will continue at Albury in New South Wales on Sunday, 3 July.
Visit www.ktm.com.au on the web for further information on KTM Australia, as well as KTM's full model line-up of off-road and road motorcycles available for 2011.
For additional information on the JDR Motorex KTM team, visit www.jdrmotorsports.com.au or check the team out on Facebook at www.facebook.com/jdrmotorsports.
2011 Rockstar Energy Drink MX Nationals
Round 6 Results:
Rockstar Energy Drink Pro Open
1. Jay Marmont 83
2. Dean Ferris 82
3. Josh Coppins 79
4. Billy Mackenzie 78
5. Lawson Bopping 72
6. Michael Phillips 57
7. Cheyne Boyd 56
8. Cody Cooper 50
9. Todd Waters 48
10. Daniel Reardon (JDR Motorex KTM) 38
Motul Pro Lites
1. Phil Nicoletti 95
2. Jake Moss 82
3. Matt Moss (JDR Motorex KTM) 72
4. Justin McDonald 67
5. Kade Mosig 62
6. Brenden Harrison (JDR Motorex KTM) 61
7. Cody Mackie 56
8. Daniel McCoy 50
9. Josh Cachia (JDR Motorex KTM) 46
10. Kirk Gibbs 45
Pirelli Under 19s
1. Jay Wilson (Coastal KTM) 77
2. Luke Arbon 70
3. Dylan Peterson 66
4. Jacob Wright 64
5. Shaun Redhead 59
6. Errol Willis 57
7. Kale Makeham 56
8. Dan Banks (Eco-Pest Control KTM) 47
9. Jake Emanuelli 47
10. Kyle McKeddie 45
Championship Standings (after 6 of 9 rounds):
Rockstar Energy Drink Pro Open
1. Dean Ferris 461
2. Billy Mackenzie 448
3. Josh Coppins 429
4. Jay Marmont 407
5. Cheyne Boyd 384
6. Michael Phillips 348
7. Lawson Bopping 323
8. Cody Cooper 263
9. Louis Calvin 227
10. Ryan Marmont 206
Motul Pro Lites
1. Matt Moss 419
2. Kirk Gibbs 365
3. Daniel McCoy 345
4.Brenden Harrison 344
5. Phil Nicoletti 339
6. Josh Cachia 312
7. Justin McDonald 302
8. Cody Mackie 294
9. Kade Mosig 292
10. Luke Styke 273
Pirelli Under 19s
1. Errol Willis 464
2. Luke Arbon 426
3. Shaun Redhead 366
4. Dylan Peterson 338
5. Jake Emanuelli 296
6. Kyle McKeddie 286
7. Jay Wilson 285
8. Kale Makeham 215
9. Dan Banks 182
10. Ben George 173