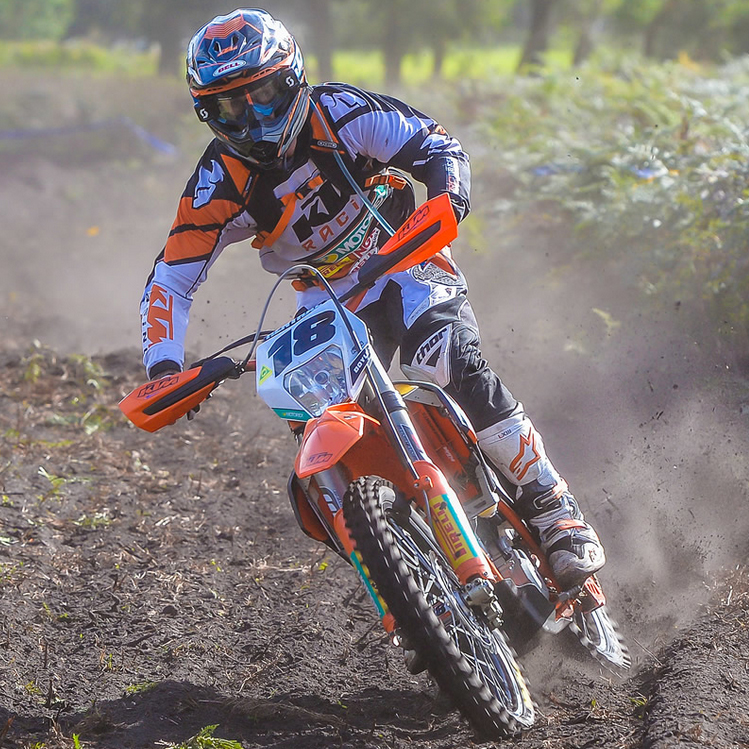 It's been a slightly bumpy path, but KTM Enduro Racing Team rider Toby Price has made his way back into the lead of the Australian Off-Road Championship as the series reached its halfway mark at Corner Inlet, Victoria.
On a weekend some were calling the toughest of the AORC season, Price mastered the conditions like no one else, taking both the Premier E2 class and Outright honours in Saturday's energy-sapping three-hour cross-country, before backing up to dominate today's six sprint legs.
Price had earlier proved himself a cut above Australia's best cross-country races as the AORC season began at Bulahdelah on March 22, but a heavy crash the next day and the wrist injury he's carried subsequently have made it a difficult road back to the top of the table for the KTM 450 EXC rider.
The teams E1 competitor Peter Boyle was also in dynamic form, and was challenging for second outright on the second lap of Saturday's XC, when an electrical problem sidelined his charge.
Boyle rebounded today to completely dominate proceedings in the E1 class aboard his KTM 250 EXC-F, and despite the powdery, whooped out terrain favouring the big horsepower bikes, still managed a top-10 finish overall.
For more information on KTM motorcycles visit www.ktm.com.au or www.facebook.com.KTMAustralia.
KTM Enduro Racing Team Manager Brad Williscroft: "Yesterday in the XC we got off to an awesome start. By Lap Two we had Toby Price out front and Peter Boyle in third, looking strong and pulling away from the rest. But unfortunately at the end of lap the bike stopped with an electrical problem, so after that the focus was all on Toby getting through. We had our normal fuel stop at four laps, and then on the eighth lap we decided it was just too risky to go for nine in the heavy conditions and we pulled him in for just a splash. It worked out good because the other guys did the same thing. He is still in some pain with his wrist but he toughed it out, and today pretty much dominated every lap and did a good job. Boyley dominated the E1 and finished top 10 outright so it was an awesome day for him on the 250, on a fast, power-sapping track. He really rode hard to get the win today. I'm very happy with both boys' performances and to have taken over the outright points lead is fantastic."
Toby Price – KTM 450 EXC. "It all went really well for us this weekend with two wins that have got us into the lead in the championship, so now we'll just try to stay smooth and consistent and we'll be good to go. The racetrack yesterday and today was gnarly and it didn't form up the way we thought it would. It was just soft, powdery, sand that actually felt like aquaplaning on water half the time! Plus there were hidden tree roots to deal with so there were a few unexpected split decisions to try to keep the bike on the ground. I'm pretty stoked to get this double."
Peter Boyle – KTM 250 EXC-F "We had a DNF yesterday when we were going really well and challenging for a second outright, but the 250s got left behind a little bit today. Class-wise though, I was in front the whole day just trying to keep it upright and it worked. I'm just feeling a bit more comfortable on the bike and feel like it's really sorted for me. I've got a bit more work to do to really go after that class win, but we're only halfway through so there's plenty of time to catch up now that I've got the bike sorted and I'm really looking forward to that second half."
2014 Yamaha Australian Off-Road Championship Outright Points after 6 of 12 Rounds:
1 Toby Price 119, 2 Josh Green 114, 3 Glenn Kearney 114, 4 Chris Hollis 95, 5 Lachlan Stanford 90, 6 Daniel Milner 85, 7 Daniel Sanders 82, 8 Jarrod Bewley 74, 9 Tom McCormack 71, 10 Stefan Granqvist 66, 14 Peter Boyle 56
2014 YAMAHA AUSTRALIAN OFF ROAD CHAMPIONSHIP
Rd 1&2:  22/23 March, Buladelah, NSW
Rd 3&4: 19/20 April, Boyland, QLD
Rd 5&6: 3/4 May, Corner Inlet, VIC
Rd 7&8: 21/22 June, Coonawarra, SA
Rd 9&10: 19/20 July, Kyogle, NSW
Rd 11&12: 6/7 September, Heathcote, VIC