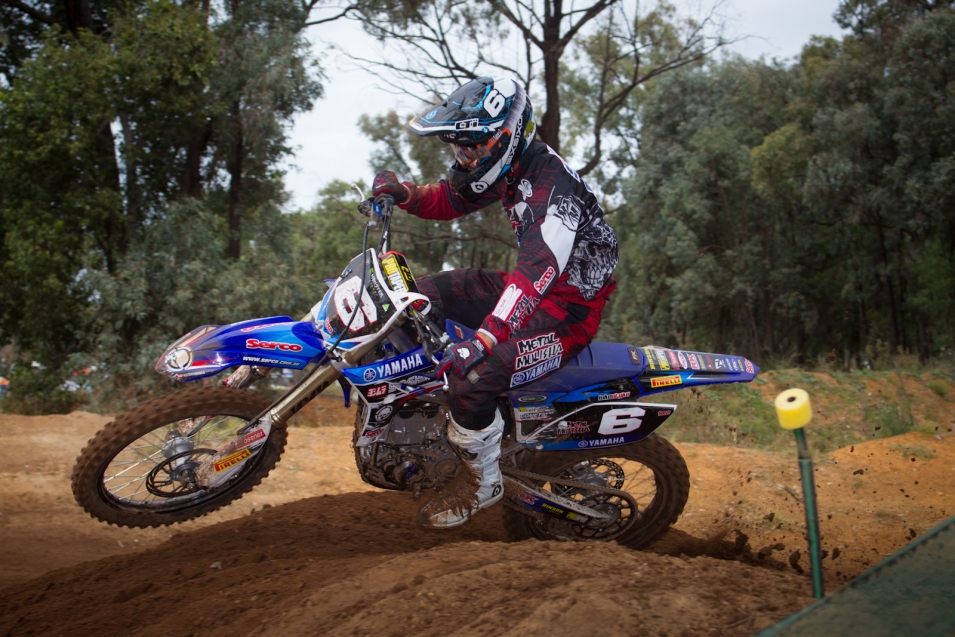 It was a career defining round for Serco Yamaha / Metal Mulisha Racings Luke Styke, as he swept all before him at round two of the Monster Energy MX Nationals held at Goanna Tracks, Coonabarabran, over the weekend.
For Immediate Release: Monday, April 16, 2012.
Styke combined with team mate Kirk Gibbs for a resounding 1-2 finish and place it among the teams' highlights in their 11 year racing history at the MX Nationals.
Styke, the 20 year old from Nowra in NSW, was simply a cut above the rest of the field in the MX2 class, taking control of all three of the motos held for the round and rode off to convincing wins. Styke had all bases covered with good starts, impressive track speed and amazing fitness to take the round win, his first in MX2 competition.
The day of domination for Styke now sees him sit on top of the championship points after two rounds on 132 points, ahead of Gibbs on 119.
"Wow, what a day!" Styke enthuses. "I always come to a race trying to win every race but it rarely happens, so I'm pretty pumped about today."
"The most pleasing thing was that after round one I said I needed to work on starts and my first lap and I did that then came back two weeks later and that work showed up instantly as my starts were good and my first lap exactly what I wanted."
"My bike was perfect today and the fact the Kirk and I were up the front and finished 1-2 shows how good our YZ250F's are."
Most riders would be happy with second place, but Kirk Gibbs left the Coonabarabran circuit frustrated as small mistakes crept into his racing. Gibbs was up front early in both motos one and two, only to tip over both times and have to fight his way back through the field.
The talented racer charged back to 5-4 positions in those motos before posting a solid second place in the final race of the day to finish second for the round and make it a Serco Yamaha 1-2 for the round and the championship after two rounds.
"Considering those silly crashes I had, to finish second was ok," Gibbs uttered at days' end. "But I shouldn't be making those mistakes and it's something that doesn't happen often."
"The 1-2 finish was great for the team and things will really get going over the next few rounds as the tracks get softer and we race in sand and loamy conditions."
Team Owner Gavin Eales was impressed with both his riders but stresses the team to keep a level head as there is a long way to go in this championship.
"It was a fantastic result and both riders did an awesome job and should be proud of themselves. But we also remind them that there are still eight rounds to go and each round requires the same focus and determination as today for us to be in contention for this championship by round 10."
For a full list of results: www.mxnationals.com.au
To follow the Serco Yamaha race team: www.facebook.com/sercoyamaha
Round two Results – MX2
Coonabarabran

 1. Luke Styke 75 – Serco Yamaha
2. Kirk Gibbs 56 – Serco Yamaha
3. Kade Mosig 53- Kawasaki
4. Cheyne Boyd 52 – Honda
5. Ford Dale 48 – Honda
6. Scott Columb 48 – Suzuki
7. Errol Willis 46 – Suzuki
8. Justin McDonald 40 – Honda
9. Ryan Marmont 39 – KTM
10. Josh Cachia 36- KTM
Championship Standings – After Round Two
1. Luke Styke 132
2. Kirk Gibbs 119
3. Ford Dale 110
4. Kade Mosig 97
5. Josh Cachia 92
6. Justin McDonald 88
7. Cheyne Boyd 87
8. Adam Monea 80
9. Errol Willis 76
10. Ryan Marmont 67