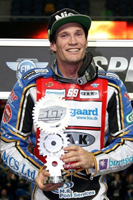 Australian Speedway racer Jason Doyle has secured this third straight FIM Grand Prix round victory to lead the World Championship standings.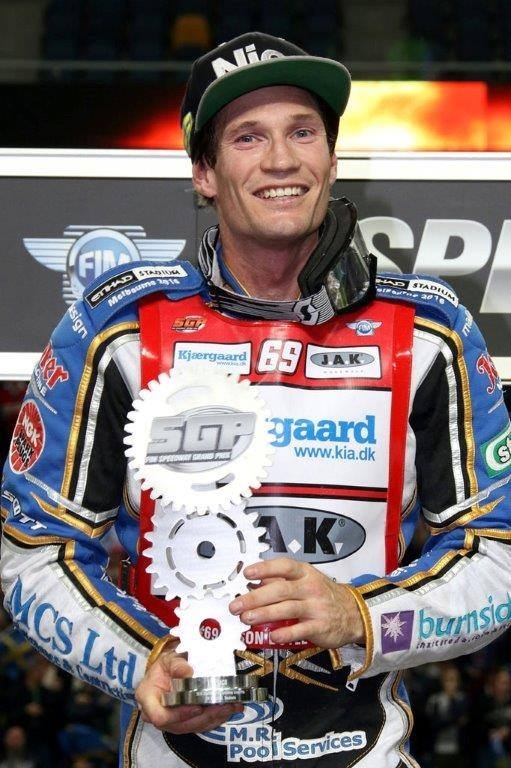 By Hayden Gregory
Doyle entered Friends Arena in Stockholm trailing Chris Holder by five points in the championship. By night's end the Aussie had a five point lead of his own, notching his fourth Grand Prix win of the season. It has been ten years since spectators have seen a rider take three Grand prix victories in a row and that record belongs to the one and only Jason Crump from 2006.
"To win four SGPs this year is special." Doyle exclaimed. "I can't really comprehend what I have achieved at the moment. I still have a long way to go, but to win three GPs in a row is unbelievable. 
"When I had gate one in the final, I knew I had to stick to the inside. I knew they were going to try and go around me and it would be a pretty desperate first corner. I stuck to my own plan and it worked again."
Doyle now leads the championship standings with two rounds left to race. Greg Hancock and defending champ Tai Woffinden remain within striking distance and the Australian accepts he will need to be at the top of his game to claim the title.
"We know what's going to happen in the next two rounds. It's going to be very difficult. We came to this Grand Prix trying to bag the points and if we can go and make a final in the next couple, we'll be up there in the end. Tonight sealed the deal that I'll be in the GPs next year, which is a massive achievement that I set out to do at the start of the season. We can park that one and go for something in the future now." 
The series will head to Torun next Saturday before Doyle has the chance to be crowned the first Aussie World Champion on home soil, with the finale hits Melbourne's Etihad Stadium on October 22.
"This is what we need for Etihad Stadium – to have some Aussies up there in the title chase. We need to show we've got some really good Australian riders in the World Championship. 
"We're going to go to Melbourne, do what we need to do to up the sport, get as many people as possible in the stadium and put on a good show.
"I've been riding in Europe for over 10 years now. But to go to Melbourne and have 90 percent of the stadium shouting for me and Chris is awesome. It's a really good feeling to get your name called in front of that many fans. You get the goosebumps and you get a bit emotional. After what happened in the final last year, hopefully I can do something special," Doyle finished.
 
STOCKHOLM SGP SCORES:
1 Jason Doyle 19,
2 Chris Holder 13,
3 Fredrik Lindgren 14,
4 Matej Zagar 15,
5 Bartosz Zmarzlik 12,
6 Tai Woffinden 11,
7 Piotr Pawlicki 10,
8 Greg Hancock 9,
9 Maciej Janowski 8,
10 Niels-Kristian Iversen 7,
11 Peter Kildemand 6,
12 Kim Nilsson 5,
13 Antonio Lindback 4,
14 Michael Jepsen Jensen 4,
15 Jacob Thorssell 1,
16 Chris Harris 0
WORLD CHAMPIONSHIP STANDINGS: 
1 Jason Doyle 123,
2 Greg Hancock 118,
3 Tai Woffinden 107,
4 Bartosz Zmarzlik 100,
5 Chris Holder 98,
6 Piotr Pawlicki 81,
7 Maciej Janowski 80,
8 Antonio Lindback 74,
9 Fredrik Lindgren 73,
10 Niels-Kristian Iversen 64,
11 Matej Zagar 64,
12 Nicki Pedersen 62,
13 Peter Kildemand 62,
14 Andreas Jonsson 39,
15 Chris Harris 33,
16 Michael Jepsen Jensen 11