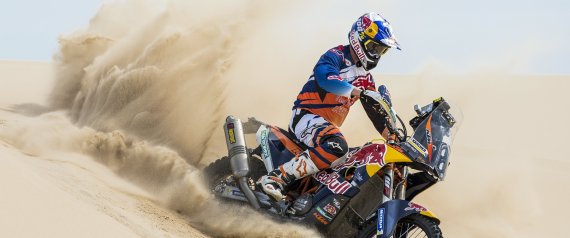 Overnight leader Joan Barreda was penalised for speeding during stage four, falling to fourth place despite crossing the line in first.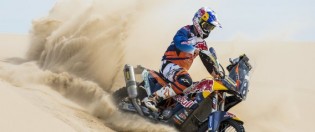 By Hayden Gregory
The Honda rider failed to learn from earlier mistakes as he was penalised for the second straight stage due to speeding. Despite the mishap, Barreda was far and above the best rider of the stage continually clocking fast times.
The closest rider was HRC team mate Paulo Goncalves who enjoyed the spoils of Barreda's penalties, moving into first place not only for the stage but also the entire race.
"It was my first marathon stage with a fast opening day." Goncalves said. "I rode near Benavides before the refuelling stop, but I then made a slight mistake inside the controlled speed area and I lost some time. 
"I attacked to close the gap and, in the end, I wasn't that far behind. It was a good day, bringing the bike home in one piece was crucial. I'm happy for me and Honda."
Barreda's five minute penalty left him third for the stage behind Rubin Faria and also the overall, which has Benavides in second.
In a strong ride Australia's Toby Price finished four minutes behind the leader to claim fifth place for the stage. In regards to overall standings the result lifts Price to seventh, nearly eight minutes behind Goncalves.
Continuing the marathon stage, riders will not be able to use the assistance of team mechanics as they get set to embark from Jujuy to Uyuni for stage five.
Stage 4 Results
1. GONCALVES (PRT) – 04:07:19
2. FARIA (PRT) +00:02:35
3. BENAVIDES (ARG) +00:02:37
4. BARREDA BORT (ESP) +00:03:11
5. PRICE (AUS) +00:04:01
6. MEO (FRA) +00:04:15
7. METGE (FRA) +00:05:20
8. FARRES GUELL (ESP) +00:05:23
9. BRABEC (USA) +00:05:29
10. QUINTANILLA (CHL) +00:05:52
Overall Results After Stage Four:
1. GONCALVES (PRT) – 10:35:17
2. BENAVIDES (ARG) +00:02:17
3. BARREDA +00:03:03
4. SVITKO (SVK) +00:05:22
5. FARIA (PRT) +00:05:24
6. WALKNER (AUT) +00:07:08
7. PRICE (AUS) +00:07:56
8. QUINTANILLA (CHL) +00:08:22
9. MEO (FRA) +00:10:55
10. DUCLOS (FRA) +00:11:11