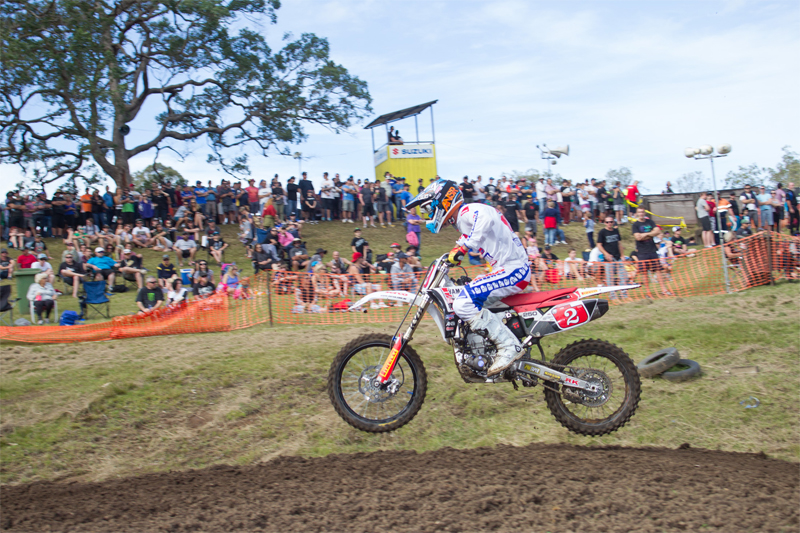 Serco Yamaha's Luke Styke hits the halfway point of the 2013 MX Nationals in control of the points' race after winning another round of the championship at Conondale, Queensland.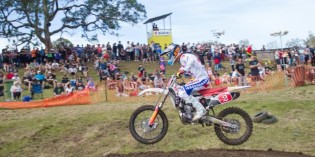 Yamaha's factory MX2 pilot overcame stiff competition, a rough, rutty and challenging track to take the round win with his 1-2 results. Styke led moto one until the final stages but let his rival slip by in the waning laps and crossed the finish line in a disgruntled second place.
But in moto two, Styke wasn't in any mood to be messing around. From the moment the gate dropped, Styke charged to the front, gapped the field and rode his own race all the way to the finish line. It was a big statement from Styke and one that he needs to continue to make as the series wears on.
"I wasn't happy after that first moto. I made some mistakes, missed some lines and didn't flow my turns so moto two was all about fixing those things and getting the job done.
"I have won four out of the five rounds so far but things can change quickly in motocross. If I don't keep bringing my A game, then I will get beaten and I don't want that to happen. The first half of the series has gone really well for myself and Serco Yamaha and we need to start round six exactly as we started round one," Styke ends.
Luke Clout endured a tough opening moto that saw him ditch his goggles on the mud and roost peppered track. With no goggles, Clout struggled for clear vision and made several mistakes on his way to 13th in the first race.
Like Styke, he was out for redemption in race two and set about righting the wrongs. By the midway point, Clout moved into third place and held it all the way to the finish where his 13-3 scores netted him seventh for the round.
Despite the tough day, Clout still maintains second place in theMX2 championship behind his teammate but he can't afford any more bad motos if he is to keep it.
"I had some issues in that first race and as soon as I took my goggles off, it was just that much more difficult. You have to ride with your head down to avoid roost from the bikes in front and your eyes are constantly watering.
"The track dried out for moto two and it was pretty hard to ride. There were some long ruts, a variety of dirt and traction and it got nice and rough. The first two guys got away from me a bit, but I was pretty safe in third and just consolidated the position," Clout explains.
The MX Nationals now takes a five week break to allow teams and riders to catch their breath. The Serco Yamaha team hits the halfway point in good shape with their riders running 1-2 and their Yamaha YZ250F's performing well.
Round Five Results – Conondale
MX2
1st Luke Styke – 67 (Serco Yamaha)
2nd Josh Cachia – 67
3rd Kale Makeham – 56
4th Jay Wilson – 50
5th Beau Ralston – 49
6th Takeshi Katsuya – 48
7th Luke Clout – 46 (Serco Yamaha)
8th Ryan Marmont – 44
9th Brock Winston – 44
10th Dylan Long – 44
Championship Standings – After Round Five
1st Luke Styke – 336 (Serco Yamaha)
2nd Luke Clout – 285 (Serco Yamaha)
3rd Josh Cachia – 279
4th Brock Winston – 258
5th Kale Makeham – 255
6th Takeshi Katsuya – 212
7th Geran Stapleton – 208
8th Ryan Marmont – 196
9th Dylan Long – 187
10th Kayne Lamont – 183