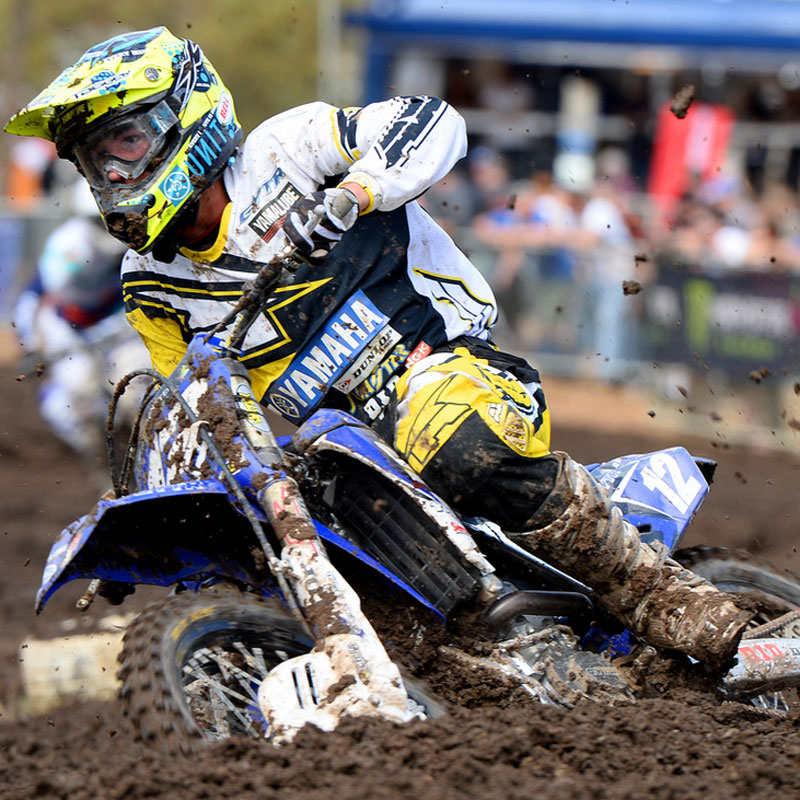 GYTR Yamaha's Jed Beaton made a stunning MX Nationals debut taking an impressive victory at the opening round of the 2014 Monster Energy MX Nationals in the MXD category (MXD), while team mate Wilson Todd showed he is ready to step up with some spirited racing in his first pro level event.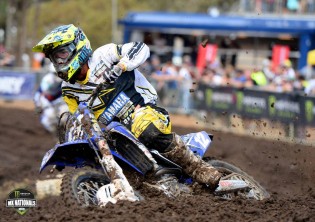 Beaton, who made the step up from juniors at the end of the 2013 season put in three top shelf races during the day to finish the round on the top of the podium. Also take into account that Beaton was the fastest qualifier and it was a day that Beaton won't soon forget. And while Beaton lives in Victoria, he had never ridden the Broadford circuit until the weekend.
After a first turn fall in race one, he charged all the way back to fifth place, passing nearly 30 riders in the 20 minute event. Race two and with a much better start, Beaton hit the lead on lap three and never let it go to win by 10 seconds, while the third and final race again saw him pass the front runners before the half way point and charge off for his second race victory.
"What an awesome day," Beaton offered. "My goal was to get the championship off to a good start, not take huge risks and get things underway safely but it turned out a whole lot better than that.
"The first race was tough as I got tangled with another rider between the first and second turns and went down. I tried not to panic and just get going and not lose any more time and I just passed whoever that was in front of me and I was pretty happy with fifth.
"The next two races went perfectly and it felt pretty cool to cross the finish line in that last race. The team did an awesome job all day and I had a lot of friends and family here so it was pretty special," Beaton ends.
With the recent injury to Joel Dinsdale, Wilson Todd was tossed in the deep end. Planning on doing his final year of junior racing, Wilson got the call up just 10 days ago and put in a fine performance.
He pulled down an impressive fourth place in the opening moto after battling his way forward. Moto two and he was on track for another top five result until a couple of falls dropped him back to a 16th place finish. But he more than redeemed himself in the final race with another fourth place, shadowing the second and third riders over the finish line.
His 4-16-4 results gave him a very respectable seventh overall, but more importantly, valuable experience that will only benefit him at future rounds.
"That was a lot different to what I was expecting," Todd said of his day. "I couldn't believe how rough the track got and how tough it was to ride. It was rough just in practice.
"But it was a pretty good day and I'm happy with how I went. If I can keep the mistakes down and put together three races, I think I can run with everyone."
The GYTR Yamaha team now more their focus on round two of the MX Nationals at Appin, in Sydney on April 13. The team will continue to build on the promising start and know the hard work has only just begun.
To follow the GYTR Yamaha team on Facebook: www.facebook.com/GYTRYamaha
For full results and more information; www.mxnationals.com.au
Round One Results – Broadford
MXD
1st Jed Beaton – 96 (GYTR Yamaha)
2nd Egan Mastin – 94
3rd Nathan Crawford – 91
4th Jack Simpson – 85
5th Wayde Carter – 77
6th Jaiden Rykers – 72
7th Wilson Todd – 71 (GYTR Yamaha)
8th Brock McCleary – 68
9th Jarrod Kelly – 67
10th Daniel Price – 52