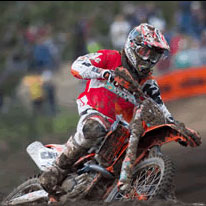 MX Nationals championship leader and Motorex KTM team racer Todd Waters completed an amazing recovery ride after serious head injury to salvage fifth from today's fourth round of the series at Broadford.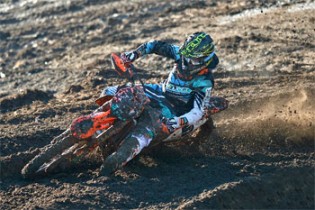 And while the team's lead rider was being heroic, the 'rookie' MX1 rider in the team buried that tag for good with a maiden fourth place finish and a stunning overall podium.
Waters sustained the injury in a heavy crash at a Sunny Series round in Queensland a week earlier, and as late as Saturday had only received 'provisional' clearance to race, dependent upon satisfactory testing and continuous monitoring from the Racesafe motorsport safety service.
With the safety of its rider foremost in mind, the Motorex KTM team stringently adhered to its medical advice, and with determination and his superb fitness on his side, Waters cleared each hurdle in time to complete the race program and reduce the damage to his championship lead.
Rob Twyerould – "The whole week was pretty eventful with Todd getting a "provisional" clearance, meaning they'd reassess him after practice and qualifying. His reflex action was quite slow but then he doubled it Saturday, and the decision came to let him ride, and he's done very well. Due to a mix up we didn't time our run properly in SuperPole and he dropped out of contention on the final minutes.
Kirk timed his run perfectly and did very well indeed. Over the last couple of weeks and since the last race at Murray Bridge his confidence has grown and grown and he really believes in himself now. In the first moto they both managed top-five starts, and Todd worked through to the lead half way through, but then Moss charged and passed him with about five minutes to go. Kirk started fourth but then dropped back to sixth, then put his head down and, managing his arm pump quite cleverly he charged up to fourth.
"Both riders got very average starts in the second with Kirk in 10th and Todd way back in 18th. Todd said it was the toughest race he'd ever done. The Racesafe guys warned him his brain was going to be tired after concentrating so hard, and it really hit him but he did a really fantastic job. Gibbsy had a bit of a flat patch in the middle but then with five to go he hooked onto Simmonds and they caught right up to third and fourth on the line. For him to be so strong at the end of the moto is very impressive. I really want to thank the Racesafe guys again because they've gone above and beyond in their monitoring of him through the day. They've just been unreal."
Kirk Gibbs – "You train so hard and put the time and effort in, so days like today are really good and I'm stoked with it. I just want to keep moving forward with it now. We started off great with second in SuperPole, then in that first race I got a little arm pump and got fourth. The gate dropped real quick in the second and I blew the start, but I had a good battle with Tye and we had a nice pace going, we were actually catching the front boys on the last few laps.
"I've got a Sunny State race this weekend at Coolum then we're off to Connondale. I did well there last year; it's pretty different to most tracks – sort of like a big grassy paddock up on a hill with a few jumps in it. Pretty open which is good, a bit more like the tracks in New Zealand."
Todd Waters –  "Right now I have this real tired, slack feeling, like if you lay down and close your eyes you'll sleep for a couple of  hours.
I had a big crash last weekend and was out for 40 seconds and had a brain bleed. A couple of doctors said to sit out for two months but Race Safe said they'd look into some specific testing. On Friday I failed on reflexes, then then they tested me on Saturday and I showed 60% which since I'm a smooth rider and not an out-of-control rider, was a pass.
Simon said at some stage I'll fall in a heap and it will either be after practice or during the day, or maybe on Monday. Unfortunately for me it was after the first race. That second moto was the toughest race I've ever done in my life but I just had to finish.
It's tough, I'm a racer and coming from winning all the time to eighth place hurts but I'm not 100 per cent and I got around best I could to minimise the damage and I owe that to the team and everyone that's there backing me. You need good support to cope with situations like that and that's what I've got this year.
2013 Monster Energy MX Nationals, Australian Motocross Championship
Round Four – Broadford, VIC
Go Pro SuperPole:
1 Matt Moss 02:08.850 Suzuki
2 Kirk Gibbs 02:11.682 KTM
3 Cody Cooper  02:12.136 Suzuki
4 Billy Mackenzie 02:15.740 Yamaha
DNF Ford Dale Honda
MX1 Overall Results:
1. Matt Moss 73
2. Billy Mackenzie 67
3. Kirk Gibbs 57
4. Jake Moss 56
5. Todd Waters 55
6. Adam Monea 52
7. Tye Simmonds 49
8. Lawson Bopping 49
9. Daniel McCoy 42
10. Cody Cooper 41
MX1 Championship Standings (after four of 10 rounds):
1. Todd Waters 269
2. Matt Moss 242
3. Billy Mackenzie 226
4. Lawson Bopping 217
5. Cody Cooper 202
6. Tye Simmonds 189
7. Adam Monea 185
8. Kirk Gibbs 183
9. Jake Moss 177
10. Daniel McCoy 164