NEXT LEVEL GT ULTIMATE CAR SIMULATOR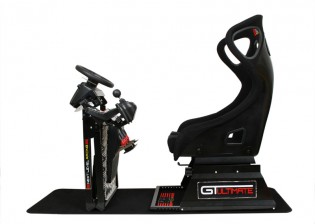 I've wanted a car simulator cockpit for a lot of years. I've had a steering wheel for my PS3, but without a proper rig to set it up with it was pretty much useless. I had a table and a bean bag which worked, kinda, but not all that well. So when I saw these Next Level GT Ultimate Simulator Cockpits on Facebook, I punched an email off in the slight chance we could give one a whirl.
When it arrived it was like all Christmases had come at once. The Next Level GT Ultimate is the most advanced on the market and has been in the works for more than two years. It's bursting with features including a full-blown race seat, a solid design and my favourite — it can be separated for easy transport or storage. All major steering wheels are supported with this simulator and it can also support three 27-inch screens or a 55-inch screen. It can also be converted into a flight simulator or a gaming cockpit for your computer, all with optional extras.
I've been playing this thing flat out; it gives you a true "in-car" feel and is awesome for games like F1 and the dirt rally series. The whole system is rock solid and no matter how aggressive you get on the wheel and pedals it keeps its form to offer a true simulation. The seating position is fully adjustable so it will fit every shape and size, so you can't hog all the fun for yourself.
It blows me away how realistic these games are once you're sitting in a seat with a steering wheel in your hands: turn the lights off, crank the sound and it's like you're in the cockpit of a real racecar. Not only are these games awesome fun, they are a great way to improve your concentration. In a game like F1, a simple case of brain fade can set you off into the grass and back in the pack. Throw this on your Christmas list kids! – Matt Bernard
CONTACT: www.pagnianimports.com.au
PRICE: $799
FEATURES:
Seat
– The ULTIMATE racing seat as used by professional racers
– Fibreglass bucket for ultimate shape and comfort
– Seat slides back and forth like a real car
– Seat is height and angle adjustable to help you find that perfect position
Frame
– Super-thick powder-coated Steel with high-gloss finish
– Bulletproof design for the most rigid of uses
– 2 gear shifter adaptors included that differ in angle
– Adjustable wheel, pedal and gear shifter position to suit children all the way to 6′9″ adults!
– Fully adjustable so you can set up based on your driving preference
– Gear Shifter can be attached on either the left or right side
Compatibility
– Compatible with all major wheel brands
– Pre-drilled for Fanatec, Logitech and Thrustmaster wheels
What's included
– GTultimate Racing Simulator seat and frame
– 2 gear shifter adaptors/holders (vary in angle based on your preference)
– Velcro cable ties to keep your setup neat
– Adaptor pole to attach Buttkicker Gamer 2 directly under your seat for vibration and effects (Gamer 2 is optional extra)
– Pedal stopper to hold any pedals in perfect position without them moving at all
– Instruction manual and tools required to assemble