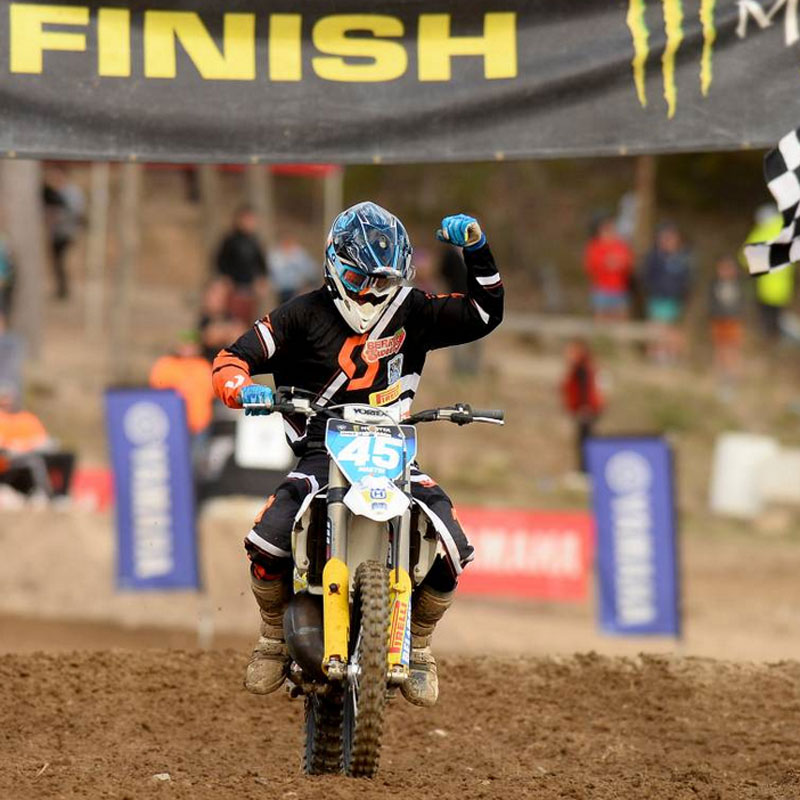 Mastin goes three from three at Raymond Terrace
FOR IMMEDIATE RELEASE
4 August 2014: Raymond Terrace, New South Wales
Berry Sweet Husqvarna's Egan Mastin has claimed maximum points in the Pirelli MXD Class – winning three from three races, at round eight of the Monster Energy MX Nationals at Raymond Terrace, New South Wales.
Mastin proved he was a force to be reckoned with the minute his wheels hit the track – comfortably taking the round win ahead of fellow Husqvarna rider Nathan Crawford, and red plate holder Jed Beaton (GYTR Yamaha) who concluded round eight in third.
While KTM supported Aaron Tanti was handed another impressive round, finishing in fourth ahead of Wilson Todd in fifth respectively.
Moto one saw an unlikely and surprising hole shot taken by Tyler Bullen, before Tanti (KTM) snatched the lead from the Yamaha rider, moving into first position only half a lap into the moto.
With Tanti taking the lead, Mastin had a job to do – and proved he was more than up to the task at Raymond Terrace
By lap two, Mastin had made the pass on Tanti and had moved into a commanding lead. Tanti followed by none other than GYTR Yamaha's Beaton in third.
However it was a 'come from behind' situation from Nathan Crawford on lap four, that saw the impressive two stroke rider, move from fourth to second position after passing both Beaton and Tanti impressively.
By the halfway point in moto one, the Pirelli MXD riders had settled into their positions – Mastin stretching out his lead on Crawford, followed by Tanti, Beaton and Dylan Wills who was having an astounding ride on his maiden return to racing.
Disaster struck Mastin on the second last lap of moto one, losing the front end of his bike in the final corner and incidentally going down.
Thankfully time was on his side, and with Crawford a huge ten seconds behind him, Mastin managed to pick up his Huqvarna and continue on for one final lap to coast through and take the moto one win.
Crossing the line in second was Crawford, ahead of Tanti, Beaton and Yamaha backed Wilson Todd in fourth .
Moto two was again much like the first. The hole shot being handed to Crawford, before Mastin again ensured anyone's lead was short lived – taking number one spot after less than a lap.
Once out in front, Husqvarna's Mastin was unstoppable. Stretching his lead to more than five seconds from Crawford by lap four.
The battle to watch in moto two, was the fight for second between Tanti and Crawford – who was barely managing to hold the fit youngster off.
By lap six, Tanti's pressure on Crawford became second priority, when he came under fire from GYTR Yamaha's Beaton who was on a charge to defend his red plate.
It was lap seven that Beaton made the pass on Tanti, moving up into third position behind Crawford and Mastin respectively.
When the chequered flag flew, it was the dominating form of Mastin that secured his second race win, followed by Crawford in second, Beaton third and Tanti finishing moto two in fourth position.
The final moto of the day was where Mastin secured his fate, once again taking a huge hole shot from his competitors and launching himself into a four bike length lead by turn two.
Wilson Todd was the man to watch in the closing session, sitting in second position by lap four, ahead of Crawford, followed by Beaton and Simpson.
As Crawford focused his energy on edging closer to Todd, series leader Beaton managed to sneak up to Crawford's rear tyre, before securing the pass on the Husqvarana rider and moving into third.
In the closing moments of moto three, the only change to order of riders was when Beaton again applied the pressure, and blew past Todd on lap ten, to move into second behind race leader Mastin.
As the flag flew on the final moto of the day, Berry Sweet Husqvarna's Egan Mastin delivered another faultless performance taking first position.
While Yamaha backed Beaton crossed the line and retained the red plate with a second place, ahead of Todd in third – followed by Crawford and Tanti in fourth and fifth respectively.
With Beaton taking third position on the podium for the round, the GYTR Yamaha rider maintained his championship lead by eight points from Mastin, followed by Crawford in third who trails Beaton by 23 points.
The series now heads to Gladstone in Queensland for round nine, which takes place on August 24.
For a full list of results head to www.mxnationals.com.au
MXD CLASS:
Round Results:
1) Egan Mastin 105 (35, 35, 35)
2) Nathan Crawford 92 (32, 32, 28)
3) Jed Beaton 90 (28, 30, 32)
4) Aaron Tanti 84 (30, 28, 26)
5) Wilson Todd 82 (26, 26, 30)
6) Jack Simpson 72 (23, 24, 25)
7) Brock McLeary 67
(21, 22, 24)
8) Jayden Rykers 66 (22, 23, 21)
9) Ryan Shadbolt 58 (19, 20, 19)
10) Lochie Latimer 50 (18, 15, 17)
Overall Championship Standings:
1) Jed Beaton 459
2) Egan Mastin 451
3) Nathan Crawford 436
4) Jack Simpson 431
5) Wilson Todd 374
6) Aaron Tanti 342
7) Jayden Rykers 337
8) Brock McLeary 309
9) Kyle Webster 302
10) Jett Anderson 220
Photo Credit Jeff Crow/Explorer Media
– ends –
Media Enquiries:

Andrew Weiss
: 0402 447 783

andrew@eskimomediagroup.com.au

www.eskimomediagroup.com.au