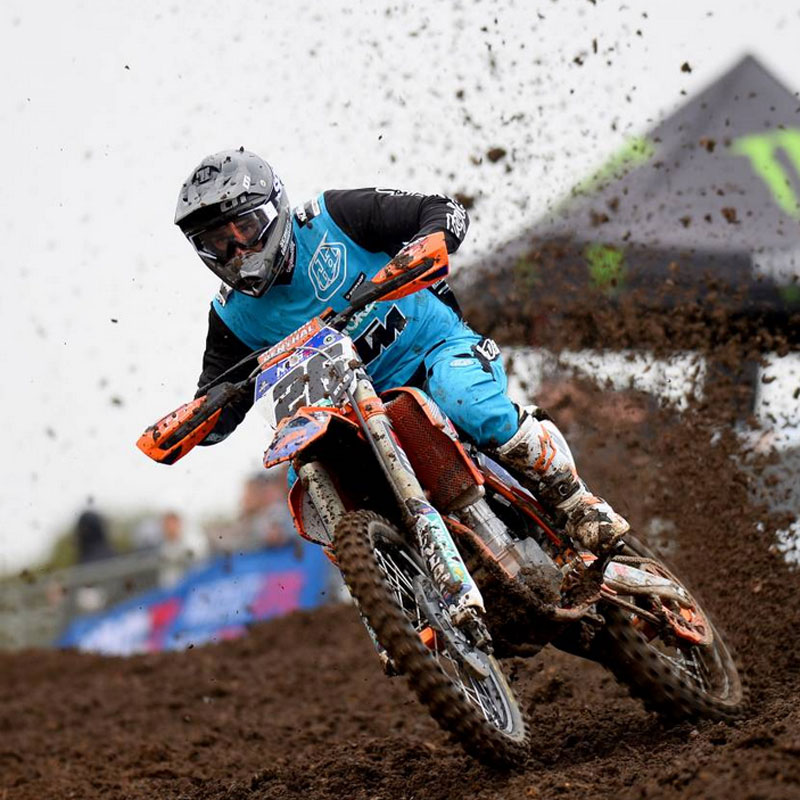 Styke claims maiden MX1 round win at Broadford
FOR IMMEDIATE RELEASE
26 April 2015: Broadford, Victoria
KTM Motocross Racing Team's Luke Styke has secured his first ever Monster Energy MX1 overall win at round three of the MX Nationals in Broadford today.
After two rounds of standing on the third step of the podium, KTM mounted Styke proved that consistency pays off – taking a moto win and a third place, to eventually claim round honors.
In a controversy packed moto one, CDR Yamaha dished out edge of your seat style racing, when teammates Daniel Reardon and Kade Mosig came together while in first and second, which saw Reardon DNF and Mosig finish in 12th.
The hardships however didn't stop there – red plate holder Kirk Gibbs also suffered a disappointing moto one after crashing early in the race, which saw him cross the line outside of the top five in seventh position.
In moto two, the holeshot went to Penrite Honda's Cody Cooper, however with redemption on his mind CDR Yamaha's Daniel Reardon made the passes required to take the race lead ahead of series points leader Kirk Gibbs.
Despite Reardon holding the lead for the majority of the moto, Gibbs went into championship management mode and put in a late charge to reclaim the race lead and finish ahead of Reardon who finished second, and Styke who took third.
With the MX1 class providing a mixed bag of results, Styke's consistency proved to pay off – finishing round three on the top step of the podium, ahead of NPS Monster Energy Kawasaki's Adam Monea in second, and team mate Kirk Gibbs in third.
Monster Energy MX1 round three overall winner – Luke Styke – KTM Motocross Racing Team (1st, 3rd – 65 Points)
"This win feels great and I really just couldn't have done this without the support of the whole KTM team," he said.
"We have all been working so hard, and I think you can see that with mine and Gibb's results every weekend.
"We all put in the hard work during the week to make days like this happen, so it's great that you can see it pay off.
"It's great to get this first overall win for the team, and we're just going to keep building from here."
To check out how the rest of the Monster Energy Mx1 class went today, and to re-watch all of the action from every race at Broadford, tune in on Wednesday night via www.nrgtv.com.au for all of the racing on demand!
Monster Energy MX1 round three overall results:
1) Luke Styke 65
2) Adam Monea 60
3) Kirk Gibbs 59
4) Cody Cooper 53
5) Dylan Long 49
6) John Phillips 49
7) Kale Makeham 48
8) Jesse Dobson 45
9) Cheyne Boyd 43
10) Lawson Bopping 42
Monster Energy MX1 championship points:
1) Kirk Gibbs 204
2) Luke Styke 185
3) Kade Mosig 169
4) Adam Monea 159
5) Lawson Bopping 158
6) Cody Cooper 151
7) Dylan Long 144
8) Jesse Dobson 140
9) Kale Makeham 135
10) Daniel Reardon 124
Image – Jeff Crow / Explorer Media 
– ends –
Media Enquiries:


Misty Walton: 0448 725 229


misty@eskimomediagroup.com.au


www.eskimomediagroup.com.au