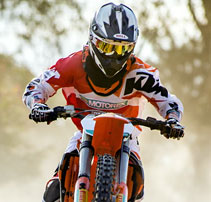 Motorex KTM Racing Team riders and Aussie MX1 contenders Todd Waters and Kirk Gibbs continued to show great early-season signs as the New Zealand motocross championships continued at Patetonga.
Media Release – 24/02/2013

Waters claimed second on the day behind New Zealander Cody Cooper, while team mate Gibbs overcame a fall early on, hoisting himself to 7th on the day.
The team is intent on finding tough racing experiences as they develop towards the MX Nationals in April and the unknown tracks across the Tasman and fierce competition are providing just the challenge.
"It was a terrific day for us," said Team Manager Rob Twyerould, "Patatonga was another 2-minute plus track for the boys to learn. It's a clay-based track that was fantastically prepared and had been ripped and watered. As the warm (32-degree) day went on it changed a lot and became very hard packed and rutty and got dusty and quite technical at the end."
Qualifying second-fastest, Waters took the lead early as Moto 1 began but soon had to contend with Cooper, the pair running at times four seconds a lap faster than the nearest competitors. Cooper won by three seconds from Waters, with Gibbs 11th after a crash involving another rider.
Moto 2 saw Waters again second to Cooper, with Billy McKenzie third and Gibbs improving to fifth after working through from eighth place early on.
The final race saw a track which had become hard-packed and dusty, and the win went to McKenzie, who clicked with the changing conditions and capitalised on a holeshot to hold off Cooper and Waters. Only three seconds separated the top three at the finish.
Gibbs too found another level and registered an impressive fourth place to maintain his fourth position in the championship.
"In the first two motos, Todd and Cooper were just on a different planet to the other boys," said Twyerould, "then McKenzie joined them in the final and really reveled in the conditions. Kirk was probably the best of the rest all day and then in that last moto he was right there with them which was very positive.
"We made some steps with our suspension today and began the first stage of our motor development program, with all components testing well, so we're very happy."
The second round of the NZ championships takes place at Pukekohe on March 10.
Todd Waters: "This track was tough to learn because it changed so much throughout the day from really rutty and grippy to then become hard and skatey with the same ruts. It was like two different tracks.
Coops and I had some really good races together. I had some lines that were better and I'd pass him but then he'd follow for a bit and get me back. In the end I had nothing for him so hats off to him for beating me. I have a really good relationship with him and I think that makes for good racing.
I'm loving racing here as prep for the nationals – it if we came and just smoked it wouldn't be any good to us at all. Good solid racing is what we're after so to have Coops riding really as we develop the bike is helping a bunch".
Kirk Gibbs: "The track was full-on and another good experience, but I didn't particularly gel with it. I couldn't get the best from the concrete starts and really struggled to time my passing opportunities around the places that were narrow.
Where I fell in Race 1 we sort of funneled into a corner after a section of tabletops and jumps. I made a pass and thought I had the line, but he mustn't have seen me and the two of us jumped for the same entry point.
Overall I'm not happy with how I went today but hey, if motocross was easy, everyone would be good at it."
For more information on KTM motorcycles visit www.ktm.com.au or www.facebook.com.KTMAustralia
New Zealand Motocross Championships Rd.2, Patetonga
Qualifying: 1. C.Cooper 2.11, 2. T.Waters 2.11, 3. B.McKenzie 2.13, 4. K.Gibbs 2.13
Moto 1: 1. Cooper , 2. Waters, 3. Phillips, 4. Hurley, 5.Mckenzie, 11.Gibbs
Moto 2: 1. Cooper, 2. Waters, 3. McKenzie, 4. Hurley, 5. Gibbs
Moto 3: 1. McKenzie, 2.Cooper, 3.Waters, 4.Gibbs
Round Result: 1.Cooper 72, 2. Waters 64, 3.McKenzie 61, 7. Gibbs 44
Overall: 1.Coops 139, 2. McKenzie 119, 3. Waters 109, 4. Gibbs 102