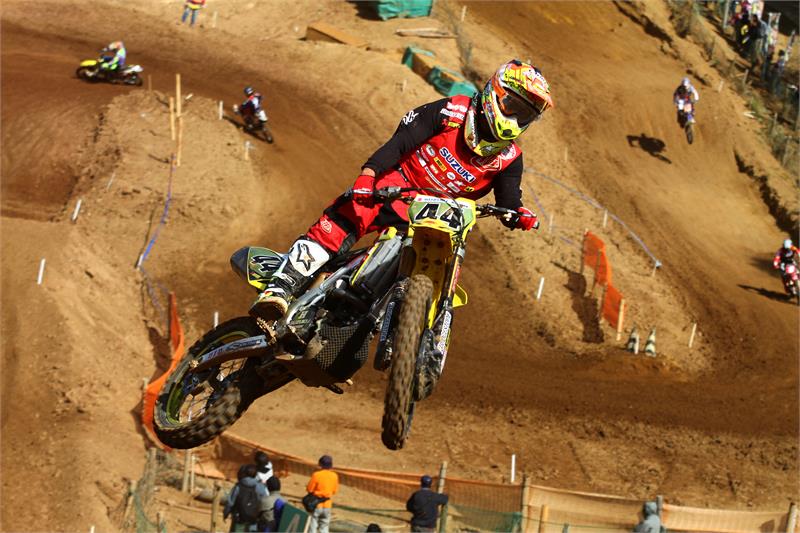 For the first time in 44 years Suzuki has claimed the top two positions in the all Japan Motocross Championship thanks to the performances of Yohei Kojima and Yoshitaka Atsuta.
By Hayden Gregory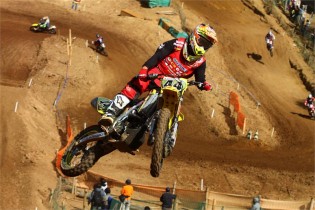 The season finale featured a strong international contingent of riders including Tim Gasjer, Jeremy Martin, Cooper Webb, Trey Canard and Romain Febvre.
The first 250 moto was won by Honda's Tim Gajser ahead of second placed Jeremy Martin and third placed Takeshi Katsuya. The second moto saw Jeremy Martin take the chequered flag ahead of Katsuya and Toshiki Tomita to claim overall round victory.
The 450 class saw not only a battle between the star international riders but also Kojima and Atsuta for the All Japan championship.
The first moto saw the pair finish sixth and seventh respectively giving Kojima a six point buffer heading into the last moto of the season. Atsuta got the better of the riders in race two finishing sixth to Kojima's 11th however it was not enough for the championship title with Kojima holding for the win on by just one point.

"In the second race, there were so many things to deal with in my mind such as not making mistakes, the title and I felt so nervous about my performance," Kojima said, "but I kept my eye on the pit signals from my mechanics. It is ten years since I became a member of the Team Suzuki and become the 1A2 champion in the first year, when I had a chance to compete in the World Championship, is a great honour. I owe this to all our team staff and Director, Taichi Yoshimura and my family."
With the title chase going right down to the final moto there was no denying the Suzuki pair were the form riders of the Japanese season.
"If I had a chance to become champion, I had to go as fast as I could," Atsuta said. "In heat 1, I wasn't in the mood for the race, and I was one place behind Yohei and one point behind him. I changed some settings and I decided to attack the second race much harder and I was able to enjoy the race.
"As a result of this, I am second in the championship by one point, which makes you realise how important just one point is through the season. I have enough energy to challenge and I think I can elevate my skills and challenge for the title next season."
The International riders were the pick of the round in the 450's with Trey Canard (2-1) taking round victory ahead of Copper Webb (1-3) and Romain Febvre (3-2)
MX2 Overall
1.  Jeremy Martin (2-1)
2. Katsuya Takeshi (3-2)
3. Tim Gasjer (1-5)
4. Toshiki Tomita (4-3)
5. Notsuka Tomohiro (6-4)
450 Overall
1. Trey Canard (2-1)
2. Cooper Webb (1-3)
3. Romain Febvre (3-2)
4. Ryo Narita (4-4)
5. Ogata Makoto (5-5)