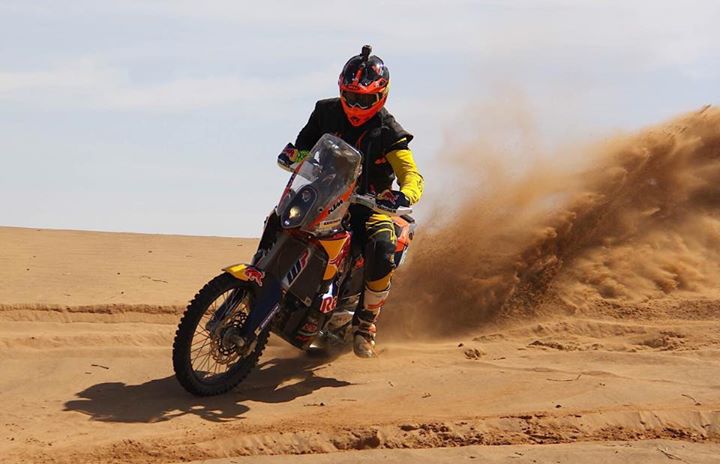 Toby Price has struggled during stage two of the Morocco Rally falling to eighth place overall.
By Hayden Gregory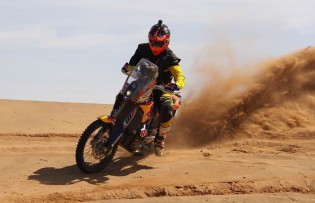 Following the first round of racing Australian Toby Price was in good spirits and good stead. He was second place in the overall standings by just over one and a half minutes from leader Joan Barreda.
Day two was a much different story. The special stage required deft navigational and riding skills. The desert south of Zagara was full of complicated routes and way points that were difficult to find.
British KTM rider Sam Sunderland trumped the field to win the stage in two hours and 17 minutes. Performing a KTM podium clean sweep Pablo Quintanilla and Matthias Walkner finished second and third respectively, almost six minutes behind Sunderland.
Stage one leader Joan Barreda crossed the line in fourth position after opening the track.
Toby Price suffered from a number of mechanical issues to finish 18 minutes behind the leader in 11th place. His combined 2-11 stage results leave him in 8th position overall.
Price took to Facebook to share his disappointment with the day.
"All that could go wrong today did, it's nobodies fault, it was just a very choppy stage and things got unplugged which left me with NO instruments for most of the day. 
"I had to stop and fix the issue five times, which was devastating. Sorry to let you guys down today but navigating without my CAP headings and distance was hard, I tried to follow dust most of the day when I could but repairs always stopped me from going forward."
Stage two winner Sam Sunderland claims the overall lead in Morocco ahead of Baredda and Quintanilla.
Rally of Morocco – Stage Two Results
Sam Sunderland (GBR) KTM, two hours 17 minutes 37 seconds
Pablo Quintanilla (CHI) KTM, +5.38
Matthias Walkner (AUT) KTM, + 5.55
Joan Barreda (ESP) Honda, + 8.59
Paolo Goncalves (POR) Honda, + 10.48
Antoine Meo (FRA) KTM, + 14.21
Helder Rodrigues (POR) Yamaha, + 15.06
Alessandro Botturi (ITA) Yamaha, + 15.54
Kevin Benavides (ARG) Honda, + 16.15
Juan Pedrero (ESP) Sherco, + 18.03
Toby Price (AUS) KTM, + 18.15
Overall after Stage 2
1, Sunderland, six hours and 48 seconds
2. Barreda, + 2 minutes 33
3. Quintanilla, + 4.52
4. Walkner + 6.12
5. Goncalves, + 10.25
6. Rodrigues, + 11.31
7. Meo, + 12.34
8. Price, + 13.30
9. Viladoms, 23.47