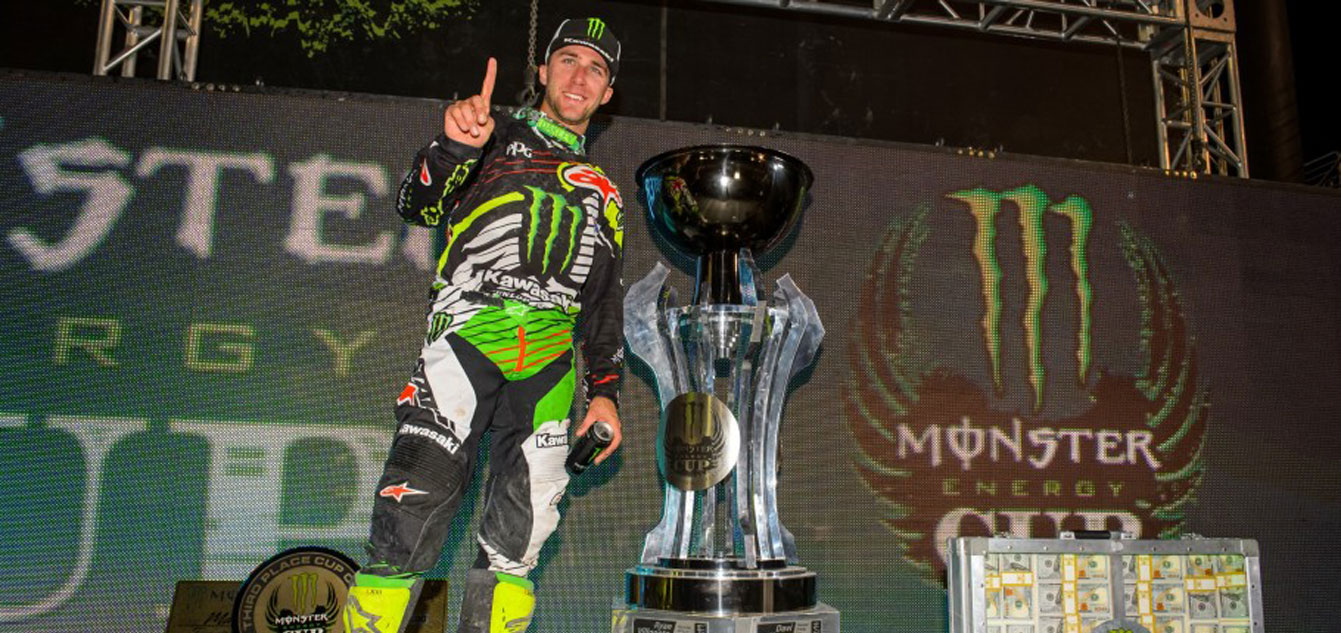 What the leading riders had to say following the 2016 showcase.
Eli Tomac: (1st in Cup Class) "It was a pretty typical Monster Energy Cup, filled with excitement. In the third moto especially, I was buried on the start and really had my work cut out for me. I couldn't tell who was ahead of me at times, I knew was in a great spot to win but had to keep track of my competitors. On the last couple laps I had to put my head down and go to battle. I made it up to where I needed to be, got the job done and took the win!"
Ryan Dungey: (2nd in Cup Class) "I felt good. Coming down to the last race with the opportunity to win. I didn't get a good start, but I thought at least Eli [Tomac] is here with us. I got by Eli throughout the carnage and I was like, "Alright, just pass as many people as you can." The more people I could pick off, the more he's gotta come through. I did my best, but he did a good job as well. I was able to make a pass there at the end which was able to help me get into second. Which was good. Wish I had radio communication with Marvin [Musquin] to ask him to pull over and let me by. (laughs) No, the guys rode good and we gave it a fight. We have no strategy even with all that stuff. We give it our all, we race to the end and it was a good race."
Ken Roczen: (7th in Cup Class) "I made a very very small adjustment. It was just a click here and there. I feel really good with the bike already as you can tell. Everything came super natural to me, and we haven't even done our good testing yet. It was great to come out here and see, but at the same time we have a lot more in our pocket. It started off with the first moto being pretty amazing. I got the holeshot and just rode really good—felt really great.
In the second moto, I didn't get too good of a start, but I snuck around the inside. I was leading and everything was great, I just made a mistake in the corner. I slid out a little bit and doubled, so for the next triple I took a different line 'cause that's kind of where it through me to. The transitions weren't very good today and the track was hard so the track was super notchy. So I gave it the berries [twisted the throttle] a little bit and over jumped it a bit. That compression through me off balance and I came up short a little bit and the next transition was super steep. It kind of just bucked me forward and I had to jump off. That was the end of that.
I came out in the next moto and got another really, really good start. I was riding super shitty in the last one and just stayed on two wheels. The track was terrible and I guess grabbed another win. I wasn't too happy with my riding, but that's fine."
Cameron McAdoo: (1st in Amateur All Stars) "Yeah, 7-1 and I pulled both holeshots. There was one little section that I wasn't doing very good in the first moto. I was in third, but on the last lap, I came together with a rider a little bit and finished 7th. I was pretty bummed, but at the same time, we're not going to dwell on the past. We're going to get out there, try to pull another holeshot and do the best we can do."
Cole Seely: (4th in Cup Class) "Yeah, the result was okay. I'd say my performance was mediocre. It wasn't bad, it wasn't good. I didn't have any break out like, "Wow I felt really good that race" or anything like that. Ever since I've got back on the bike from the injury to my hand I haven't taken a break. I've been wide open with testing and training. I've been in the gym four days a week, on the bicycle and really really hitting it hard. Anybody can tell you when you train that hard you have to come down at some point. Unfortunately, that happened to me last week. I was spening this week trying to regroup, recover and let my body recover for this weekend. I really didn't have enough time. No excuses, it was still all me. It wasn't anything to do with the bike or the team. It just is what it is. I'm not going to stop training because of that. The timing was unfortunate, but I'm in a good place and I have a good base for Supercross. And that's what really matters."
Mike Alessi: (5th in Cup Class) "It was an awesome night. I can't thank MooConcepts enough for supporting me and being behind me. I got not the greatest starts in the first two motos and it put me in just a little bit of a position where I couldn't really move forward or move backwards, I was just kind of in limbo. In the third moto I got the holeshot and it definitely opened the track up. I was able to take the lines that I wanted and led five laps—half the race. That was awesome. It was a big learning experience. Kenny was breathing down my throat and I left the door open coming up to the finish line turn and he took it from me. I ended up fifth in the moto."
Benny Bloss: (9th overall) "My night was pretty good. Not so great in the first moto. In the beginning of the second moto I didn't feel that great, but half way through the moto I took the Joker Lane and all of a sudden my race transformed. It was weird. (laughs). Then in the third moto, I got a start and I stayed in tough with the front guys a little bit and I had so much fun. I'm just happy to be out of there safe and it was a good weekend."
Carson Mumford: (1st in Supermini) "The whole stadium was going nuts. It was cool 'cause when you jumped into the sand you would see everybody standing up yelling. The start was unreal. I loved it. I think it was good and it separated everybody. The battle with Carson [Mumford] was bomb. I knew I had a couple places I was faster than him and the roost hurt so I knew I needed to get around him. (laughs) I made the move and from then on out I just rode my own race. He got pretty close one time—I made a mistake—and then I pulled away a little bit and got the checkered flag."
Marvin Musquin: (3rd in Cup Class) "Taking the Joker Lane early worked out for the second moto when I went around [Chad] Reed. I was behind [Ken] Roczen in the last moto and I was really happy with the way I was riding. I was like, "It's time to hit the Joker Lane" and then I saw him moving to the right in that rhythm section and I was like, "Ah man, he's going at the same time!" It was too late, I was on the right side so I went for it. I just wanted to go a lap ahead of those guys and go as fast as I could for the very very last lap and try to stay ahead of those guys. It is a lot of fun. It's very intense."