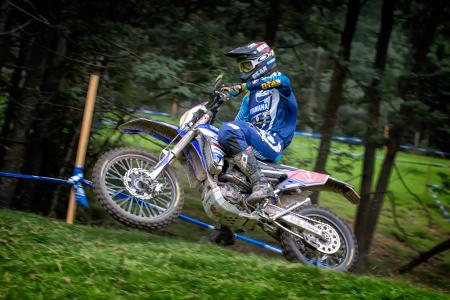 Reigning Australian Four Day Enduro Champion, Daniel Milner, has got off to a perfect start leading the field after one day of competition.
By Hayden Gregory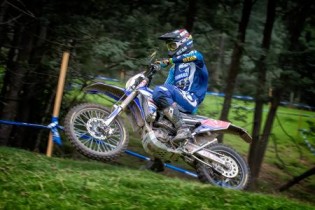 The first day included six special tests with Milner taking out overall in three of those to lead the 223 competitor field. Milner's time of 58:39.533 was three seconds ahead of local KTM Enduro Racing rider Matthew Phillips who finished as leader of the E3 class in a time of 58:42.657.
KTM's Daniel Sanders finished a further 33 seconds behind Phillips in third with Chris Hollis slotting into fourth after taking out Tuesday's Prologue.
"I smashed my clutch finger pretty good in the second test this morning so I was in a bit of pain there for a while," Hollis explains. "It looks a bit ordinary now but with some treatment tonight, it should be fine by the morning and we will be ready to get after it again," he ends.
Active8 Yamaha's Josh Green rounded out the top five, finishing the day as the E1 class leader.
Toby Price finished day one a minute and a half behind leader Milner, meaning he will have his work cut out for him playing catch ups over the next three days.
The women's class was topped by Australia's dominating ISDE team with Jess Gardiner taking first position ahead of Tayla Jones in second and Jemma Wilson third.
Don't forget to check out our A4DE live feed available here: http://dirtaction.com.au/a4de-live-feed/
Standings- After Day 1
OUTRIGHT
1st Daniel Milner – 58:39.5 (Am Pro / CDR Yamaha)
2nd Matt Phillips – 58:42.6
3rd Daniel Saunders – 59:15.6
4th Chris Hollis – 59:22.2 (CDR Yamaha)
5th Josh Green – 59:44.2 (Active8 Yamaha)
6th Beau Ralston – 59:58.9 (Active8 Yamaha)
7th Toby Price – 1.00:13.9
8th Glenn Kearney – 1.00:22.2
9th Lachlan Stanford – 1.00:22.7
10th Wil Ruprecht – 1.00:59.5