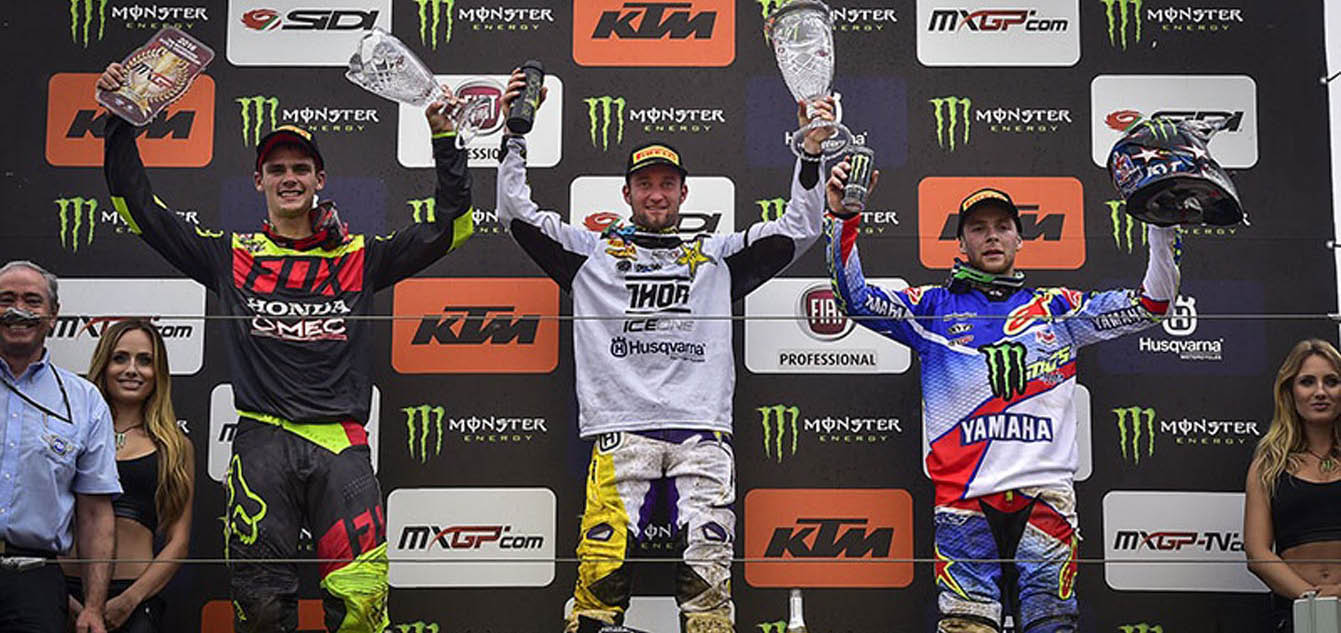 The Rockstar Energy Husqvarna rider has swept the MXGP class with a double moto victory.
By Hayden Gregory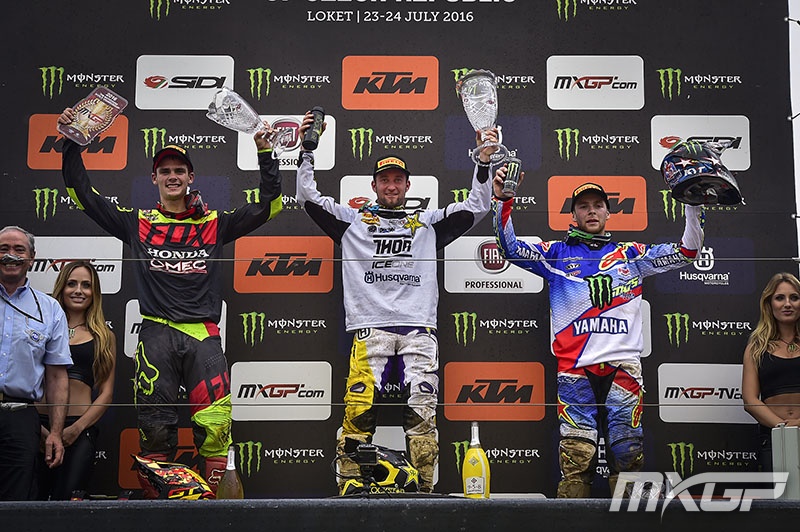 Germany's Max Nagl experienced a season high in Loket scoring the overall win ahead of championship leader Tim Gasjer and Frenchman Romain Febvre. The trio battled through both motos to score a 1-2-3 result in each race.
In the first, Nagl hit the lead early before holding off a late challenge from Gasjer and Febvre to claim a hard earned victory. In the second it was a come from behind effort and a rare mistake on lap 14 by leader Gasjer all but handed Nagl his second race win.
Gasjer gave all he could to catch the German in the closing stages yet Nagl was once again able to hold out. Romain Febvre once again rounded out the podium after a massive climb from deep in the pack.
A 1-1 scorecard left Nagl notably ecstatic after the round.
"Unbelievable," he exclaimed. "I like this track, but I was worried about the second moto, because often here the first moto is good and the second not so good, but I wanted to push him (Gajser) and put pressure on because he isnt used to pressure. Then after he crashed I really had to go deep and I am so happy. My girlfriend is here and my child, so we can celebrate. The key point was a good start and I had to put pressure on him, when I passed he fought, but he was also tired. We pushed every single lap, like a qualification lap..
Gasjer managed to extend his championship lead despite a runner up result and an uncharacteristic mistake in the second moto.
"I am a little disappointed," Gasjer lamented. "I led nearly the whole second moto and I made a small mistake, took a different line and the front end washed out. I tried to pick the bike up quickly, but Max passed me. I am glad I finished second and extended my points lead. The shoulder is a little sore, but ok, will be good for Lommel for sure.
Antonio Cairoli holds down second place in the championship despite finishing seventh for the round. Nagl climbs into third jumping three points clear of Febvre in fourth.
"I am happy, third overall isn't bad to come back to," Febvre shared. "I didn't ride much lately, so the first moto was difficult, and I nearly passed Tim, the second moto was better, but my start wasn't good and I need to pass four or five riders to get to third. I want more, so we will try next weekend in Lommel. 
"The first moto was good I didn't have the best of start and I was pushing and trying to pass everywhere and he was riding too good and I just couldn't pass him. I didn't want to scrub there and I went into the air a little early and I am thankful I saved that one."
MXGP – Championship Classification
1 243 Gajser, Tim SLO HON 576
2 222 Cairoli, A. ITA KTM 467
3 12 Nagl, M. GER HUS 451
4 461 Febvre, Romain FRA YAM 448
5 777 Bobryshev, E. RUS HON 419
6 89 Van Horebeek, J. BEL YAM 385
7 92 Guillod, V. SUI YAM 286
8 259 Coldenhoff, G. NED KTM 248
9 25 Desalle, C. BEL KAW 244
10 24 Simpson, Shaun GBR KTM 225